I spent all day yesterday scanning products at my Dad's store. Even with a whole store of stuff to go through I found it pretty hard to find really profitable products that Amazon themselves weren't selling.
On the flip side, my Dad got super into sending in stuff he was sick of looking at, so I ended up with three carts and a total of 76 products that are waiting to be labeled and shipped.
See below.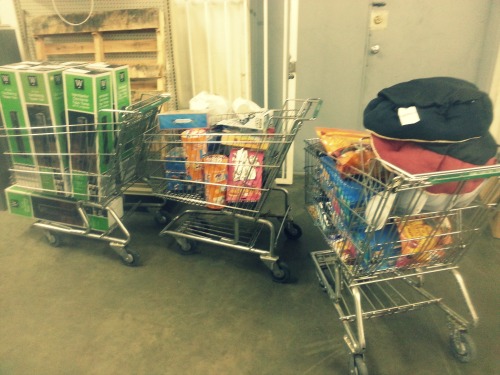 So out of my 76 items they can be categorized into two sections 1) Liquidation and 2)Money Makers.
The Liquidation Items
The liquidation items are simply some of the items my Dad hasn't been able to unload in the past few years. Even marked at store cost.
He's sick of looking at them and pretty much just wants to get something back out of them. But there were way to many one off items to make it worth my time. Instead I just started scanning the clearance tables. I picked items that Amazon wasn't selling themselves, that there were multiples of, and that I could at least get a small profit  out of.
I went against my rules and a lot of the liquidation items aren't super lightweight and are not over $20, although several are.
I don't expect for these items to sell fast and either does my Dad. However, they should still sell faster than what they would at his store. So we're prepared to sit on most of these items for several months.
The Money Makers
Now comes the fun part – the money makers.
Originally I had thought the sporting good section would be my money maker. After all, deer season is right around the corner. Hunting products will be HUGE. Unfortunately, Amazon had figured this out too. They were selling almost every single hunting item I scanned.
I also didn't find anything too profitable in the hardware or housewares section.
Next came the toys. The jackpot.
My money makers are all toys and I just cannot believe how big the markup is. It's freaking ridiculous.
For instance, many of the board games selling on Amazon that I scanned were ranked under 30k and were selling for four times the price of wholesale.
Here are a couple of examples.
Jenga Game
Wholesale cost $10
Amazon Lowest Price $40
Disney Trivial Pursuit
Whole Sale Cost – $11
Amazon Lowest Price $38.99
Thomas the Train Wooden Tracks
Wholesale Cost $20
Amazon Low Price $69.99
ALL of my moneymakers are toys. The bad news is, that like I said, the toy section in my Dad's store is super small. I've already taken all of the profitable toys. So if they end up selling right away we'll be placing a new order!
Stuff Left to Do
I have to go back and do all of the labeling and shipping either tomorrow or Friday. I have some freelance work that needs done tomorrow so shipping day will probably be Friday.
I'm also going to go ahead and get at least 24 more items so that I can hit 100 items sent in to Amazon for the week.
I underestimated how long it would take to find good items so I'm probably underestimating how long it will take me to get them shipped out too. We'll see how it goes.
That's all for now. Just wanted to get the update in for the day 🙂 I'll have a deeper explanation of the process in the next week or so.