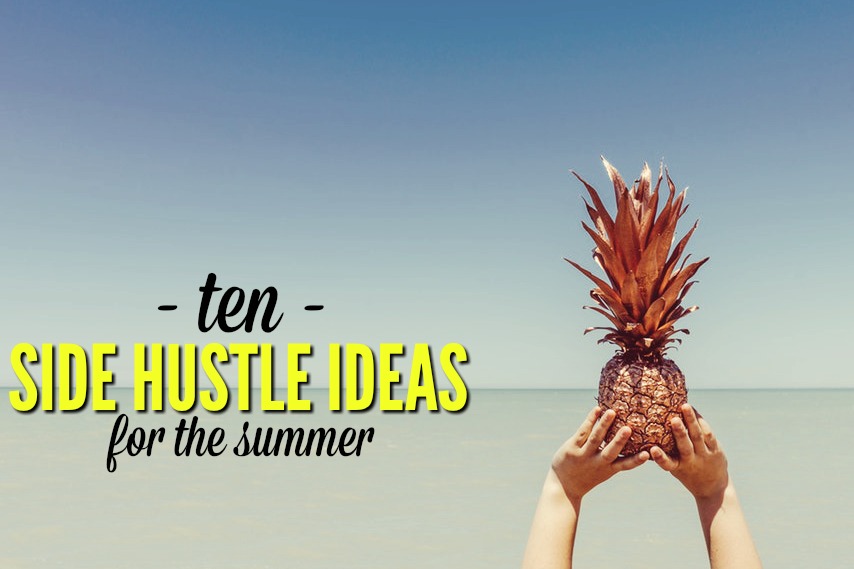 Summer is right around the corner and I can't wait. Are you looking to make some extra money for your summer travel plans or for other expenses? My family and I are planning to go back to Disney World in August.
Last year was our first time and we learned a lot about how to save money on the trip for the future. Nevertheless, traveling will still be costly so it's best that we plan ahead and consider making some extra money with a side hustle.
Whatever your reasons are for side hustling, summer is a fun time to do it because there are plenty of ways to actively make money online, outdoors, or in a fun work atmosphere. Here are the top 10 summer side hustle ideas for extra income.
1. Shop For Others
Love shopping? You can get paid to spend other people's money and run errands for them this summer. Sites like Shipt and Instacart allow you to make money with your car by picking up grocery orders for people in your area.
You must be 18 or older and your car needs to meet the company's requirement. For Shipt, your car just needs to be a year 1997 or newer. Shipt and Instacar shoppers can make around to $22 per hour.
2. Walk Dogs or Pet Sit
If you have a love for animals, you'll enjoy walking dogs this summer and pet sitting for extra cash. Walking dogs is a great way to stay active and since summer is a huge travel season, you're more than likely to score some overnight pet sitting gigs as well.
I recommend using Rover.com to find clients in your area. You can even put up fliers or spread the word around your neighborhood to get a few gigs.
3. Brand Ambassador Gigs
A brand ambassador is someone who represents the brand in a positive light by interacting with consumers to tell them about products and service. Usually, they set up booths at stores and events to conduct product demonstrations and hand out free samples to people.
It's a pretty fun and laid back job if you're a people person. Plus it pays well too. When I side hustled as a product demonstrator, I made around $20 per hour and worked flexible 3-4 hour shifts. To find product demonstrator gigs for the summer, check out online job board sites like Indeed to see which companies are hiring.
4. Rent Out Your Home on Airbnb
Have extra space in your home? You can rent it out on Airbnb.com. I love using Airbnb as a guest to save money on hotel stays when I travel. If you have a guest bedroom, guest house, or will be traveling throughout the summer, consider renting out your space to earn anywhere from hundreds to thousands per month.
5. Mow Lawns
This is a classic summer side hustle but don't let that deter you from trying it out. If you have a lawnmower and some experience, you can offer reasonable rates that beat out pricey landscaping companies.
Depending on how big the area is, you can earn $20 – $30+ per lawn and even offer additional services like trimming, gardening, and weed pulling to make more money.
6. Group Fitness Instructor
Help others get and keep their summer bodies by becoming a group fitness instructor. You'll probably need to take some classes or become certified to teach at your local gym. But this side hustle will allow you to workout for free and get paid for it.
If you become certified, you can even host your own outdoor pilates or yoga sessions in a park and charge a small fee.
7. Stage Homes
Summer is a huge season for real estate as many people are buying or selling homes during this time. You can cash in on the busy season by offering home staging services.
Staged homes are more likely to sell because it shows prospective buyers what they can do with the space and helps them have a better emotional connection with the home.
If you have decorative skills and don't mind lifting some furniture you can start your own home staging business or reach out to a small business owner in your area to see if they are hiring help for the summer.
8. Take Surveys
Don't think you'll have much time this summer to commit to a side hustle? If getting a second job or starting a side business is out of the question for you this year, you can still earn some extra cash by taking surveys online.
Survey sites won't make you rich, but it requires very little time and effort to put some extra cash in your pocket.
Some of the best survey sites include:
9. Photography
You'll need a nice camera and some basic photography skills to make this side hustle work. Luckily, there are plenty of free and affordable photography courses you can find online to help you develop more skills.
You can photograph weddings, family photos, headshots, etc. You may even want to consider taking shots that you can sell to stock photo companies for extra cash.
Here are a few companies that buy photos from photographers to sell online.
The money you make per photo isn't going to amount to very much. That's why when it comes to selling stock photos, you'll want to offer dozens of high-quality images for sale.
10. Work at an Amusement Park
The amusement park industry is HUGE.  That said, it's not surprising that U.S. theme and amusement parks recruit and hire more than 600,000 full-time and seasonal employees.
Check with theme parks in your area to see if they need additional help for the summer. Often times, employees can get free passes to the theme park to enjoy on their day off along with discounts on drinks, food, and other features.