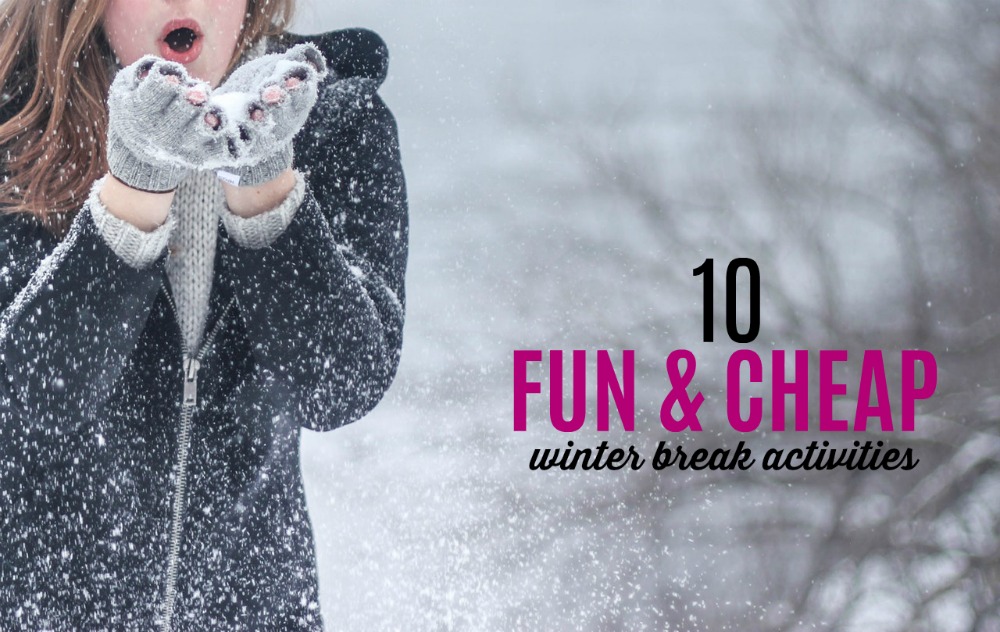 Winter break is right around the corner. That means kids all over will looking for ways to stay entertained. If you don't travel over the holidays, keeping kids from getting bored can be difficult.
The holiday season can be super expensive, which is why most families usually aim to wind down and relax at home over the break. If you know you'll be on a budget but are still looking for ways to keep your kids entertained, here are 10 fun and cheap winter break activities.
1. Go Sledding
Sledding is a fun winter pastime to share with kids if you get lots of snow in your area. Plus it's free. The key is to be ready when the snow hits. All you need is some warm clothing and outwears, a sled (or something you can use as a sled), and a nice-sized hill.
Get the whole family out and slide down the biggest hill in town. Then, head back home and warm up hot chocolate afterward.  Even if you can't go sledding, a snow day can be just as fun.
Let the kids out into the yard and help them build a snowman or a snow fort outside. This could take up a whole afternoon.
2. Decorate a Gingerbread House
This is a fun tradition my family has since we make a gingerbread house together each year. The gingerbread house kits are usually pretty affordable and you can find one around $10.
It's a tasty activity since everything you need to build and decorate the house comes with the kit and it's all 100% edible.
Allow your kids to get creative when deciding what they want their house to look like. Then, you can eat all the materials when you're done or use the gingerbread house for decoration.
3. Make Some Art
Even though you can't eat it, having an art day can be just as fun. You can pick up crafts and projects from the dollar store and have kids create their own ornaments for the Christmas trees, or paint canvases to decorate their room.
If art is not their forte, see if you can visit a building workshop at your local Home Depot so your kids can still create something unique. These workshops are free and come with all the materials and instructions you'll need.
4. Bake a Treat For Someone Special
If your kids are bored or looking for something to do over holiday break, allow them to choose someone special who they'd like to make a treat for. This can be a grandparent, a favorite librarian, or local firefighters.
Have a baking day where they can be hands-on by providing a special holiday treat surprise for someone who's impacted their life. You can even create a small care package gift basket to give as well.
This is a great way to keep your child busy and teach them the importance of giving.
5. Visit the Library or a Museum
If cabin fever is starting to sink in, you can check out your local library or a museum. The library is bound to have a few free programs for kids over winter break, or you can just spend an afternoon reading books together.
If your child is already reading, a library day can be a great way for them to escape in a good book and find new book series they want to start reading.
Some museums in your area may be having discounted or free days due to the holiday break. Narrow down your options then ask your kids which museum they'd like to visit and pack a lunch to make a day out of it.
6. Attend a Free Class at an Apple Store
If you have an Apple store in your area, you can take your kids to attend a free class to learn more about technology. I had to do some serious digging to find out about this as I had no idea Apple stores did this.
There is a location about 30 minutes from me and they are hosting an hour-long coding class each day for a week in December. They're also hosting classes at select shopping malls to teach people how to program robots to do certain things.
7. Ice Skating
The great thing about ice skating is that you can try it out whether it's cold outside or not. There are just as many man-made ice skating rinks as there are natural ones. You can even ice skate indoors if you don't want to bare the cold weather.
However, keep in mind that most outdoor ice skating rinks are free. All you need to do is bring your skates or you can rent them for a small fee.
8. Build with Legos
If your kids like Legos, you can attend free building workshops at your local Lego store. Kids from ages 6 to 14 can attend the free Lego Mini Build workshops on the first Thursday of every month to learn how to build a new figure.
This could be a great outing to try out during the first week of January during winter break. Check here to see if the Lego store in your area offers these workshops.
9. Visit a Trampoline Park
Kids of all ages (and even quite a few adults) enjoy visiting the trampoline park. If your kids are feeling restless and want to get out of the house, you can take them to your local indoor trampoline park for a day of fun. Some places have holiday events as well as special seasonal discounts.
You can always check out sites like Groupon to score discounts on admission.
10. Invite Friends Over
When you're short on options, invite a friend over for a playdate with the kids. The day is always more exciting and eventful when a friend is coming over. This can be an opportunity for you to have some adult conversations and unwind with the other parent as well.
Plus, the kids can entertain each other around the house for free.
Your kids can still have a pretty amazing winter break without you having to spend a ton of money. Narrow down a few frugal activities and get creative when it comes to staying busy and active. Also, plan for some lazy days as well when you all relax at home, watch movies and play video games.
What are you planning to do with your kids over winter break?