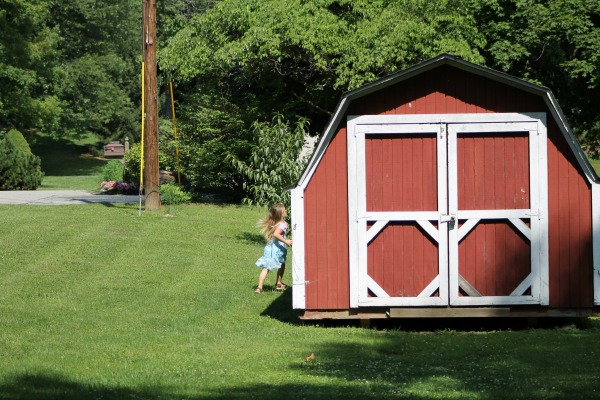 Over the past few weeks we've put some major hours into getting ready to move and specifically, getting this house ready for sale.
I swear, you have no idea how much junk you have until you go to move. I thought I was pretty good at keeping clutter down until I started going through all of our things item by item. There was just so much stuff lying around that no one actually used.
Since we officially started moving last Thursday we decided to just get all of our stuff out of the house before listing it. (Almost done!) I can keep the house fairly clean with the girls home but it's definitely not the spotless version I'd prefer.
I think moving out completely makes the entire process SO much easier. However, I'm still going to show you some pictures because I think it's fun to see inside other people's houses. (If you're a weirdo like me go check out Tonya's FRIBS (frugal cribs) episode. It is sooo fun.)
Decluttering
One of the very first things I did to get the house ready for sale was to box up toys. All but maybe five toys have been boxed up in the basement for the past month. I even took it a step further and literally threw away over half of the girls' toys. They both now have one medium sized container. (Which isn't very much at all considering there are quite a few stuffed animals/dolls hogging up that space!)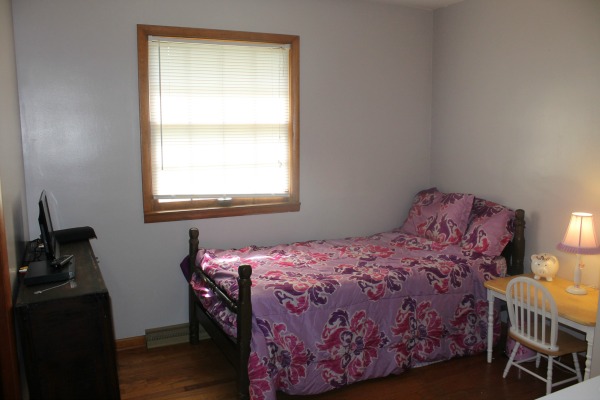 And do you want to know the crazy thing?
Neither one of them have asked for one single toy since I boxed them up. No whining. No complaining. They just haven't asked. The only thing that I put out of reach that they've asked for is crayons.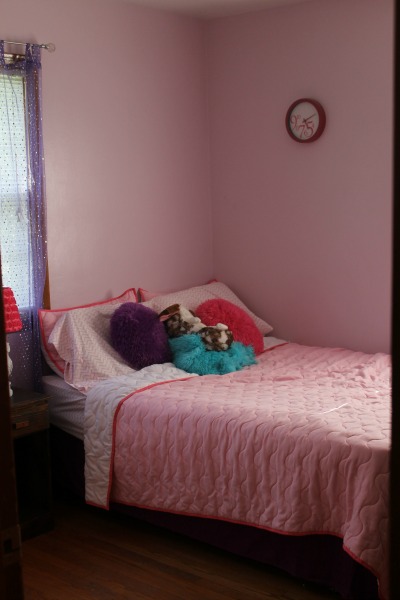 Now I'm considering not giving them any toys back at all. (Less for me to pick up!)
De-Grossing the Porch
The front porch had this nasty carpet glue all over it from my ripping up the 1960's green AstroTurf. That glue was a nightmare to get off.
I can't even count the hours that I set outside scraping glue off of the front porch. I tried everything – applying heat, using boiling water, adhesive remover, and a power washer. In the end the only thing that worked was scraping it with a straight razor. I couldn't get all of the green glue off and ended up having to paint it.
This gave the porch a cleaner appearance and I went ahead and repainted the brick underneath it a bright white (rather than the dingy white) with some extra paint I had on hand.
In the end, after everything I bought to try and remove the glue, plus paint, this project was around $70.
Painting, Painting, Painting
When I had my realtor over to look at the house one of his main concerns was the basement. He wanted it painted but it's a full basement and this would've been a HUGE undertaking. So we hired this out.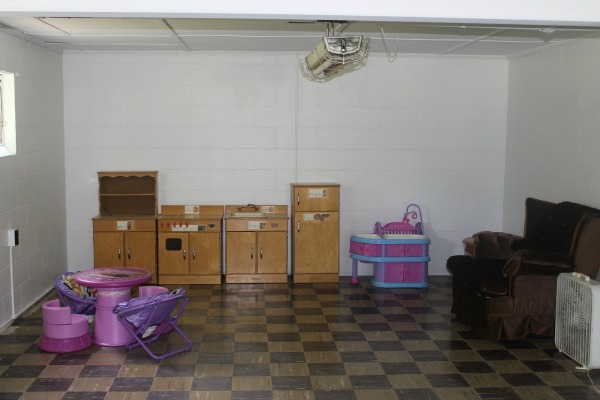 A painter came and painted the entire basement and basement ceilings a bright white plus painted the ceilings in the living room, hallway and kitchen.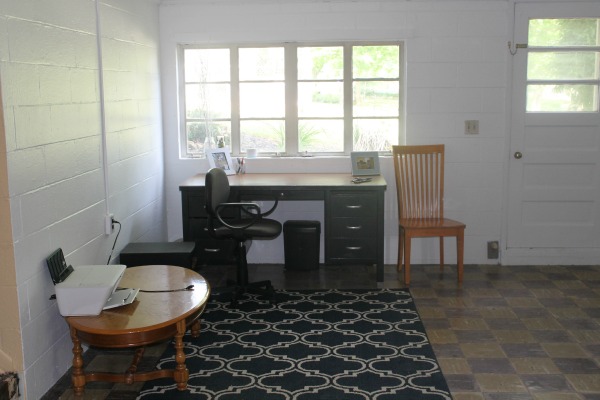 This set us back $1,465 (a week and a half worth of labor plus materials!) It was definitely worth it in the end. I can only imagine how stressed out we'd been had we tried to do this ourselves on top of working and taking care of the girls.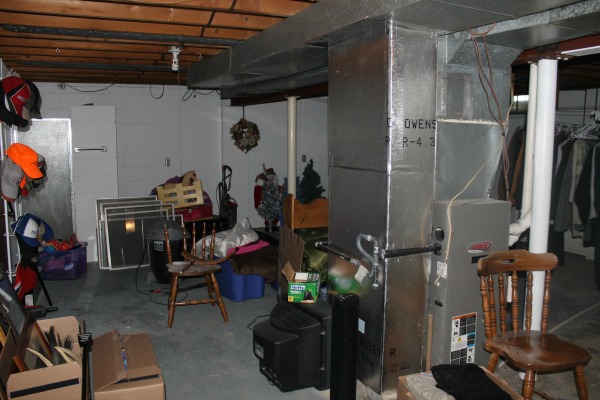 Only I made a stupid mistake that cost us…………………….
You see I picked out the paint colors in Jamie's house and the colors I picked were super similar to what I had painted the trailer. When the painter said he needed some paint to cut in on the ceilings I got him the paint I used for the trailer rather than Jamie's house. That meant we had a large different color grey stripe all across the entire living room and hallway wall. Ooops. My bad.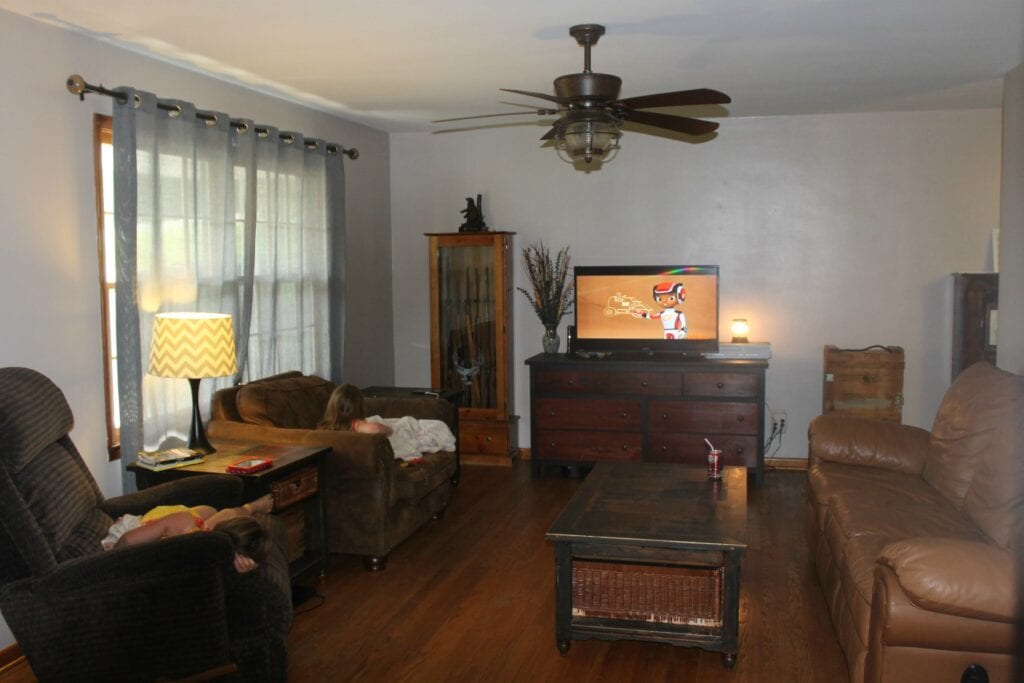 So Jamie and I repainted the living room as well as Ava's room (which was in rough shape) ourselves. This could've been completely avoided had I not been such an airhead.
Cleaning Out
Another large part of our process was cleaning out junk (which I guess goes with decluttering.) Thank goodness my Dad has a dumpster at his store because we made many, many trips.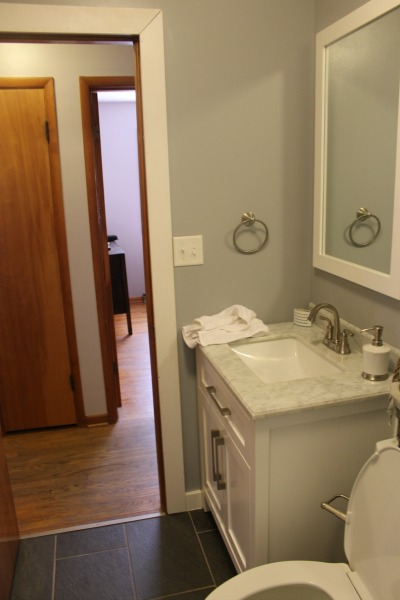 The only things we kept in this house are the things we actually want or love. And it feels so good to have purged so many useless items.
I even gave all of my good yard sale piles to my brother for his yard sale so that I didn't have to bring stuff I didn't need from place to place. (He was happy to take this stuff off of my hands for me!)
Overall Cost Breakdowns
Here's the total of what we spent getting the house ready:
Painter – $1,465
Porch – $70
Our Own Paint Supplies – $108.65
Total – $1,643.65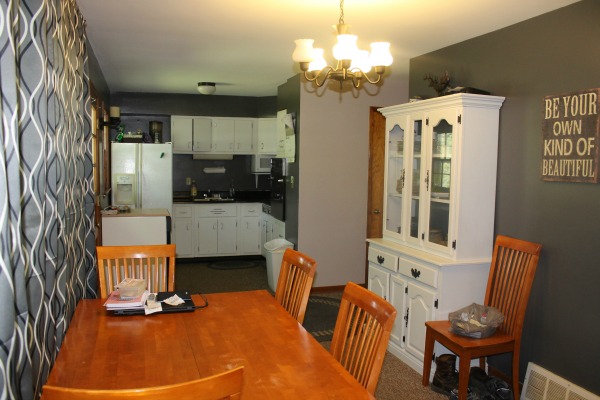 There were definitely more things we could've done to make the house look better (like redo the kitchen and spruce up the half bath, or at least remove the carpeting) but we had to weigh the risk/reward ratio. While a new kitchen and half bath may have been great I'm pretty confident that would've been an over-improvement and we would have lost all that money.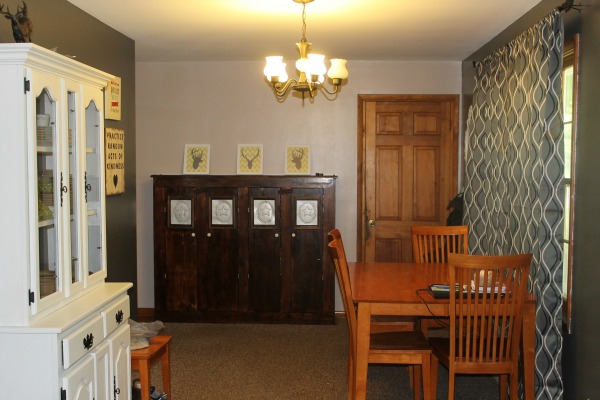 The Pricing Strategy
I went back and forth about what to list this house at. Originally I was thinking somewhere between $100 – $110k.
I talked to my realtor (who I trust) and according to him most buyers in my particular area are looking at houses below $100k so we decided to go the $99k route. That would bring us up in the $100 and less MLS searches.
I'm pretty confident that the house will sell fairly quickly at this price range considering this is a really good neighborhood and is a pretty darn good price compared to some other homes that have sold on this street.
Other house info:
1200 sq feet
Full Basement
3 Bedroom & 1.5 Bathroom
.5 acre of land
Corner lot
Built in the 1950's
2 Car Garage
Storage Shed
So let's talk about what we need.
We need to net $35,000 off this sale. We currently owe right at $48,000 on this house. That means after a seven percent realtors commission we'd have to get right around $90,000 for this house which I think is a BARGAIN.
The house should be officially listed later this week and I'm excited (and nervous) to see how long it takes to sell.
(On another note in case you're wondering the payment on this house is only $439 per month which includes property tax and insurance. Jamie put a large down payment when he bought this. So even if the house doesn't sell fast we'll be okay. At this point I'm just paying the normal payment and not the extra $160.)