If you're serious about starting your freelance career, no matter what it be, you need a home online to showcase all of your work and list all of your services in a clean, well-organized manner. Well, at least if you want to be taken seriously.
A blog with a hire me page works as long as there is some engagement on your blog. If your blog is currently only hearing crickets it's probably best that you have a separate, simple freelancer website.
If you're just beginning your freelance career and don't want to make a big financial investment in a freelancer website, don't worry – you don't have to. You can make the perfect freelancers website by yourself. I am going to show you how to set up a freelancer website for only $18.
Step 1 – Set Up a WordPress.com Blog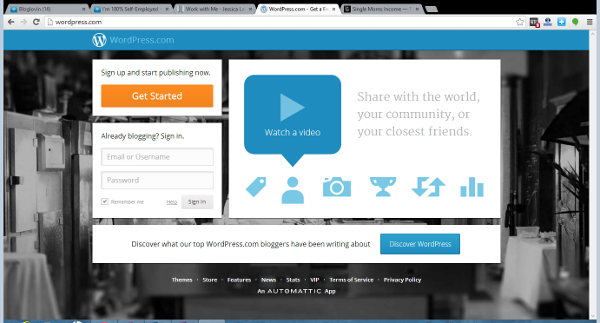 Go to wordpress.com and click the big orange "Get Started" button. You will then be directed to the following screen.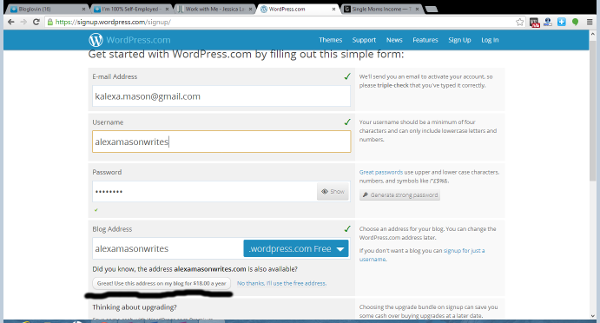 On this screen you'll fill in some personal information and choose a blog address. If you choose a .wordpress.com address your new freelancer website will be free. However, I recommend forking over the $18/year for a more professional .com address. Choose your new website address and once you find an available .com name click the "use this address for $18.00 a year" button.
You'll be directed to a payment screen where you can fill out your credit card information. After that processes you'll land on your new websites "dashboard."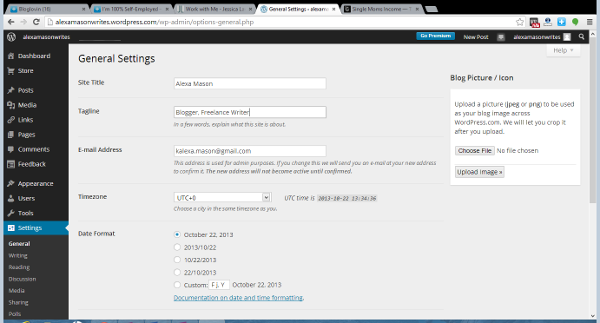 From here click "settings" and then "general" from the menu options on the left. On this screen you'll be able to name your new website and create the tagline.
After you've set this up it's time to add a welcome blog post. You can do this by clicking "posts" and then "add new" from the menu on the left. Type up your blog post and then click "publish."
You'll also need to create an about page, a services page, and a portfolio. You can create a new page by clicking "pages" then "add new." It's a good idea to add a photo of yourself on the about page so that potential clients can see who they are hiring.
Once you've created these pages you'll have to add them to a menu and then to your primary navigation bar for them to show up on your new website.
Here's how.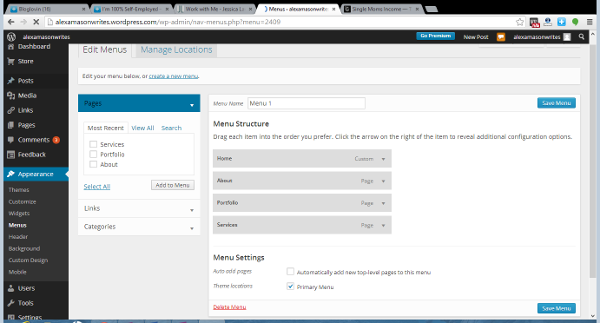 First click "appearances" from the menu bar on the left and then "menus." The pages you just created are going to show up on the left. Click on the boxes beside them and then click the "add to menu" button. They'll then show up in the "menu structure" box and you can arrange them in the order you like. Now check the box marked "primary menu" and click "save menu." Your new pages will now show up on your blog.
Adding Extras:
You can browse different free themes by clicking "appearance" on the left menu and then "themes"

You can add items to your sidebar, header, and footer by using widgets. Just click "appearance" and then "widgets"
Your new freelancer website doesn't need to be fancy. It just needs to be clean and organized. Having a freelancer website is perfect for anyone looking to do online work. Your freelancer website will be your online resume that you can send all potential clients to.
This is what the the end result of my mock freelance writer website looked like.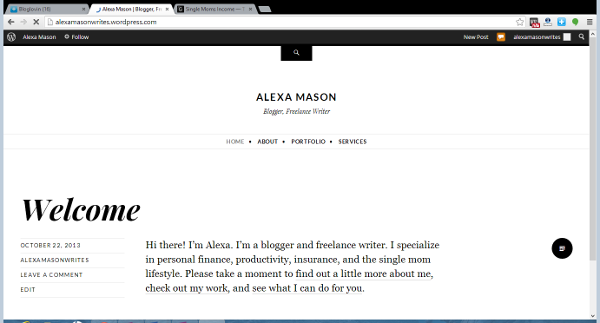 Nice clean and simple! If you want to be taken seriously and don't have a blog you need to set up a freelancer website. And, for $18/year there's really no excuse not to!