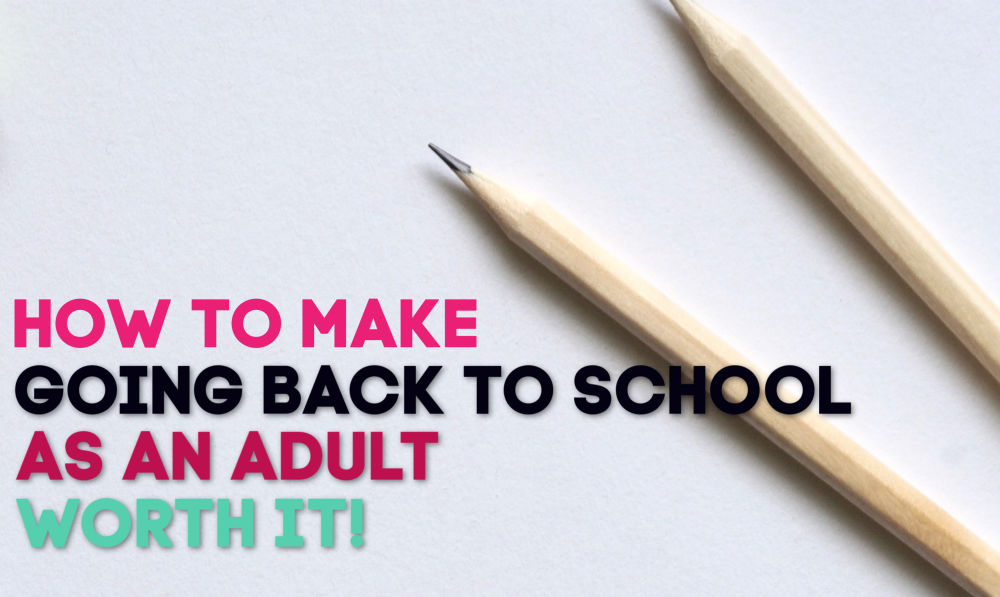 Are you thinking of going back to school? Attending college is a popular way to invest in yourself, but I know I'm not the only person who wonders if it's worth the cost.
When I graduated from college, I had $20,000 in student loan debt and I initially wondered if my degree was worth it. Soon enough, I realized that college was a justified expense and experience for several reasons, but there are still many things I'd do differently if I'd ever go back to school.
Going back to school can be a great way to learn a new trade or explore a new career option so you can make more money. If you're thinking of going back to school soon, here's how you can make sure it's truly worth it and you get a return on your investment.
Carefully Research Career Opportunities Beforehand
Returning to school is not in everyone's best interest. If you're considering it, you need to have a clear idea of what you want to study and research potential career opportunities.
Some colleges like to promote their guides that show you how much you can earn in a particular field. They use statistics and other figures to explain how some career fields are growing and how many job opportunities will be available in the coming years.
Don't just go off these guides alone. Do you own independent research to see what the career field is really like. I even recommend going to job boards to see if there are any job postings for positions in your desired field along with what they are paying. This will give you a good realistic idea of what your career opportunities may be like before you head back to school.
Consider Learning a Trade
Learning a trade is great because there is always a demand for certain skills and you can find work with a certification. This means you probably don't have to be in school for several years.
Some trades can be mastered in a few months or around a year or two. That way, you can get to work fast and start earning a return on your investment.
Plus, trade salaries are competitive. You can even go into business for yourself and offer your services locally if you'd rather go that route.
Avoid Student Loans
Sure, this is easier said than done, but there are plenty of things you can do avoid taking out student loans for school. While loans provide temporary relief and allow you to finish up school, it can be a burden to have to pay them back – especially if you earn an entry-level salary in your field after graduating.
All in all, my $20,000 of student loan debt was not much compared to some of my peers who ended up having $50,000, $70,000 or even $100,000+ of student loan debt after college.
To avoid a ton of student loan debt, you can apply for financial aid to see if you can get grants. Also, apply for scholarships promoted by the school and other private organizations.
Consider signing up for night classes so you can work during the day to help pay for school. Or, you can even delay enrollment by a semester or two so you can save up to pay for some classes with cash.
Start at a community college if you can because tuition is cheaper and you can use a payment plan to cashflow school.
Get on a Budget
When you're going back to school, your budget will become an even more crucial tool. You will have to factor in the costs of classes and extra expenses like childcare, additional transportation, books and supplies, etc.
Go through your current budget to see where you can cut back or how much extra you might need to live comfortably. You may need to become more frugal and more conscious of how you spend your time.
Get an Internship
Internships and apprenticeships are not just for 20-year old undergrad students. If you're studying an entirely new career field, it's best to see if you can land an internship or a part-time job in that field so you can gain some experience.
I did two internships in college and one of them was even paid. This helped me add more experience to my resume and make more connections so I could find a job after college. School is great and all but you just can't beat hands-on job experience.
Get a Side Hustle That Applies to What You're Studying
If you can't find an internship, you can always create one for yourself. Start working on the side to practice offering the skill or service that you're studying in school.
When I was studying journalism and communications, I wrote articles and did other writing work that I found on Craigslist for cash.
If you're studying graphic design, you can start selling your design services on sites like Fiverr or Upwork. If you're studying HVAC repair and installation, see if you can help friends and neighbors repair and maintain their systems for a discounted fee.
This is a great way to use what you're learning to make money and build connections before you even finish your program.
Summary
Think long and hard about going back to school. It's an expensive decision and you want to make sure you truly get a return on your investment and your time.
Take time to carefully research your career idea and program of study to make sure returning to school makes sense. Use side hustles and leverage night classes to help you afford the costs. If possible, start going some work in the field before you finish your program and create a budget that you can stick to.