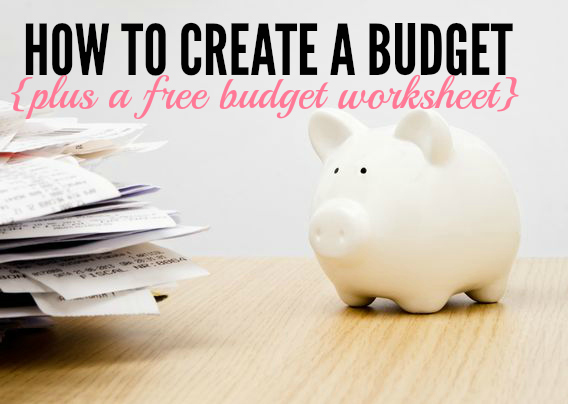 Today we're going to dive into creating your budget.
A budget is always a work in progress and can be hard to nail down until you know exactly where all of your money is going. (Which we'll tackle soon!) But a budget is so important to help keep you accountable for meeting or even surpassing your financial goals.
For those of you who are budgeting veterans much of this will probably be review so feel free to skip down to the printable if you're interested in that. But for everyone who is brand-spanking new to budgeting we'll go over the steps that you need to take to get your budget off the ground.
A Budget is NOT Meant to be Restrictive
Your budget is not meant to be restrictive. Look at it like a roadmap for your money.
If you want to drink Starbucks every morning more power to you. Just record it in your budget so that you are intentionally spending that money.
Don't let people guilt you into thinking that your budget can't contain what makes you happy. Your budget is supposed to contain what makes you happy! If it doesn't, what's the point of life? (Note: I didn't say recklessly spending was okay.)
There is No Right or Wrong Way to Budget
There's nothing I can't stand more than someone trying to push the way they do things onto me. Please keep in mind that this is NOT what I'm trying to accomplish with this series. I'm simply walking you through the simple system that I use to organize my finances. You're encouraged to tweak all of this stuff to fit you.
There are many different ways to budget. Some people like to list every little expense into a budget category and track it in a super detailed spreadsheet. More experienced budgeters can literally map out all of their expenses in their head. Others might like to automate everything so that they don't have to do any work.
What you do will heavily depend upon your own personality. There's no right or wrong way to budget. As you go throughout the year living on a budget you'll see an evolution until you finally land on the system that fits you.
How to Create Your Budget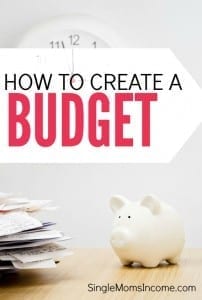 To create your budget you're going to first need to go through your old bank and credit card statements for the last three months. Look at all of your purchases and group them into like categories based on the month you've made them. (It's going to be hard to find everything but we'll get to that on Friday when you start to track your expenses.)
Now average those three months. (Don't include Christmas expenses.) That's your starting point.
Take a good hard look at that average. Are you spending more than you're bringing home? If so, you need to go ahead and find ways to lower your budget now. We'll also be going through several different ways to lower your budget as the month progresses.
If there are any expenses you can immediately get rid of (think subscriptions you pay for but don't use, services you forgot to cancel, etc.) do it.
Break your expenses down into categories and list them all out.
For all of your variable and unnecessary spending (clothing, entertainment, food) set a monthly target amount. Don't try to lower this too much at once. For instance if you're used to spending $100 a month on coffee and try to lower that to $0 you're only setting yourself up for failure. While you can certainly make it to $0 it needs to be done gradually. Maybe you could go from $100 a month or $75 or $50. If you try to do too much at once you're going to give up.
The biggest rule to budgeting: BE REALISTIC!!
Free Budgeting Printable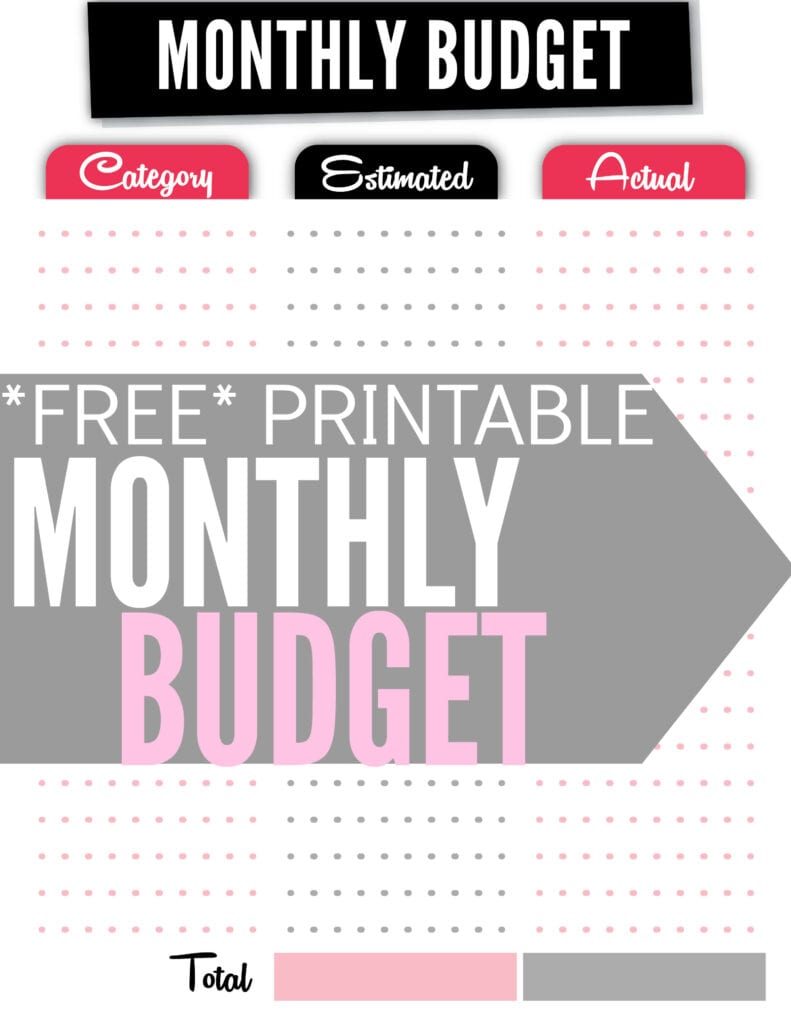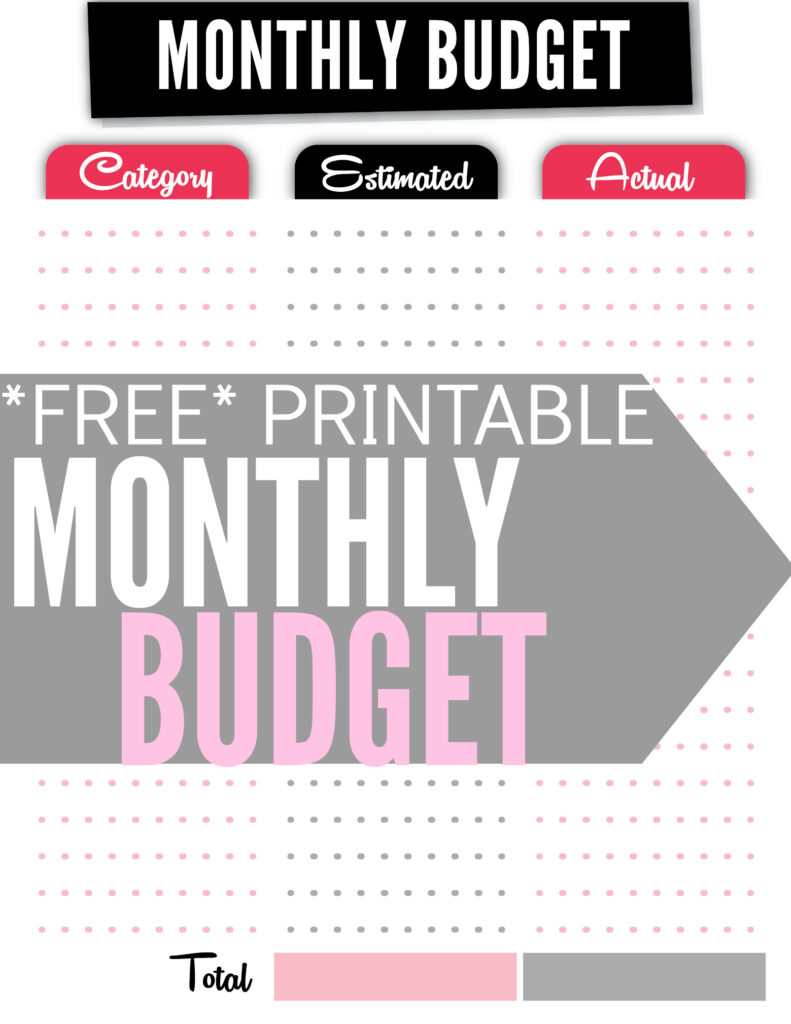 I'll be using this printable for my budget. There are three columns in this budget – category, estimated, and actual.
The category is where you'll list your individual budget categories like rent, water, gas, babysitting, etc. In the "estimated" column write all of your budget targets for the month (what you'd ideally like to spend.) In the "actual" column you'll record what you've actually spent so that you can do a side by side comparison.
I'll have an expense tracker printable for you on Friday that you can use with this budget worksheet. (You can now see all of the budget binder printables here.)
If you don't like the budget printable here are some other options:
Microsoft Excel Monthly Family Budget – My absolute favorite Excel budget spreadsheet is a pre-existing template. Just go into excel and search the templates for "Monthly Family Budget" to find it.
More Budget Worksheets – If you're looking for a different layout you can find more printable budget worksheets here.
Other Excel Templates – J$ from Budgets are Sexy has a list of Excel budget templates. Hopefully there's something in there that you like!
Mint.com – Mint.com is a free program that will track your expenses for you. When you set up your Mint account you can always see how you're doing for the month. This is perfect for anyone who wants a more hands off approach. However, do note that is you use a lot of cash you'll need to manually input that information into Mint.
 How do you budget? Do you use software, an excel sheet, or pen and paper?
Linked up to Thrifty Thursday