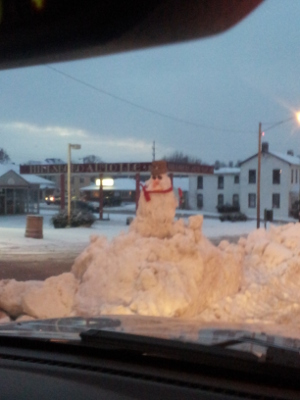 Last winter this was the middle of the main road!
I have cabin fever.
I noticed this slight feeling of depression creeping in about a week and a half ago. My grouchy mood started getting worse each day.
I started to think maybe I was working too much. I've put in some serious hours over this past month and I began to wonder if that was starting to cause me burn out. So….I took the whole weekend off technology. It didn't help.
In fact, it actually worsened the problem. I wasn't really burnt out at all, I just needed something to do! By forcing myself not to work (which I enjoy) I realized how much I was missing the warm weather. I just needed to get outside.
So, I tagged along with Jamie as he scouted out some hunting ground. About ten minutes in I realized walking through creeks in windy 35 degree weather, while wearing suede boots wasn't my brightest idea. I made it about an hour before feeling like I was going to lose my toes.
It did make me feel a little better though. When I got back home I tried to think of more things to do but was kind of stuck.
What Do You Do For Fun in the Winter?
The girls and I usually read a ton of Kids' Books in the winter. It helps pass time by on those "boring" days but I need some more cheap things to do. (I really don't want to spend any money. I am literally pinching pennies so I can save money for a down payment!)
Here are some of things I have tried so far:
Hiking (It's soo cold though! School has even been cancelled around here for the extreme cold.)
Baking (This doesn't really do it for me as I don't really love to cook.)
Cleaning (This is more fun than baking, for me anyways.)
I also watch the occasional movie on Amazon Prime but I'm not a big TV watcher. (Except for Sons of Anarchy which is now over 🙁 )
When December rolled around I was all excited for Winter and now I'm just wishing for some warm weather!
I'm actually thinking maybe I should just stick to working like crazy so I can build some income momentum and get super far ahead. That way when the warm weather comes I'll be able to get out and enjoy it.
But still, I'd love to hear some ideas for getting out of the house during these super cold months.
What do you do for cheap fun during the winter time? Do you spend time outdoors?
Hmmm……maybe I need to suck it up and buy some insulated overalls and snow boots..