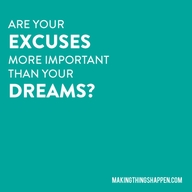 I have my girls this weekend, I have been considering a trip to Chuck E Cheese but haven't made up my mind yet. We will probably just visit family, clean up the house, and relax all weekend long! It's been way too hot around here to do much else.
Posts I Enjoyed this Week
My favorite post this week comes from Budgets are Sexy and was written by Pauline from Reach Financial Independence: How to Flip Stuff Like a Pro. Pauline's boyfriend has some serious skills and I thought the article was very interesting.
Other Places You Can Find Me:
How to Become Self Employed on a Tight Budget

@ Cult of Money
Freelance Jobs
I didn't get any new jobs this week and I actually slacked a little bit on applying. I did however finish my E Book, now I am just making a few minor changes. I should have that live next week. (Yay) I need to kick it in gear and find some more work.
Anyone need a staff writer?
Freelance Writing Jobs
Writer for Short Spiritual Book @Craigslist Pay: Under $1,000
Addiction Blogger

@Blogging Pro 

Writer for Real Estate Magazine

@Craigslist

Web Design Writer

@ProBlogger

Ghost Blogger for Health Care Training Site

@ProBlogger

Natural Living Writer

@ProBlogger

Writer for Marketing Site

@ProBlogger
Freelance Editor
Editor for True Story

@Craigslist

Shopping Content Editor

@Internet Brands
Misc. Freelance Jobs
English/Spanish to Dutch Translator @Craigslist Pay: TBD
Social Media Relations for Small Business @Craigslist Pay: TBD
Jokes Writer

@ Craigslist
Also I Will Teach You to Be Richis hiring for the following positions:
Chief Operating Officer

Director of Marketing

Web Designer

Executive Customer Support Rep

Jr Copywriter

Lead Optimizer

Online Course Product Developer

Partnership Manager

Email Analyst
Personally, I think it would be pretty sweet to work for Ramit. You can apply for these jobs here.
Have a fantastic weekend!