Blogging can sometimes feel a bit overwhelming – no matter what stage you're in.
When I first started blogging things like creating graphics, gaining traffic and growing social media followers were tough. Four years later and things like monetizing, consistently coming up with blog topics and staying on top of this whole 'blog to business' thing in an authentic way have become even tougher!
That's why when I found out about The Genius Blogger's Toolkit I was pumped. I snatched it up the first opportunity I had (which was slightly in advance of release date.) I've since been going through various sections and I am in love.
In love, I tell you!
It's not often that I get excited about an online product but this one is completely different.
The Genius Blogger's Toolkit
The Genius Blogger's Toolkit was put together by the Ultimate Bundles team. You know, the same ones who launch the ever-so-popular Ultimate Homemaking Bundle and Ultimate Healthy Living Bundles each year.
The toolkit has over $3,500 worth of products and is available for one week only for $97!
In addition to all of the products (which is a TON and are all listed below) there's also $1,700 worth of bonuses. These bonuses include things like 3,000 free Board Booster pins, two months free of Viraltag and a $19 theme or plugin from My Theme Shop, just to name a few.
Who is This For?
While this bundle is obviously aimed at bloggers I think it can be highly useful for a wide variety of online entrepreneurs.
For instance, if you're interested in being a blogger's virtual assistant you can learn almost everything you need to know from this bundle. Want to break into social media management? Covered. Interested in creating an online product? Yep, they have that too!
And best of all this bundle comes with a thirty day guarantee.
Once you get the bundle you'll receive info to log into your dashboard where all of this information is beautifully organzed and easy to access.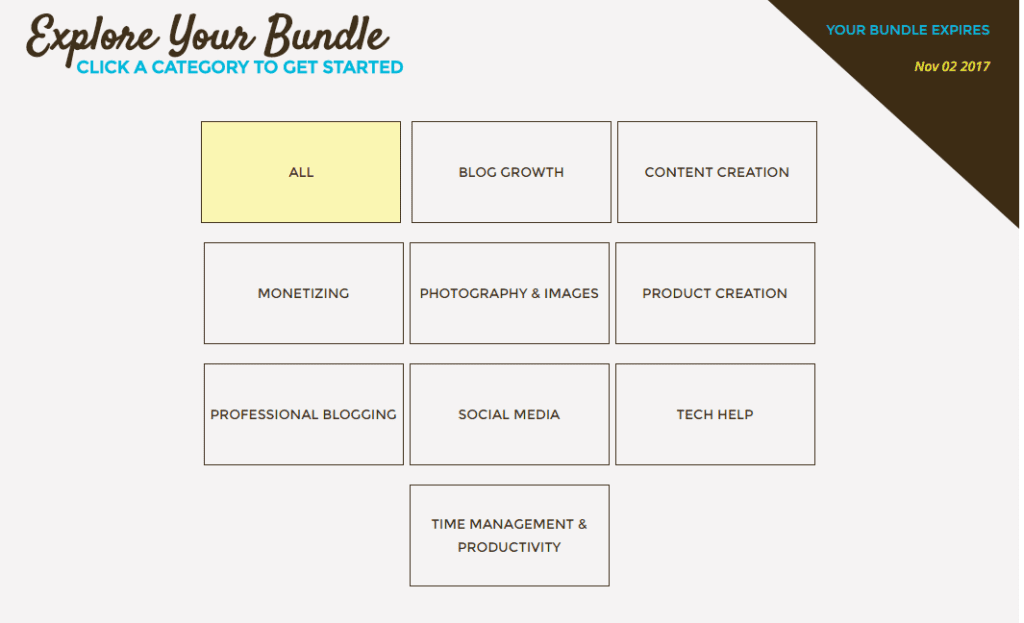 There's one catch though. This bundle is only available for seven days. The cart will close at 11:59 pm EST on next Tuesday Nov. 1st.
If you're interested you can purchase the bundle now for only $97!
If you're on the fence check out all of the resources offered below and decide for yourself whether you think this bundle can help you advance your career.
Here's what the bundle includes:
Professional Blogging
Blogging Roadmap: The Simple Method for Creating A Profitable Blog by WellnessMama ($97.00)
Building a Framework: The Ultimate Blogging Handbook Master Package by Abby Lawson ($75.00)
Everything But the Posts: Tips, Advice, and Templates From a Blogger Who Has Been in Your Shoes by Becca Ludlum ($7.99)
Launch Your Dream Blogger's Bundle by Natalie Joy ($81.00)
The Foundation Series by Kirsten Oliphant ($49.00)
The Knowtbook: In-Depth Notes for Online Business by Amy Lynn Andrews ($24.00)
The Must-Have Guide to Blogging by Kayla Aimee ($17.00)
Time Management & Productivity
Asana for Bloggers by Matthew Giovanisci ($25.00)
Blog Buddies Planner Pages & Calling Cards by Mollie Johanson ($8.00)
Creating and Maintaining an Editorial Calendar by Angie Holden ($19.99)
Productivity Guide for Bloggers by Ruth Soukup ($97.00)
The Balanced Blog Planner by Amy Blevins ($49.00)
The Ultimate Freelancer Tax Guide by Caitlin Pyle ($9.99)
The Ultimate Unoffical Dropbox Guide by Jason Glaspey ($29.00)
Time Management Mama by Beth Anne Schwamberger ($5.99)
Social Media
Facebook Live Bully by Dave Anderson ($37.00)
FB Ads for Beginners by Beth Anne Schwamberger ($75.00)
Growing With Groups by Val Geisler ($97.00)
InstaValuable :: Grow Your Instagram Basic Course by Myquillyn Smith ($97.00)
Pinaffiliate Masterclass by Adeline Ganley  ($97.00)
Pinterest Traffic Secrets by Bob Lotich ($149.00)
Snapchat for Influencers by Amy Bellgardt & Jessi Sanfilippo ($9.99)
Social Media Marketing Workbook and Planner: How to Master Engagement in 15 Minutes a Day by Dwainia Grey ($27.00)
Stop Guessing: Your Step by Step Guide to Creating a Social Media Strategy by Jenn Herman ($9.99)
Strategies Worth Sharing eBook & Workbook by Brittany Ann ($30.00)
Triple Your Twitter by Helene Sula ($127.00)
Product Creation
Blog To Book: A Guide to Building Your Blog Business Through eBooks and Paperbacks by P.R. Newton ($7.99)
Building a Business: How to Dream, Plan, Make, Sell, and Share Your Online Shop by Maggie Whitley & Elise Blaha Cripe ($12.00)
Delight: The Digital Biz Owner's Guide To Creating A Pro Client + Customer Service Plan by Erika Madden ($11.00)
E-Course Creation 101 by Chantel Klassen ($97.00)
Formatting e-Books for Writers by Susan K. Stewart ($2.99)
From Idea to eBook by Mandi Ehman ($37.00)
Get Them Excited to Buy: Step-by-Step Guide for Converting Just Looking to Just Bought by Kelly Thorne Gore ($27.00)
How to Start Publishing for Kindle by Jeff Goins ($47.00)
Tech Help
Blog Beautiful: 50 Tips + Fixes to Make Your Blog Glow by Marianne Manthey ($24.00)
HTML and CSS Crash Course by Sarah Eggers ($129.00)
Sticky Blogging SEO: Climb to the Top With This 21-Day Course by Kelly Holmes ($99.00)
What the Tech? A Guide to Ease Your Technical Blogging Frustrations by Lesley Clavijo ($75.00)
You Have a Blog, Now What? Tips for Non-Techie Bloggers by Maria Davis ($19.00)
Photography & Images
Eat Pretty Things: Your Guide to Food Photography by Trisha Hughes  ($29.00)
Lazy Girl's Guide to Lightroom: Easy Photo Editing for Bloggers by Beth Bryan ($97.00)
Photoshop Your Biz: Learn Photoshop & Design On Your Own Schedule by Holly McCaig ($79.00)
Systematize Your Branding by Indigo Colton and Kaitlyn Kessler ($49.00)
Blog Growth
17 Strategies I Used to Go from 17K to 350K+ Pageviews in 9 Months by Lena Gott ($25.00)
List Building Jumpstart by Laura Smith ($147.00)
Networking Tips to Take Your Business to the Next Level by Natalie Cutler-Welsh ($19.00)
Primp My Post by Angie Nelson ($17.00)
Rave: Turn Your Online Followers Into Fans by Allison Marshall ($149.00)
Content Creation
Content Cookbook by Prerna Malik ($199.00)
Done-For-You Blog Content Creation Kit by Tanya Peterson ($47.00)
Heart of Your Business Video Training by Adera Angelucci ($47.50)
Podcasters Secret Weapon: Ultimate Podcaster Launch Guide  by Luis Congdon ($9.00)
Simple Podcasting by Joe Pardo ($69.99)
Monetizing
Affiliate Marketing for Bloggers: The Fundamentals by Tasha Agruso ($75.00)
Affiliate Marketing Secrets & Strategies by Katie Hornor ($47.00)
BloggerRevolution™ Sponsored Content Master Guide:  How to Pitch, Create & Nail Sponsored Content Every Time by Bonnie LaVell ($279.00)
Brands Are Looking For YOU! by Karen Lee ($14.99)
How to Move from Blog to Business by Caz and Craig Makepeace ($67.00)
Launch Your Speaking Ministry by Sheila Wray Gregiore ($79.00)
Monetize45 by Tabitha Philen ($149.00)
PR + Marketing for Bloggers by Kaelah Flynn ($25.00)
The Concise Guide to Blogging for Business Growth by Ling Wong ($27.00)