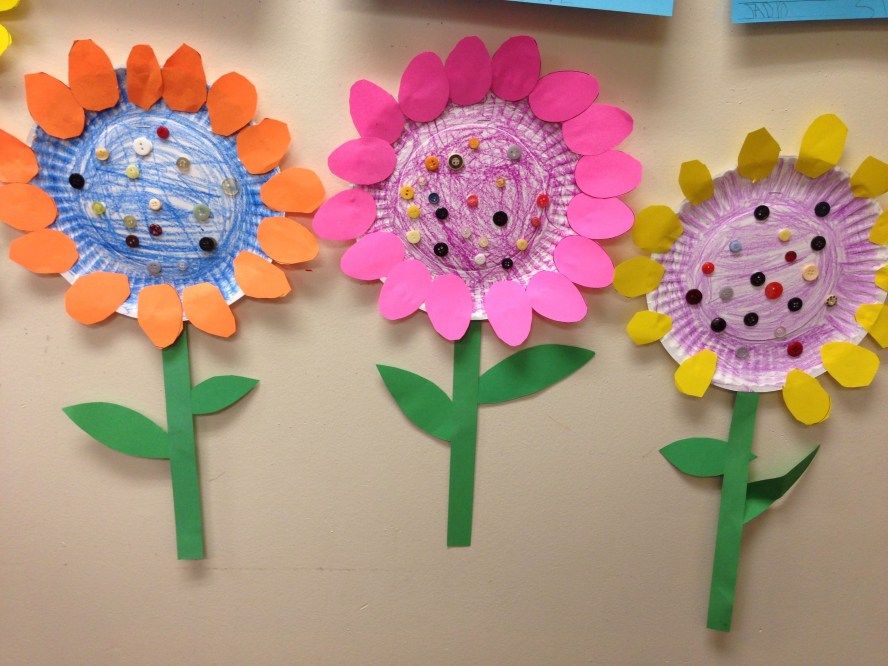 There are many easy and adorable paper plate crafts you can create for your home that you may not know about or many of us can make use of. Furthermore, paper plates that you already have in your home can be used to make some incredible crafts with your kids.
Do you and your family enjoy camping? Stuck with ideas on how to make your camping trip more enjoyable? check out Fun Camping Crafts And Activities For Kids.
Adorable Paper Plate Crafts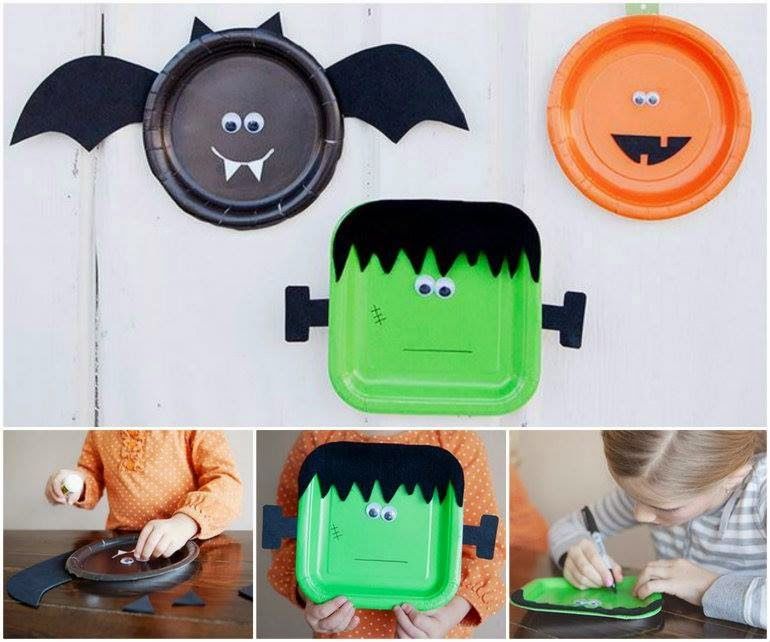 There are many times that we struggle to keep our kids occupied during the school holidays and at weekends. Crafts can be a fun way to bond with your kids as well as create beautiful pieces for your home. Making easy adorable paper plate crafts can save a lot of money. They also provide hours of fun as many of the items needed are already everyday household items.
Rainbow Plates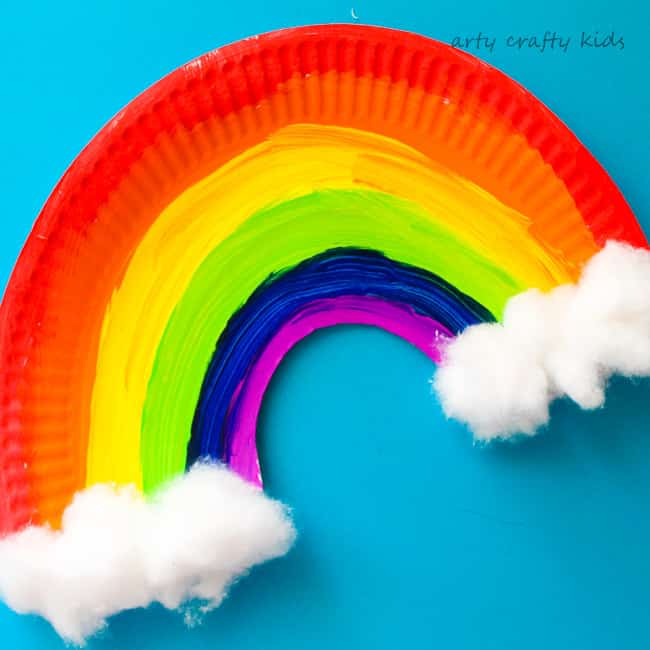 I've come to realize that many kids love rainbows, all the different colors combined make them really eye-catching. In addition, this craft is not only creative but also educational. While making these rainbow plates you can teach your kids the colors of the rainbow and the odder they appear in. Furthermore, these colorful crafts can be placed on the fridge or even in a playroom where you can continue to teach and quiz your kids.
Dream Catcher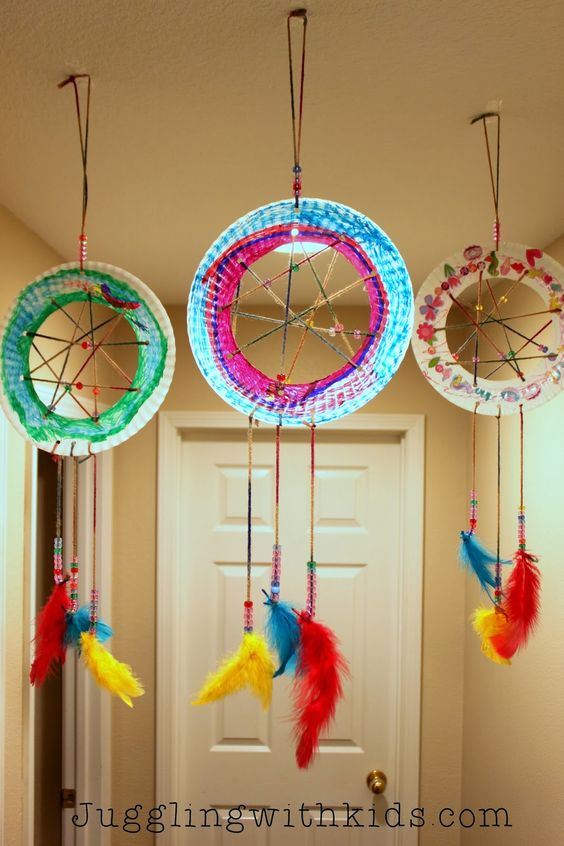 Dream catchers are becoming more and more popular in many households. Why not try and make some adorable dream catchers with your kids out of paper plates to hand in your home. These paper plate dream catchers are simple to make and all you need is some yarn and your paper plates. If you're feeling extra creative why not try using feathers or beads. No matter which method you choose to make your dream catcher you'll end up hanging it in your home. Furthermore, these paper plate dream catchers are perfect to show off to friends and family.
Fruit Plates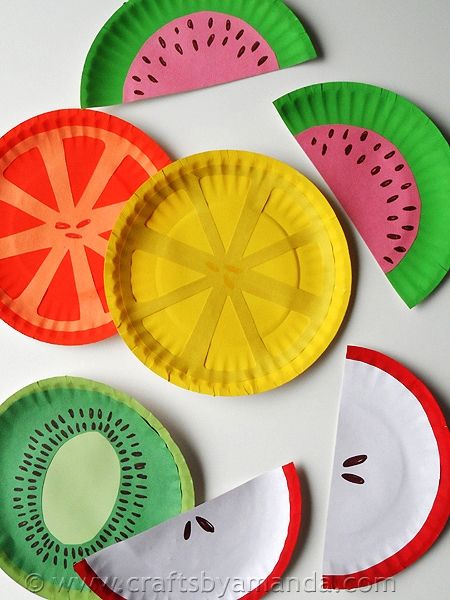 During spring and summer, many of us eat a lot of fresh fruit with our kids. These fruity plates are a bright and adorable craft created from paper plates. When creating these plates you can help your kids learn about the different fruits available and the benefits of eating them daily
Bumble Bee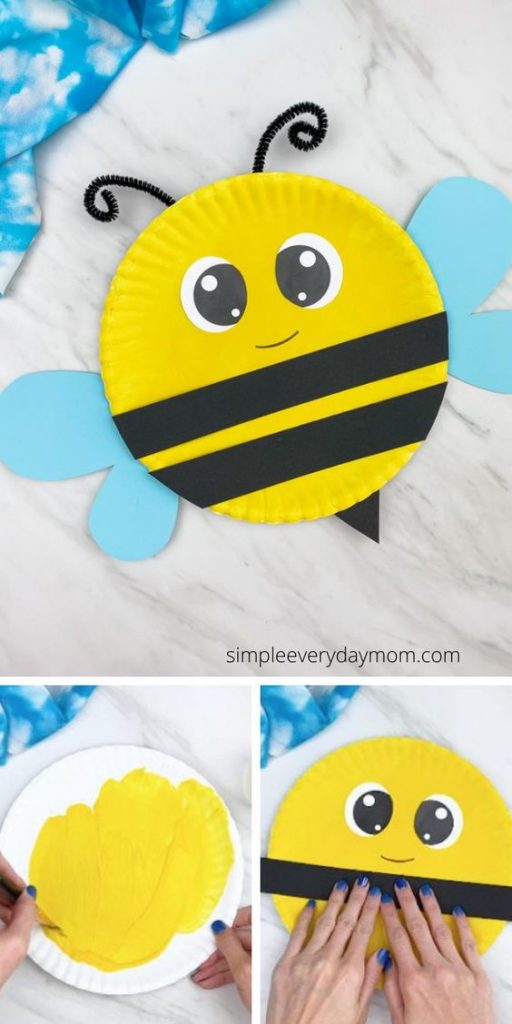 Many kids may be scared of bumblebees in real life but these cute bumble bee plates will definitely concur with their fears. In addition, you and your kids will love the finished design of the cute bumble bee once you've loved colored and painted this masterpiece. You may think this craft is simple but it will be loved by the whole family.
Cool Hates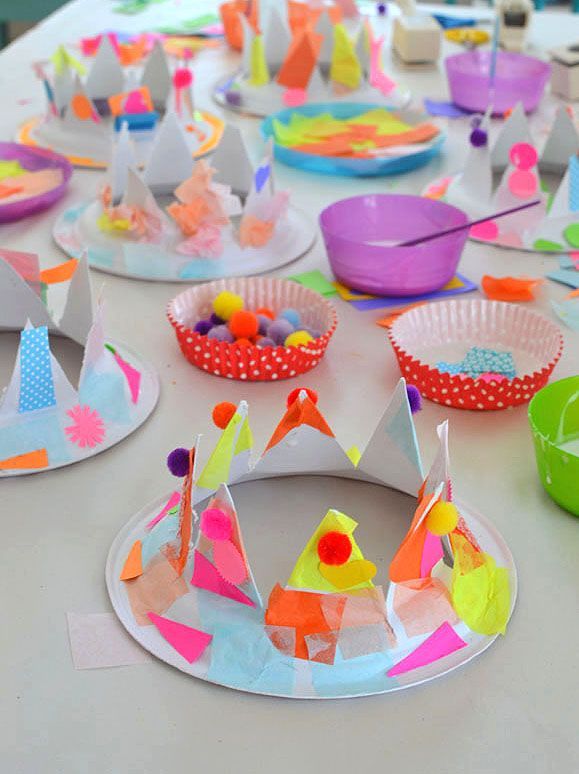 No matter what the occasion, whether it's a birthday, the holidays, or even a party your kids will love making these cool hats. There are many different designs of paper hats you can create, this website gives you tutorials of any hat you can imagine making. Your child will definitely be the kid with the coolest hat in school or at any birthday party.
Wind Spinners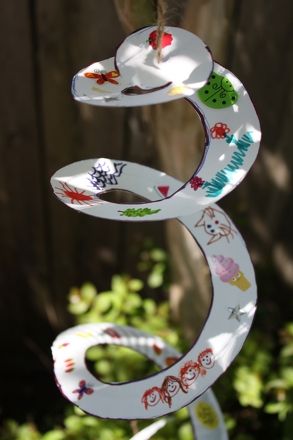 There's nothing more exciting for your kids to make than these wind spinners. Once created they can really see them come alive by watching them spin in the wind. Your kid's face will really light up when they see their creation spin and sway in the wind. You and your kids can paint and color any design on our paper plates and then all you need to do is cut it into a spiral.
Flying Owl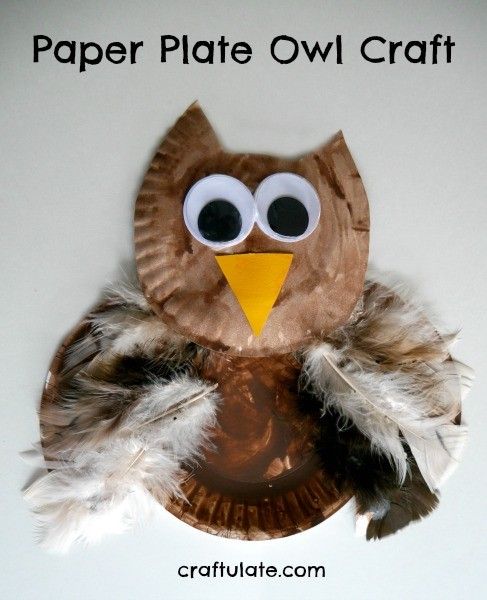 Owls have become more and more popular when it comes to accessories and clothing. These animals have also become very popular with arts and crafts. These paper plates are incredibly cute and your kids are going to love paining big own eyes on their creations. Once these adorable animals have been created you can hang them from the ceiling and watch them fly how cool is that!.
Tamborines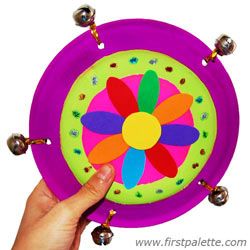 Do your kids love making loud noises that can drive you crazy? If you still have some sanity left why not let your kids create these wonderful paper plate tambourines. These paper plate tambourines are a great way for your kids to show off their musical side and you may even experience some dancing along the way. You'll only get a little noise from these tambourines but seeing the joy on your kid's faces is priceless.
Pirate plates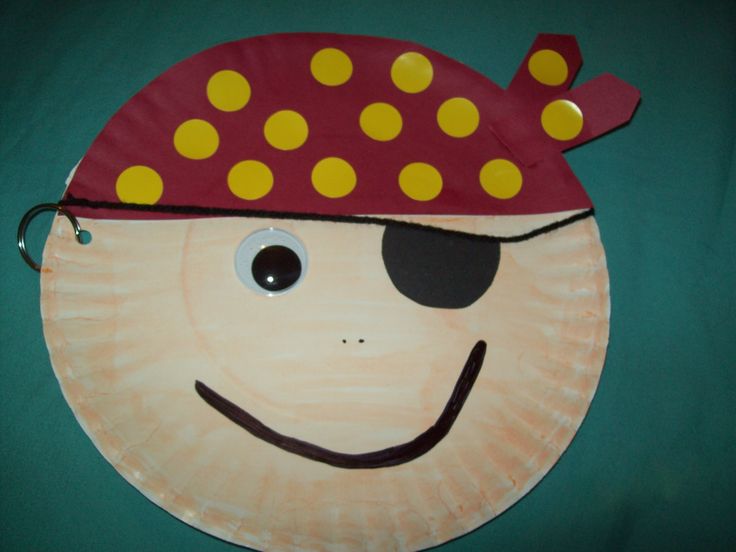 These pirate plates are so cute and can make a great role play. Why not talk in a pirate voice while making your pirate plates. This will definitely make you both laugh and have a great time along the way. These pirate plates can be used for a pirate-themed room, party, or just because your kids love pirates.
Birds Nest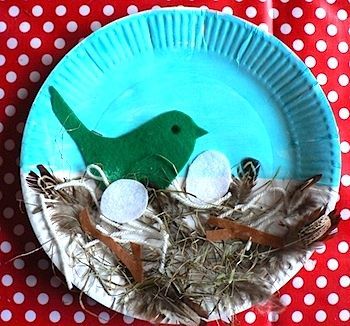 Aren't baby animals the cutest thing you've ever seen?. Baby birds are just one of these cute animals. These birds nest plates are great as the birds are removable enabling your kids to play with them in and out of the nests. This is a really creative way to make use of your paper plates, your kids can pretend to fly the birds around the house, feed the birds, and even put them to sleep in their warm, cozy nests.
Fishy Dishes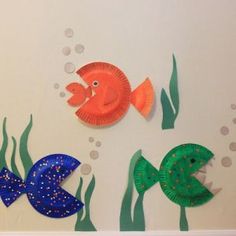 Fishes made from paper plates are fun and colorful. During the summer and heatwave, we all visit some sort of ocean or swimming pool. These adorable fishes give you the opportunity to teach your kids about the different types of fish. Your kids will love learning alongside painting these wonderful sea creatures.
Pink Pig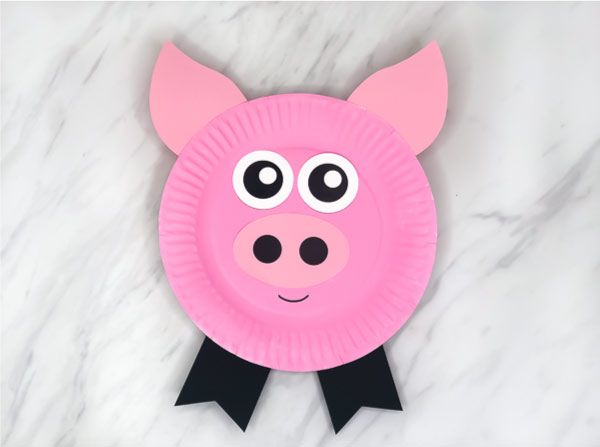 These pink pings are a fun way to create something different from your arts and crafts. In my opinion, these cute farm animals are the easiest paper plate crafts you can make as you only need the plates and glue!. If you don't have anything pink to add to your pig just paint it. Teach your kids some nursery rhymes like "Old Mc Donald" and educate them about farm animals along the way. You can even make pig noises and have a good old laugh.
Walrus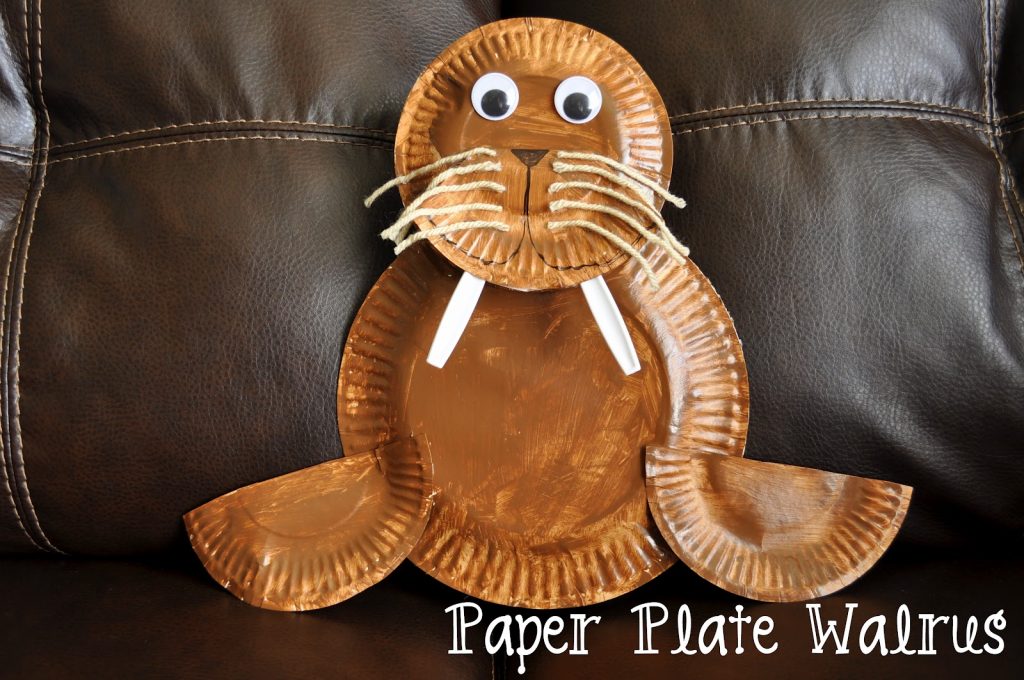 These fun mammals are so adorable and your kids are going to love them. Sea creatures are the animals kids are the most intrigued by in my opinion. This could be for the fact that many of them cannot be seen unless you are underwater. These walrus plates are a great craft to make before or after visiting an aquarium and seeing them for real. Why not make walrus noises and have a good laugh with your kids.
Banjo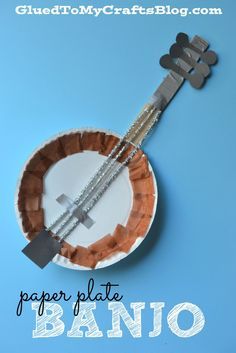 Most kids love music and having a new musical instrument to play with will really make them happy. When making this banjo you can use rubber bands for string and stum them making real sounds. This banjo will really make your kid feel like a rockstar!. You can even let them perform for the family or if they have a sibling let them perform in a band alongside the Tamborine you made earlier.
Animal Masks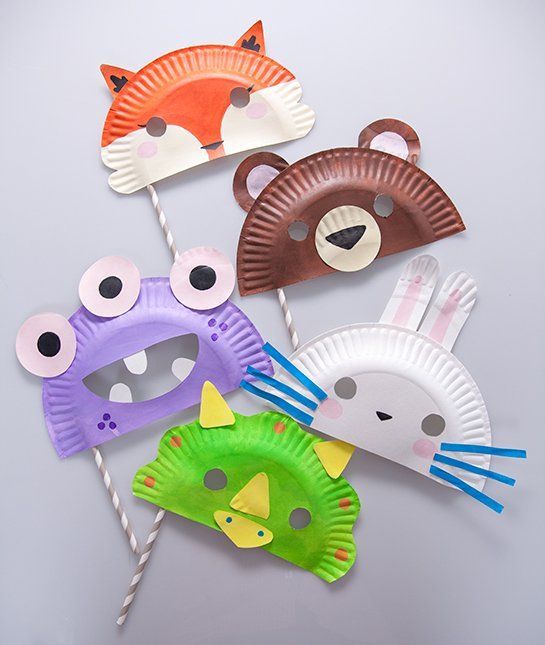 Masks are a great way to use paper plates. These animal masts are a great way to become creative. Your kids can be very imaginative with these masks, they can dress up as animals by putting on costumes. This is a great way to teach your kids about all the different creatures of the world. Your kids will love making these masks to play with friends and family members.
Ninja Turtle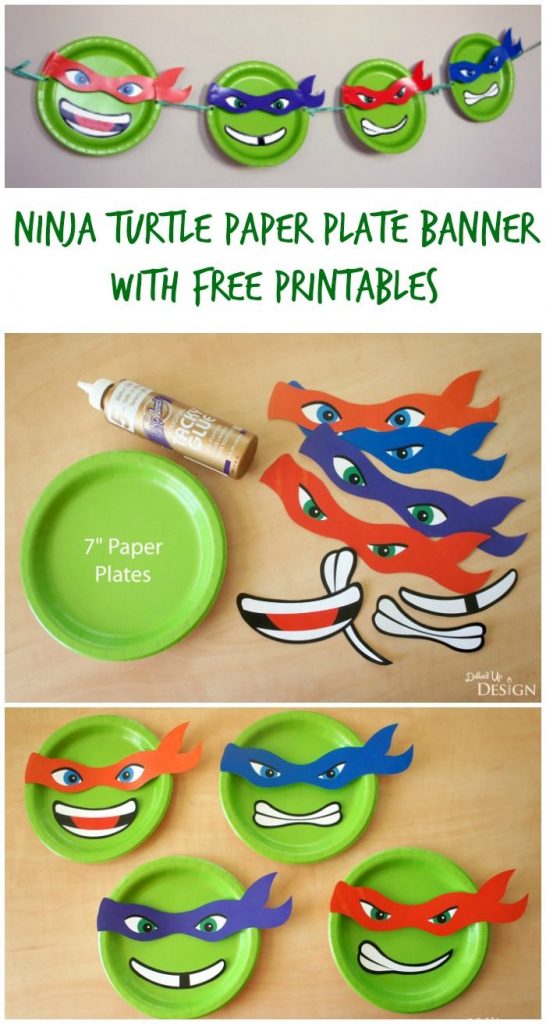 Many kids love Teenage Mutant Ninja Turtle, especially boys. For many kids, this mask is a must-make craft. If you're looking for a fun way for your kids to interact with each other why not cut out wholes instead of eyes and let them wear it as a mask. They can pretend to fight with each other as their favorite Ninja Turtle character.
Fish bowl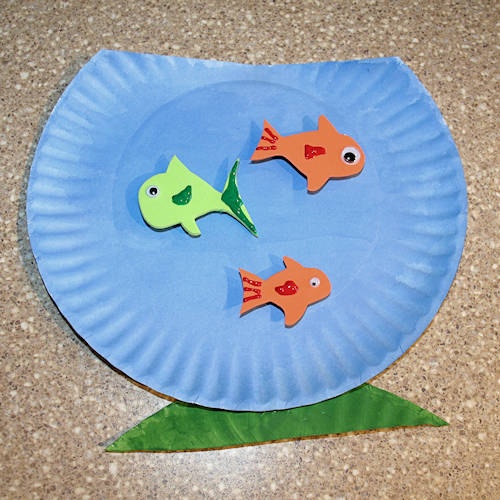 Do you have a kid that loves fish and keeps asking for one as a pet? why not create this cool fishbowl with which your kids can add their very own goldfish. This fishbowl will allow your kids to put as many fish as they want and the accessories they want.
Sunshine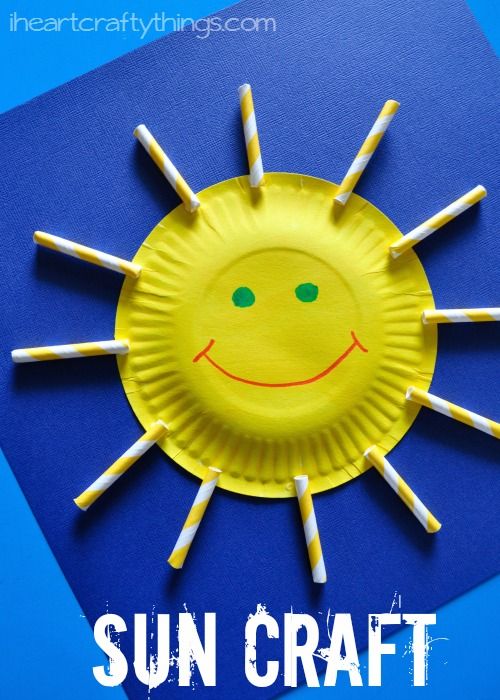 This cute sunshine rainbow plate is a great way to brighten up your day. In order to make these sunshine plates, you'll need paper plates, paint or markers, and yarn. If you don't have yarn you can use colored paper and cut them into strips. Once you've reacted to these beautiful sunshine rainbow plates why not hang them outside and let your kids see the rainbow sway in the wind.
Spider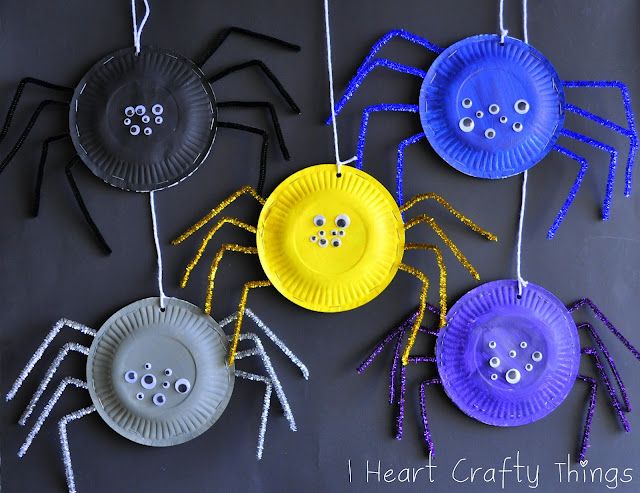 If your child loves bugs why not make these creepy-crawly spider out of plates and pipe cleaners. These spider plates can be very creative your kids can add different colors, patterns, and even millions of eyes. You can hang them from the wall or even the ceiling with webs around them. This would be a great Halloween craft for your kids.
Easy Adorable Paper Plate Crafts- Conclusion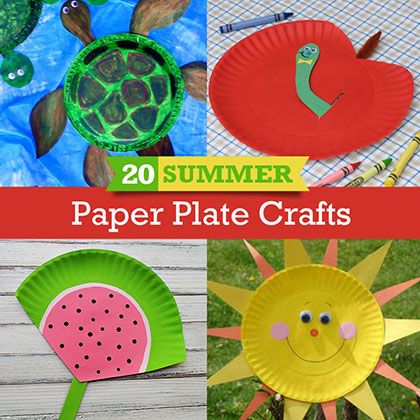 As you can see there are many fun and creative ways to use paper plates. Your kids will have hours of fun making and playing with these plates. Why not try 6 Amazing Tissue Paper Crafts For Kids.