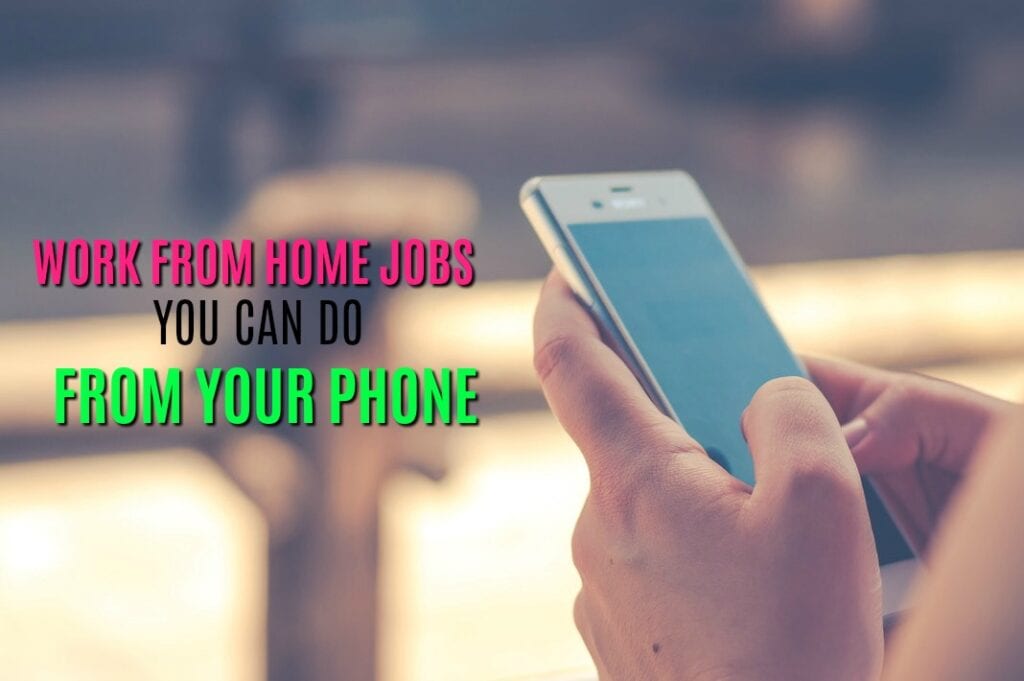 I'm often asked about work at home jobs that you can do from your phone. As far as earning a little extra money it's completely possible to do. In fact, you can check out great money making apps here.
However, doing something that I'd consider a "job" (meaning part time to full time hours) is a bit harder.
Truthfully, I haven't come across a ton of jobs you can do from your smartphone. I have found a few though.
Here are four work at home jobs you can do from your phone. (If you know of any more let me know in the comments!)
Nice Talk
Pay: $10/hour
Hours: Flexible, Grow as your ratings increase
Nice Talk is an app that connects Chinese students learning English to English speakers. They believe the best way to increase language ability is to practice. With this app you'd be video chatting with the students.
For this job you do not need a degree. You do need an Android with a 4.0 or higher system or an iPhone with a 7.0 or higher system. You also need to be a fluent English speaker.
You can read our full Nice Talk review here.
Martiz CX Research
Pay: Minimum Wage
Weekly Hours: 20-28
Martiz research hires interviewers to make outbound calls to gather information on products and services to various individuals. This job states that a landline is preferred but not required.
However, you WILL need to have a personal computer to record the data you collect.
Pay is minimum wage in your state. They do offer raises throughout the first year. With this job you'll be required to work 20-28 hours per week.
You can check out the full job listing here.
PalFish
Pay: Set your own rates, average pay is $10-$18/hour
Weekly Hours: Varies – You have to build up your list of students
PalFish is another app where you can teach ESL to Chinese students. However, this one does come with more requirements than Nice Talk.
To be a teacher with PalFish you need to hold an English teaching certificate and have prior experience teaching English.
With the PalFish app you set your own rates and teach your own classes. The number of hours you work will depend on how well you're able to attract students.
You can find out more here.
Appen
Pay: $5-$15/hr.
Weekly hours: Varies (This is a flexible job but there is NOT always work.)
Appen hires internet analysts who perform several different tasks such as search evaluation, video evaluation, maps, local, and more.
You must have a reliable internet connection and an iPhone version 4s or higher, an Android version 4.1 or higher, or a Windows phone version 8.1 or higher.
You can check out current openings here.
Get Paid for Tasks from Your Phone
If you're looking for other ways to make extra money from your phone by completing certain tasks. These tasks can be checking prices, taking pictures or making phone calls.
None of these would provide a full or part-time income but could be fun to do on the side.
Field Agent – With the Field Agent app you'll be asked to go to certain stores and take pictures of specific products, compare prices, etc. You can choose which jobs you want to do. Jobs typically pay $1-$12.
Easy Shift – Easy Shift is like Field Agent. Simply take photos or answer questions about certain products/businesses in your area.
Call Center QA – Call Center QA contracts mystery shoppers to make calls to businesses from their mobile phone. Pay is $5 per call. Phone calls normally take 5-10 minutes plus a brief questionnaire after the call.
Other Ways to Earn From Your Phone
Unfortunately, it can be hard to find a full-time job from your phone. However, there are dozens of money-making apps out there and if you find a few you like the money could up.
I've got a roundup of the best money-making apps of the year if you want to look at what's out there.
Do you know of any other ways to make money from your smartphone?