Affiliate links are used on this page.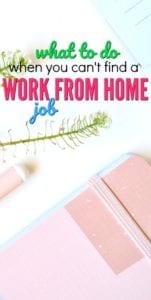 Looking for a work from home job can be hard. What's a scam and what's not? Will the job be worth your time? How do you find something with flexible hours and a liveable wage? I've been where you are and I completely get it. I really, really do.
Now that I'm on the other side of the struggle I can tell you that there are plenty of work form home jobs available.
In fact, there are a ton.
I research work from home jobs every Monday for my weekly newsletter and I never run across a shortage of legit openings.
The bad news is that if you don't know what you're looking for it can be easy to get scammed. And even if you do know what you're looking for you might not be looking in the right places.
Going the "Too Easy Route"
When I first started looking for work from home jobs I looked for things like…
Typing jobs
Data entry
Reading emails
And basically anything that required very little skill
Have you done the same?
I did this because I had absolutely no idea what was available. And while there certainly are some jobs like these available, they are low paying (most less than minimum wage) and fiercely competitive (because EVERYONE wants to do these types of jobs.)
What I know now is that no matter your skillset or needs you can find a work from home job that fits you.
If you need a job with benefits – you can find it.
If you need a flexible, part-time job because you're a stay at home parent – you can find it.
If you want something to supplement your income – you can find it.
If you want to work full-time and grow an awesome side gig – you can do it.
The opportunities are out there for the taking, you just have to know what you're looking for.
Your Guide to Finding a Work from Home Job or Side Gig in LESS Than 30 Days
My friends over at Rat Race Rebellion have created a course that will walk you through everything you need to know about work from home jobs.
(The course is not free, but it is very modestly priced – especially considering all it covers.)
If you're looking for expert guidance so that you can steer clear of scams, find work from home jobs BEFORE everyone else, know which big companies are hiring, and learn how to set up a resume for a work from home position, then this course is for you.
It basically covers it all.
Here's a breakdown: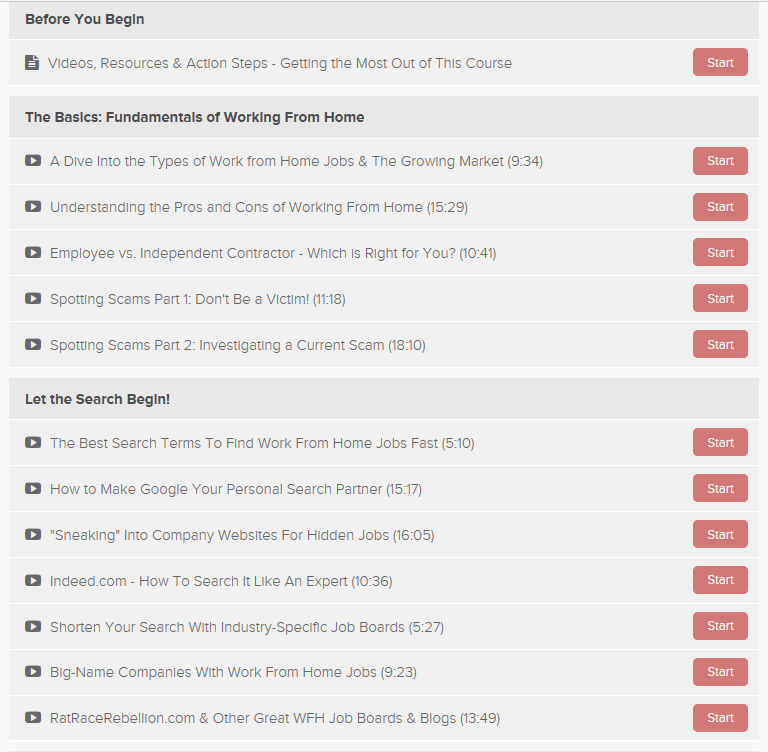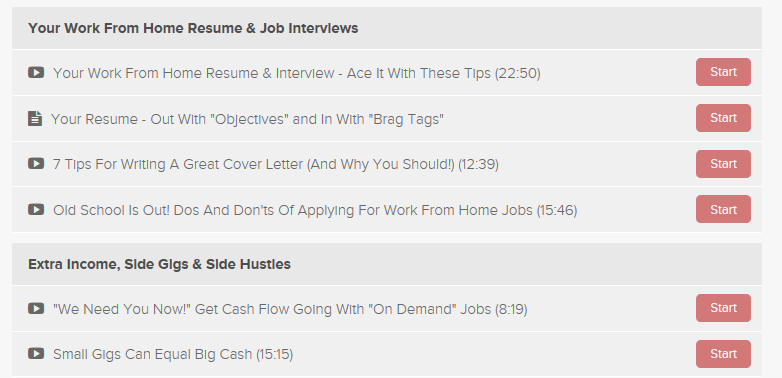 If you're ready to finally take action and find the work at home job you want, I highly recommend this course. It will save you a ton of time and give you a great advantage when it comes to landing the job you want.
Ready to secure your work from home job? Check out the course here.
P.S. You can use the code AFF20OFF to get a 20% discount on How to Find a Work From Home Job or Side Gig in 30 Days or Less.