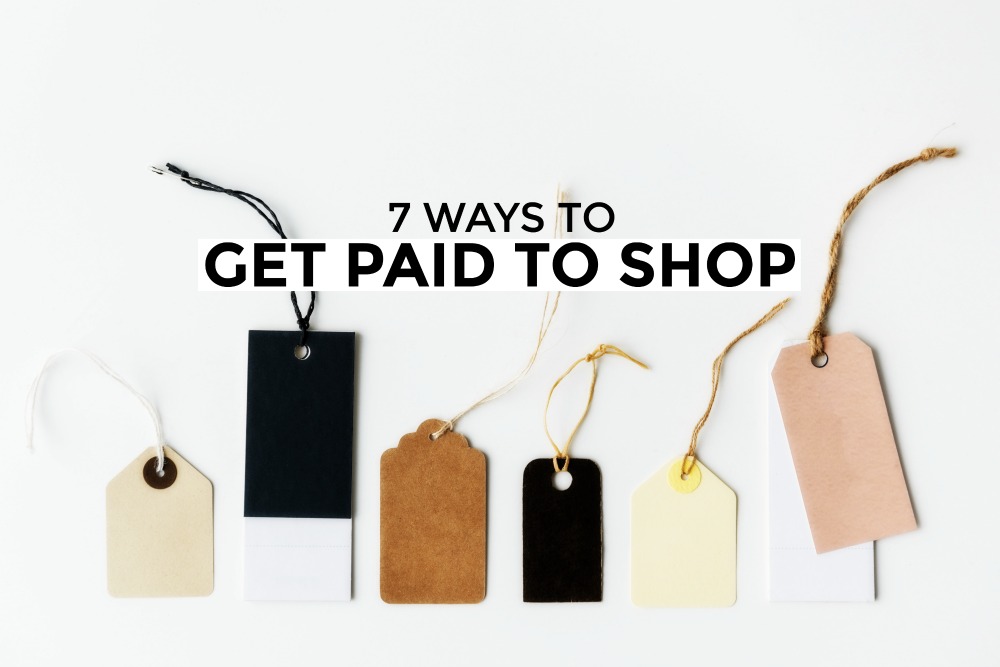 Ever wanted to get paid to shop? If it seems like an unlikely perk, you're wrong. Everyone shops whether they like it or not. If you want to save money on the things you buy, you may look into scoring deals or discounts.
While there's nothing wrong with that, you can also earn money for doing your every days shopping which is often an easier and more low-effort option. Here are 7 ways to earn money while shopping.
Ebates
Ebates is one of my favorite resources to help me save money and make money for my regular spending. The site is free to use and it helps helps you find coupons and discounts for the online sites you visit but more importantly, users earn cash back for shopping online.
Ebates partners with dozens of popular retailers and website so whether you're shopping online or visiting a site to buy a service, you can activate notifications and opt in to earn cash back. The cash back rates ate often higher than what you may get on a credit card, plus you can earn the rewards by shopping with a debit card or even a gift card so you can avoid the risk of getting into debt.
Ebates pays users cash and as you shop, your balance increases. Each quarter, Ebates will pay you the cash back you earned so long as it's over $5. I like to use my Ebates payouts to help fund Christmas and family trips. If you're not using Ebates already, you could be missing out on quite a bit of extra cash.
Ibotta
Ibotta is another tool that will pay you to shop. Ibotta is actually an app you can download to search for rebates on products at your favorite store. It's great to use when you're shopping for groceries or other household goods. 
Once you select the rebate offer you want to receive, you simply go shopping as usual but save your receipt. Scan your receipt to the app to verify your purchase, then Ibotta will pay you the rebate amount for each item within 48 hours.
Ibotta works with over 350 retailers and all you need is $20 in your Ibotta account to receive your payout.
Checkout 51
Checkout 51 is very similar to Ibotta in that you can earn cash back for items you buy. Only this app is best to use for grocery store items only.
Checkout 51 provides users with a list of options each Thursday and you just need to pick the ones you're interested then purchase them at any store. Then, you can take a picture of your receipt to verify your purchase and have the payment added to your account balance.
Once your account reaches $20, you can request a check. I like that there are no store to earn cash back with this app. Ibotta's rebates are limited to specific stores or brands which can be somewhat inconvenient if you didn't plan on going to that store.
Shopkick
Shopkick is a rewards site that allows you to earn points, which they call "kicks", using the app. The app is available for both Apple and Android devices. Users earn kicks by doing simply tasks like scanning barcodes of select products in stores, making purchases with the cards they link to the app, shopping online, visiting online stores and watching videos. 
The great thing about Shopkick is that its super flexible and you have several different ways to earn money easily whether you're shopping to just browsing online. Every 250 kicks you earn is equivalent to $1 in rewards. You can redeem your earnings for your favorite e-gift cards.
ThredUp
ThredUp is one of my favorite sites to shop for gently-used clothing online. Instead of going to thrift stores, you can shop on ThredUp to find the best deals for popular brands you love. 
ThredUp only offers women and children's clothing for now, but they have pretty awesome referral program that you can use to earn money to shop. For each person you refer to ThredUp, you get $10 to spend in the store and so do they. If you refer a just a few people, you'll earn enough money to shop without spending any money out of pocket.
Stitch Fix
Another way to get paid to shop is to become a personal shopper. Stitch Fix is a fashion subscription site that allows shoppers to work with a personal stylist online who will handpick clothing items for them.
Each month, the shopper gets sent some items for a small fee and they can choose to buy something or send the clothing back. It's a convenient service for people who don't like to shop or don't have time to do it.
If you like to shop and want to get paid for doing it, Stitch Fix often hires work from home part-time stylists who can work a flexible schedule. Stylists need to be at least $18 years old and tend to earn $16 – $18 per hour. Learn more about the opportunity here.
Berry Cart
If your goal is to live a healthier lifestyle, Berry Cart will pay you for shopping for healthy foods.
Berry Cart focuses on helping you earn money for buying food that is organic, gluten-free, and non-GMO. Simply browse cash back offers on the app for certain foods then buy them in the store when doing your regular shopping.
Take a picture of the receipt and you'll receive your rebate in 24 hours. Once your balance reaches $5, you can cash out your earnings.
Shopping doesn't have to be an activity that drains your finances. Consider using some of these free sites and apps that pay you to shop. There's nothing to lose when exploring these options and they're all require minimal effort on your part.
Have you ever used any of these options to earn money while shopping?