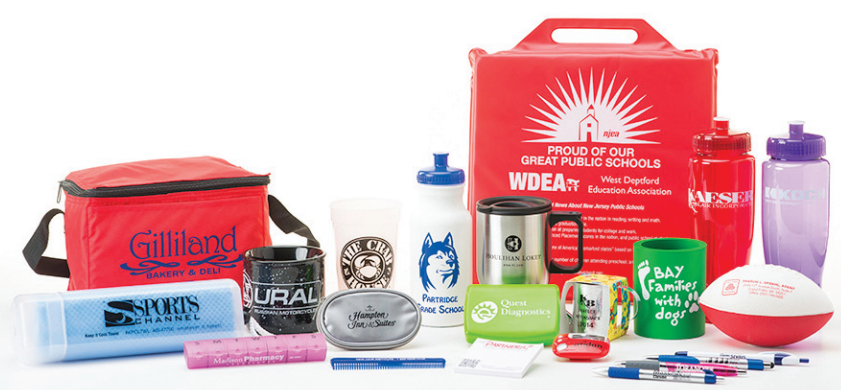 This home business opportunity was sponsored by Kaeser & Blair. All opinions in the post are my own.
I have refrained from covering most types of direct sales opportunities here on the blog for a few reasons. First of all, I don't feel comfortable reviewing a direct sales company that hasn't been in business for more than a few years. Secondly, I want to know that the products are worth the money and third, that the opportunity is, in fact, a good one.
Today, I'm sharing a company that checks all of those boxes.
Kaeser & Blair was first founded in 1894, has an A+ rating with the BBB and I've used and ordered their products for my Dad's businesses. (There's been a Kaeser & Blair associate that has visited my Dad's store for years!)
If you've been looking for a direct sales opportunity, getting started with Kaeser & Blair might be a good fit. Here's what you need to know.
How Does it Work?
As a Kaeser & Blair associate, you'll be selling promotional products to business owners. You've probably seen the products before and there's a good chance you even have some of the pens in your office supply stash or one of the water bottles in your kitchen cabinet.
Kaeser & Blair offers a wide variety of products and there's literally something for every type of business or promotion.
How Much Does it Cost?
Unlike many other direct sales opportunities, getting started with your own Kaeser & Blair promotional products business doesn't cost much at all.  A Standard Business Owner Package is $85 with the fee being refunded after you make your first $1,500 in sales.
You do NOT have to buy inventory or make deliveries. And there are no monthly fees, transaction fees, or processing fees.
You can even get started for free with a trial kit.
What Potential is There?
I'm often asked about the potential of the different home businesses I've started up or ideas I've suggested. My answer is almost always the same – you'll likely get out what you put in.
If you want to be successful with a promotional products business, you're going to need to establish a customer base, which will include introducing yourself and your products to local business owners. Establishing that initial client base will take some upfront work (and possibly pushing yourself outside of your comfort zone) but will set you up for success in the future.
If you're interested in hard statistics, you can see the averages that part-time and full-time business owners earned in the past based on weekly sales volume: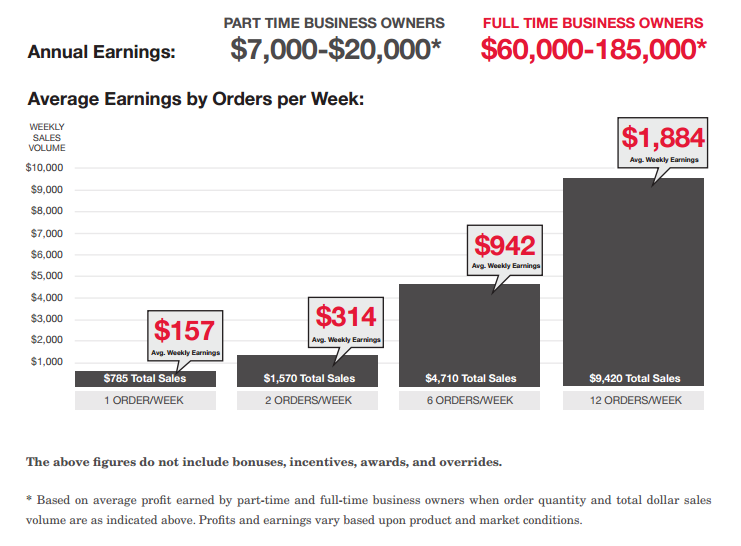 Below is a little more detail from a woman who runs her business part time and earns about $20,000 per year.
Kaeser & Blair has allowed me the freedom to build my own business in my spare time while still being able to take an active role in my children's lives. I love to sell and I only work about 16 hours per week.

I have about 40 regular customers along with seasonal political orders. Repeat business accounts for 80% of my business. Even though my husband works, the $20,000 per year I earn is helping pay for vacations and college educations."

– Lisa, Illinois
How Do I Get Paid?
That's an important question! With Kaeser & Blair, you get paid when the order is entered. Payments are made via direct deposit, normally within one day of the order being processed.
How to Get Started
If you're ready to jump in you can order the Standard Business Owner Package for only $85. And better yet your $85 will be refunded to you when you make your first $1,500 in sales!
The Standard Business Owner Package includes the following:
Immediate access to online training assets and information to help you get started
Best Buys Catalog
Numerous supplier and manufacturer catalogs with promotional products to sell
A large assortment of product samples
If you do sign up and determine this isn't the right business for you, you can return your starter kit within 30 days for a full refund.
Get started with the Standard Business Owner Package here.
If you're on the fence you can request a Free Trial Launch Package (absolutely no obligation.) This is kind of like the try-it-before-you-buy-it type deal. The Free Trial Launch Package will help you learn more about Kaeser & Blair and put the opportunity to the test.
Sign up for your Free Trial Launch Package here.