Do you have a burning passion for something or a unique skill or talent you want to share with the world? Are you a single mother struggling to make ends meet? Does the thought of going to your day job suck the life out of you?
If you answered yes to any of those questions this is the book for you!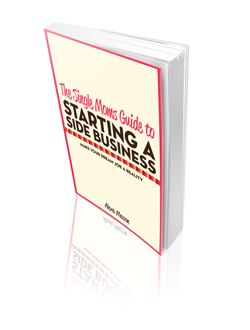 The Single Moms Guide to Starting a Side Business will walk you through the steps of choosing a business idea, making a marketing plan, and laying out the foundation for a successful side business. There are action steps at end of each core chapter that will help you get your side business started TODAY.
As a single mom I know what it's like to try to make a paycheck stretch. I also know how it feels to barely be able to pay the bills. Starting a side business has provided me with extra income that has helped me make my money stretch farther. You can do the same exact thing while pursuing something you love.
There are no get rich quick tactics in this book, just realistic examples and time frames of low cost businesses that anyone can start.  The results that you get will depend upon your drive to succeed as well as the amount of time and effort you put in.
The Chapters of the Book Are as Follows:
Doing Something for You

Coming Up with Your BEST Business Idea

Marketing Like a Mad Woman

Making Your Business Plan

Putting Your Plan Into Action

Creating Goals

Keep Going

Resources
Your side business can be done in conjunction with your regular job. And, eventually with time and hard work you can create a business that can replace your day job.
If you have always wanted to start a business but just don't know where to start this book will give you the courage to get going. It's time that you took control and created a business that you can be proud of.
Whether you are a single mother wanting to increase your income or an entrepreneur at heart, this book will give you the knowledge you need to get your business up and running.  Don't wait any longer. Turn your dream job into a reality today!
Get The Single Moms Guide to Starting a Side Business for only $3.99!