I'm completely convinced that giving back to people whether that be with a thoughtful note, big batch of cookies, or small gift is one of the best ways you can make a difference in not only the world, but also in yourself.
Something amazing happens when you selflessly help others.
A quick "I love you," a sincere "I'm here for you," a random card in the mail, or a hug to someone who really needs it has more power than you realize.
Another great way to give this year is through Operation Christmas Child, a Samaritan's Purse organization that delivers shoe boxes packed with small gifts to needy children around the world.
But first I want to show you something.
Watch this boy's reaction to getting an OCC shoe box.
How to Pack Operation Christmas Child Boxes on a Budget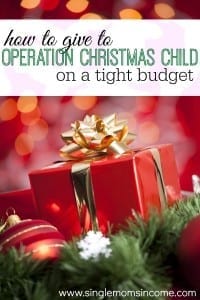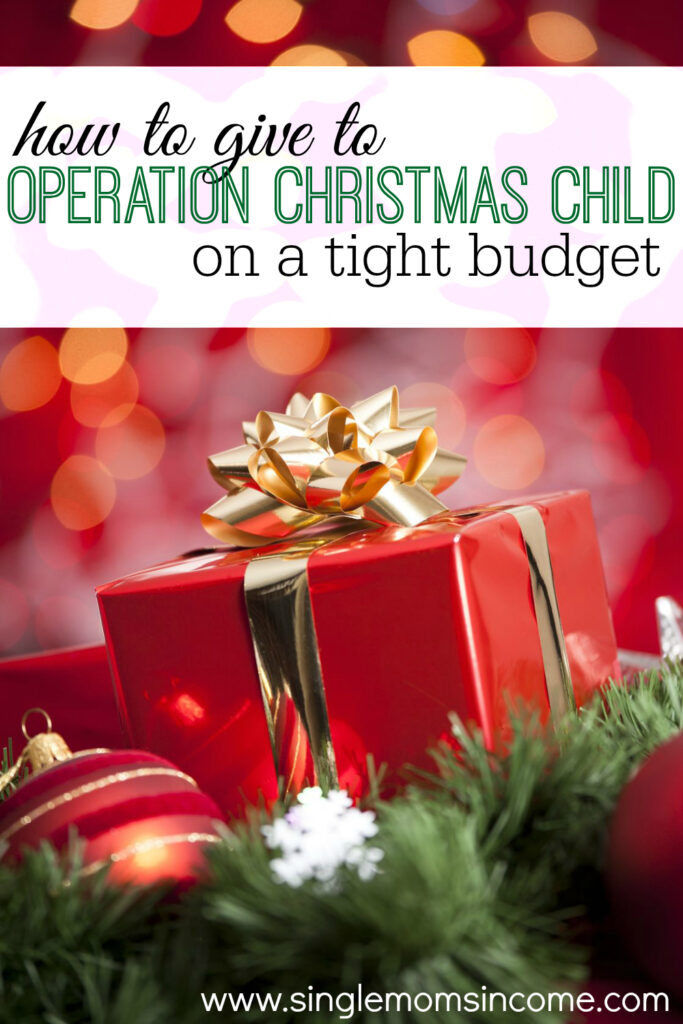 I've decided this year that I want to fill 5 Operation Christmas Child Boxes. The catch is my budget is only $100 for all five. When you calculate the shipping costs of $7 per box I'm left with $65 or $13 per box.
I want to stuff these boxes full of fun and practical goodness and make some kids happy.
Here's my plan to pack these boxes on a budget.
Shop at the Dollar Tree – You'll see below that a lot of the things I'm packing in my boxes came from the Dollar Tree. Buy personal hygiene products, small toys, coloring books, and other school supplies.
Take Inventory of What You Already Have – Do you have toothpaste samples lying around the house? Extra bars of soap? Clothing that your kids have never worn? Look at everything you already have and see if there's anything you can incorporate in your box.
Scope Out the Clearance Sections – I was able to get a couple of nicer toys at K-mart that were already marked down plus an additional 40% off on clearance. Start checking clearance sections when you go shopping.
Know that Whatever You Give Will be Appreciated – These boxes are going to kids who don't have a lot. Know that what you give will be appreciated. You don't have to spend a ton of money.
I decided to do 2 boxes for boys ages 10-14 (they get the least amount), 1 box for a boy age 2-4, 1 box for a girl ages 2-4, and 1 box for a girl age 5-9.
The Dollar Tree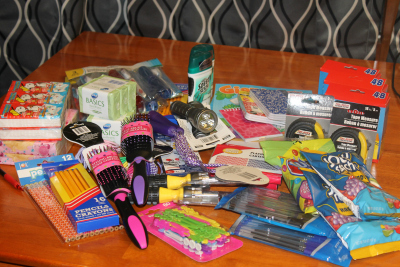 Here's what I bought from the Dollar Tree:
2 3pks Toothbrush and Toothbrush Holder @ $1 – $2
2 Hairbrushes @ $1 – $2
1 Blue Stuffed Animal – $1
2 Deodorants @ $1 – $2
2 3pks Dial Soap @ $1 – $2
3 Coloring Books @ $1 – $3
3 Boxes of Crayons @ $1 – $3
3 Notepads @ $1 – $3
3 pks of pencils @ $1 – $3
2 pks of pens @ $1 – $2
2 pks of Dominoes @ $1 – $2
2 2pks of Playing Cards @ $1 – $2
2 6 packs of Tissues @ $1 – $2
2 Flashlights @ $1 – $2
2 Tape Measures @ $1 – $2
2 Interchangeable Screw Driver @ $1 – $2
2 pks of Jolly Ranches @ $1 – $2
1 bag Double Bubble – $1
3 Hair Accessories @ $1 – $3
Dollar Tree Total with Tax – $43.97
Family Dollar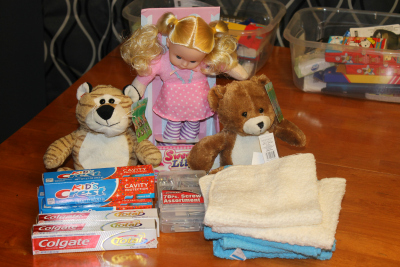 5 Wash Cloths @ .50 – $2.50
5 pks. Toothpaste @ $1 – $5
2 Stuffed Animals @ $2 – $4
2 70 pc Screw Set @ $1.25 – $2.50
1 Baby Doll – $3
Family Dollar Total with Tax – $18.23
Other Stores
3 Pencil Sharpeners @ .50 – $1.50 (Dollar General)
2 Angry Birds Balls @ .75 – $1.50 (K-Mart)
1 Fish Game – $2 (K-Mart)
1 Ball and Glove – $1.25 (K-Mart)
Total with Tax – $6.70
(I also put a t-shirt that the girls have never worn into the girls ages 2-4 box.)
Total for All 5 Boxes – $68.90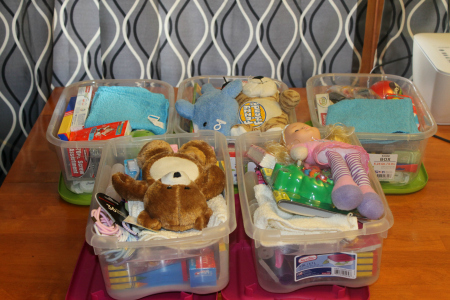 These boxes are jam packed and I barely went over budget!
But I have to say the very best part of doing this was probably Kailyn's reaction. She and I watched a lot of the YouTube videos showing little girls her age receiving these boxes. She was instantly asking if it'd be okay if we went and got those little girls so they could ride her bus and be in her class.
She started going through her toys wanting to give all of her stuff away. (She seemed most worried that the little girls wouldn't have socks. So if I do another box I think I'll definitely add socks to the list!)
She also made a card to go in the 5-9 year old girl box.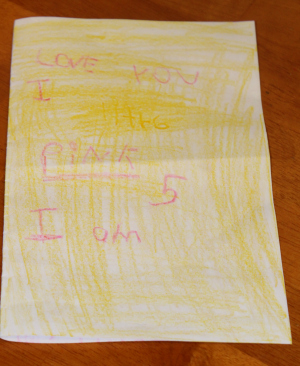 Ava, while fascinated with the boxes, didn't quite grip the concept of giving. She just wanted to make sure that she'll get one of these boxes for her birthday!
All in all it was a fun project for us to do, a great way for me to once again realize how lucky I am to be living my life, and was another easy way for us to give back!
If you're interested in participating in Operation Christmas Child this year you can find out more here.
 And if you're stumped for ideas or want to learn more about the program here are some of the blog posts around the web that can help:
(If you have a post about Operation Christmas Child on your blog let me know and I'll link it up.)
Linked up on Thrifty Thursday