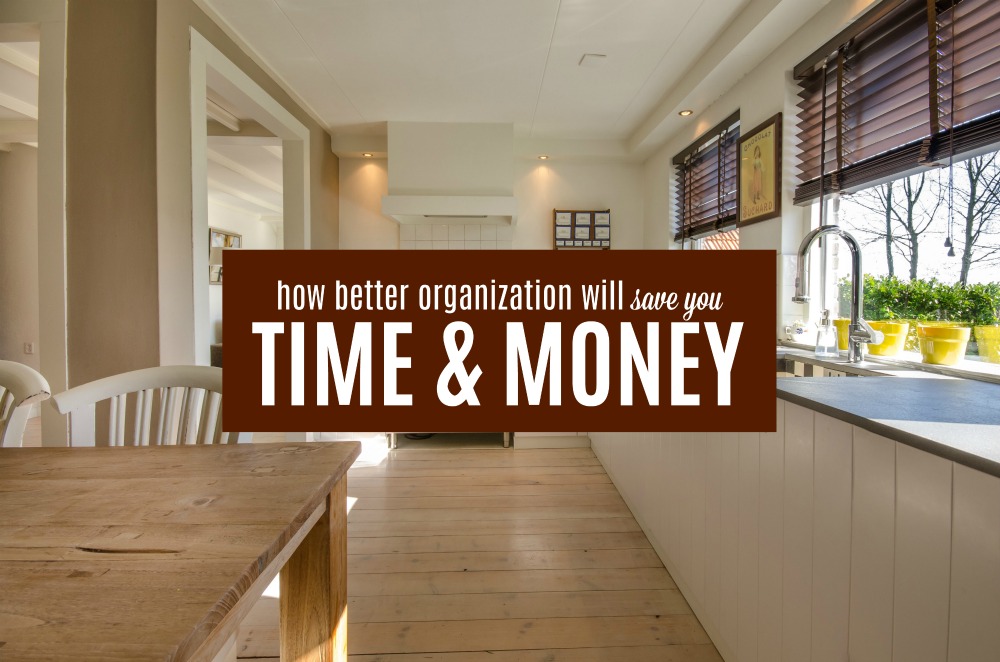 Have you ever felt like you were just going through the motions each day and had no idea what was going on? Life can get hectic at times, but organization is key if you have a lot on your plate and want to be successful and efficient. For parents, organizating is a must if you want to hit your goals and get more things done each day.
When you remain unorganized, you end up wasting a ton of time and even some money. It can also throw off the balance in your household causing everyone to fall off track.
Want to pay off debt or save more money? Looking to free up more time to earn some extra income on the side? Want to be more present with your kids and feel less overwhelmed day-to-day? Here are a few ways parents can get better organized to save more time and money.
Plan Out Your Week in Advance
If you have a busy schedule, you should be writing everything down and planning out your week ahead of time. I started doing this years ago and it has worked wonders. Alexa mentioned how she loved using the Living Well Planner before and I've been using it myself for the past year.
The planner allows you to jot down your goals, record an action plan, list out meals and other ideas, and schedule your day by the hour if you want to. I use it practically every day.
Our brains can only hold onto specific chunks of information at a time so you need to organize your thoughts and plans by writing them down so you don't forget. Instead of worrying about what's next on your to-do list or winging it, you can sit down once a week and prioritize your tasks, then start filling in your schedule. Base your weekly plans on a realistic time frame that you know you'll have to get things done.
That way, you'll save time and be more efficient which can actually save you money as well. If you were super unorganized in the past, you may have done things like pick up takeout for dinner because it was convenient. When you plan out your week in advance and in full, you'll get better at knowing exactly what you're going to eat and having it prepped.
Use a Bill Payment Tracker
Bills all over the place? I don't know if it's just me, but I hate checking and sorting through paper mail. When I receive a bill, I try to file it away or stick it on the fridge, but I often forget about it.
If it's not on auto-pay, there's a chance I could miss the bill or stress myself out trying to remember it each week. Instead of going through this draining process, use a bill payment tracker worksheet and set up autopay for some of your bills.
If you like paying for things manually, a bill payment tracker worksheet can help you get organized so you know exactly what's due and when. Due dates are super important so having them all in one place will save you time. Plus, you'll feel accomplished when you check the monthly payment off your list and you'll avoid paying unnecessary late fees or extra interest.
Automate Your Shopping
Shopping isn't therapeutic for everyone, thankfully. However, we all need to do it at some point. One thing you can do to organize your shopping and save time and money to is to automate as much as you can.
I use the Amazon Subscribe and Save service to order all my household supplies and toiletries each month. The service is free and it allows you to choose which items you want to order and set your own frequency. Your list of items are automatically shipped each month depending on your preference.
For example, I have some items that come every month like bath tissue and garbage bags. However, our toothpaste comes in a pack of two so I set up my subscription to have the toothpaste mailed to me every other month, along with some candles for the house.
Amazon Subscribe and Save automatically charges your account each month and ships the items to your door. It also helps you save anywhere from 5% to 15% on everything you order. Using this service keeps me organized so we never have a lapse between supplies.
Another thing I do to organize my shopping is order groceries online. I use Walmart's free grocery pickup service often (Kroger also has one) and while it's not actually an automating tool, it's free and helps me save time and money. I get to organize all my thoughts and research recipes while shopping for groceries online.
I also get to keep a close eye on my cart to make sure I don't go over budget. Another cool feature of this service is that they save your shopping history so they can recommend frequent buys to you in order to shorten the shopping process.
Sort Your Belongings Regularly
Have you ever went to the store and bought something you thought you needed only to find out that you already had it? If you do this too many times, you could end up wasting a ton of money and adding too much clutter into your home.
It's important to sort through your items regularly to know what you have and downsize when necessary. Invest in some storage bins, and home decor that will help you organize and sort through your belongings. You can even delegate this tasks by inviting your kids or your partner to be in charge of a particular part of the house.
Earlier this year I read a book called The Life-Changing Magic of Tidying Up and it in it the author tells the readers how to declutter and organize their homes using a popular Japanese method of tidying up.
In this book, you'll learn why it's important to enter sessions of deep cleaning and organizing, how to properly purse your belongings, along with a specific formula to help you break your belongings up into organized categories vs. specific rooms.
While it may take a little effort, parents can do a better job at organizing their lives and their finances to better reach their goals.
What are you currently doing to get better organized?