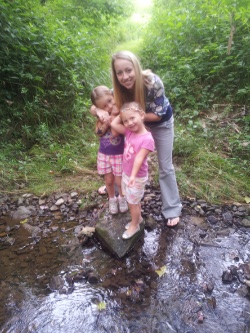 Welcome to Single Moms Income and thanks for stopping by! Time is valuable these days and I appreciate yours!
 I started this blog to chronicle my journey through single motherhood and all of the triumphs and tribulations that come along with it.
I am a 26 27 28 year old single mother to two beautiful little girls, age three and four. My exhusband and I decided to make the split in July of 2012, this is when I moved out of our house and moved in with my dad.
Moving in with my dad was a rough transition. My girls and I all shared one bedroom and to say it was tough is a bit of an understatement. I gave house hunting a shot but couldn't find anything I wanted to commit to that was in my price range. I was very desperate to get out of my dads house and into a place of my own, so in December of 2012 I ended up buying a trailer for us to live in.
The trailer went on an extra lot my dad had very close to his house. I had envisioned a low cost of living with a trailer, turns out I was kind of wrong. (You can read more about that here.) So now my girls and I are all settled into our new home and making the best of what we have.
I am lucky that my girls have a great father who is actively in their life. I know a lot of single mothers don't have this luxury and I am blessed that my girls have an excellent father. The ex and I get along for the most part and work together to put the girls first. I think there is enough potential that one day he and I could be great friends. We'll see…
Here are a few posts about my divorce and some of the problems I have had with my ex:
I am on a mission to supplement my income and to hopefully eventually replace it with money I make online through blogging, writing, and building websites.( You can read my year one game plan here.) I have set income goals for myself which you can view here. My plan is to slowly increase this income each month. I am confident that if I give it my all I can acheive anything I want (and so can you!)
I write a lot about different ways to make money online and the various techniques that I am trying. I also give a monthly update of my goals and how much money I made online. If this is your first time visiting here are a few good posts.
You'll also find some personal finance tips along with my struggles and successes. Here are a couple worth checking out:
Starting this blog has been the best thing I have done since getting divorced. It has given me an outlet to express my feeling on those days when I feel like giving up. It provides me with a productive hobby instead of just sitting around feeling sorry for my self. And it gives me a place to share all of my failures and successes and has connected me to many other wonderful women.
Thanks so much for stopping by!
Want a free copy of my eBook? Sign up for email updates a receive a copy of The Single Moms Guide to Starting a Side Business.