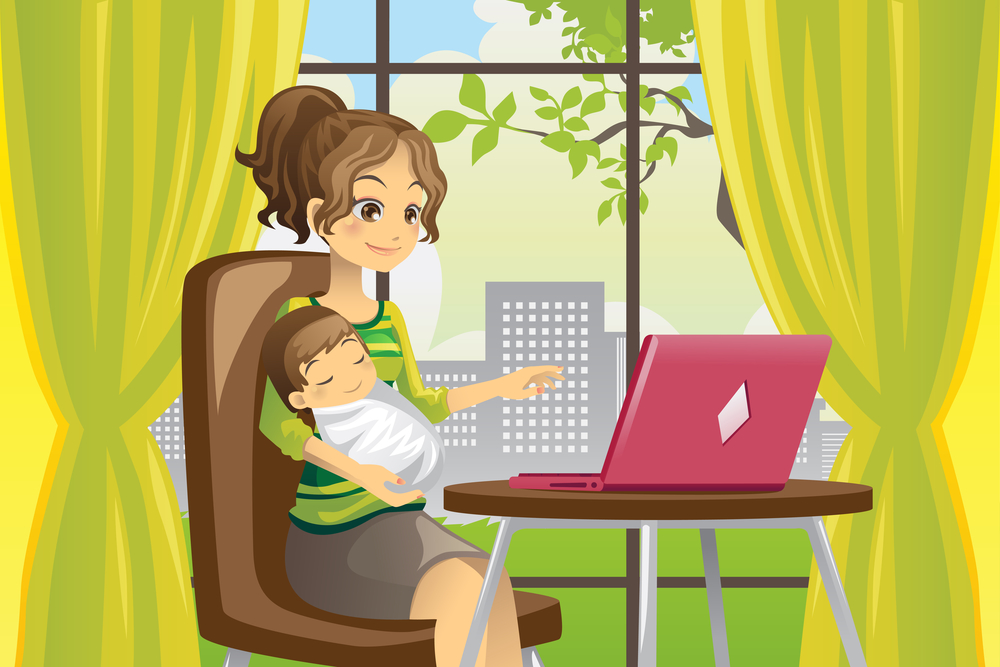 It doesn't get much better than having the opportunity to work from home. Many people are getting the chance to join in on the remote workforce revolution.
The only major downside is that many remote work opportunities are contract positions meaning works won't get benefits like health insurance or paid time off.
However, some companies do hire remote employees and also provide benefits to their employees as well. Life insurance, dental, health, vision, retirement options are all things remote workers would love to have, but can be a challenge to pay out of pocket. It's great that some work from home jobs offer employees help to pay these benefits. That way, you can stay home and still get employee perks. Here are 8 best work from home jobs with benefits to consider.
1. Apple at Home
Apple is always looking to add to their Apple at home advisor team. If a candidate loves technology why not choose to explain it and help others learn more? When people call in with Apple questions, home advisor voices are often the first ones they hear. They often break down products and services for customers and answer any questions.
To apply, you just need a quiet distraction-free space to get to work. An I-Mac and headset will be provided to help complete the job. All the employees even part-time have the opportunity to get in on Apple's benefits package. A few of those benefits are paid time off and discounts on Apple products!
2. American Express
American Express is often looking to add to their virtual Customer service team. The work from home-based opportunity does include benefits! 
Pay will typically start around $16.00 per hour and employees will have the option to have vision, medical, dental, life, and disability insurance. Also, 401k that the company will match and other benefits!
3. Carnival
Carnival needs people to fill roles as an agent with the company. Carnival is a cruise company that offers one of the best work from home jobs with benefits. Agents take care of all of the sales and service calls for group bookings. They have to stay on top of the new packages and campaigns Carnival may develop. Just one year of customer service experience is preferred to get the role. 
Applicants have to have a high school diploma or GED. A flexible spending account and healthcare package is open for employees to apply for as well. Carnival with match up to 3% of a employees 401k plan after one year with the company. Agents get two complimentary cruises a year, and discounts to family and friends interested in cruising with Carnival.
4. Buffer
Buffer focuses on growing businesses and helping their presence on social media. Buffer has a small team of under 100 employees who represent 15 countries. They aren't currently hiring, but are often looking to add to the team. 
Join their mailing list here to be notified when the next role is available. Work from home employees stay busy with over 75,000 clients.  Each new employee gets assistance with setting up their home office. The help includes a laptop plus $500 to help set up an office.  Employees also get a free Kindle and access to books whenever they'd like. 
5. Hertz
Hertz is in need of some work at home associates. The positions are open to anyone across the US. If a rental needs maintenance done, the work from home Hertz associate would be in charge of getting the ball rolling on that. They will have to be in contact with vendors, fleet manages, and drivers by either phone or email to make that happen. 
Doelen, a Hertz company will provide a computer, the correct software, and telephone equipment for the employee. Some meetings and training are on-site, but Doelen will reimburse for those travel expenses. They also pay for travel time! Full-time work from home positions do include healthcare packages.
6. Sykes
Sykes employees specialize in helping with customer service, digital marketing, and technical support. Some of the industries Sykes agents may field calls from are healthcare, travel, insurance, and retail.
Join the 55,000 team members across 20+ counties who call Sykes their employer. Sykes doesn't just give employees paychecks they also have health benefits, a discount shopping program, tuition assistance, and scholarships for children of employees.

7. Concentrix
Concentrix puts a twist on the traditional call center and has their agents work from home. They take calls on behalf of their clients.
The calls could be a variety of things including troubleshooting, billing questions, changes or cancellation of service, the status of an order and more. Concentrix is hiring in 35 of the 50 states. They have paid training and do offer employee benefits.
8. Asurion
Asurion gives agents the opportunity to save money on gas, work clothes and gets them more time with their families.  They are another work from home job with benefits option.
They currently have a few customer service representative openings. In addition, bilingual is a plus and they currently have a role for someone who can speak both French and English. Agents have to love technology and be a problem solver. Benefits include dental and health packages.
You Can Find Work from Home Jobs with Benefits! 
Working from home has many benefits. It's such a flexible option with many pros. The pros outweigh the cons many times when it comes to working from home positions.
Sometimes it's hard to pay for certain benefits so it's a real positive to have help from an employer. This list of companies is just a few of the many out there that go the extra step for their employees. Some go above and beyond and this is a wonderful thing that some other companies should try and adapt.