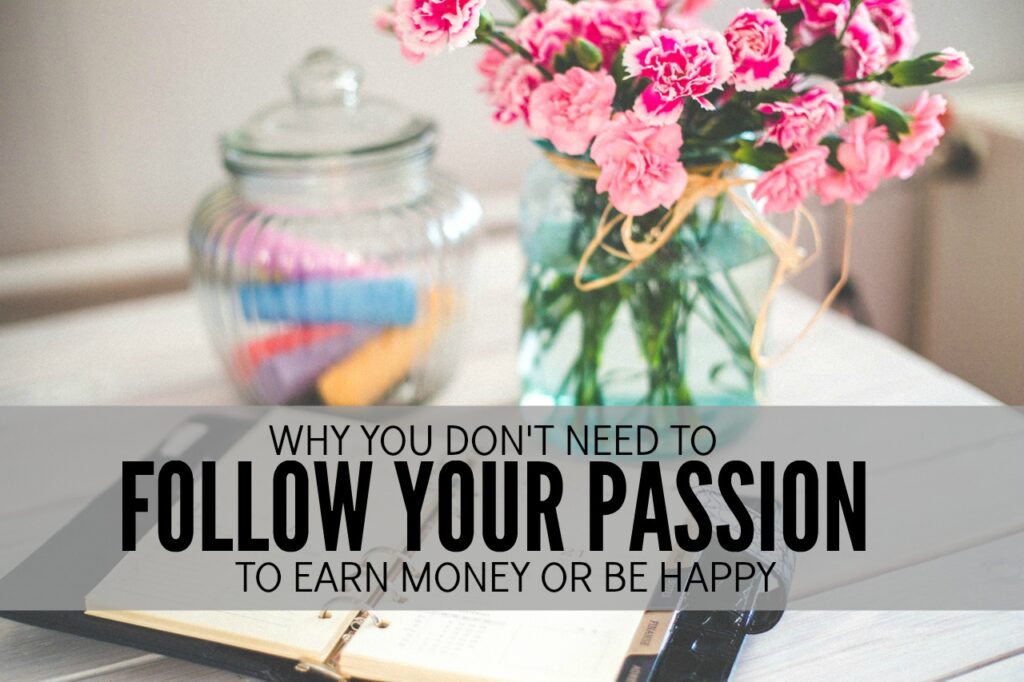 One of my favorite newsletters is from Kali Hawlk. Every time I read one of her emails I think to myself "Yep, exactly." She's a deep thinker who can clearly express her thoughts.
I'm a deep thinker too, only when I go to write out those types of posts they come out all weird. Like, unintentionally depressing rather than uplifting.
In one of Kali's recent newsletters the topic was her thoughts on "following your passion." (And her advice wasn't Follow Your Passion but just do something – anything. Here's a link to the article I'm referring to.)
Following your passion as a career is such a romantic notion. It really is. But like most romantic notions this tidbit of advice ignores something crucial – reality.
I personally think that if you're looking to earn more money and create your own job that following your passion can be stupid advice. Like, real stupid.
Here's why.
Passions Change
My interests change a lot. Sometimes I feel highly passionate about saving boatloads of money, starting online businesses, getting new clients, and now, I'm currently passionate about farm animals and homesteading. (I'm trying to talk Jamie into getting pigs and goats. I need more time – my arguments haven't worked yet.)
Passions fizzle, fade, and change as your life changes. I think there are very few people who will be passionate about the same thing their entire life.
Passions are Not Always Profitable
They're not.
My friend is passionate about drinking beer. For real. Do you think he's going to get paid for that?
Jamie is currently passionate about his tractor. Do you think quitting his job and working with his tractor half of the year is going to be more profitable than his current job? I highly doubt it.
I'm passionate about my kids. (Maybe a better word is overprotective.) Should I monetize them?
The things that we are the most passionate about might never be profitable. Theirs is nothing wrong with that!
Even if they were profitable you can quickly kill your passion by monetizing it. Which brings us to the next point.
Turning Your Passion Into a Money Maker Might Kill Your Passion
When you want to make money off of some type of business or service do you know what's involved? Marketing. Pitching. Selling. Working.
You're turning your passion into a job that you have to do or you're not going to be able to pay the bills. That passion, after a little while, becomes less fun. You no longer have a choice as to whether you want to do this thing for fun. You have to do it.
It might not happen instantaneously but give it some time. Feeling the need to earn money from the things you enjoy most and then having that go horribly wrong? Your passion is going to fade.
You Know What I'm Really Passionate About??
Creating a job for myself where I can do the things I want on my own terms. Where I'm free to take my girls to school each morning. Where I can keep sick kids home without pissing off my boss. Where I can go outside at noon and talk to my chickens or volunteer to watch my niece at the drop of a hat. That is what I love and what I do for money allows me to follow my passions.
Do you think I'm passionate about freelance writing? I'm not.
I don't hate it. I like it. I'm just not passionate about it.
I know a lot of writers are following their passions by writing. That's not me. The truth is I tried a kabillion different ways to earn money so that I could make more than $11.50 per hour and not have to work two jobs.
Freelance blogging was like my gateway drug to that lifestyle. I could find my own clients, set my own rates, and work any time of day I pleased. I didn't become a freelance writer because writing was my passion I did it because it allowed to me to create the life I was passionate about.
So What Do You Do?
You do something that you at least mildly enjoy that produces an income. And then you create the life you want to be living. You spend and save that money in a way that is valuable to YOU.
If you've created a career out of your passion that's awesome. Seriously. It is.
But I think the vast majority of us aren't going to be passionate about the same thing our entire life. And furthermore, I think a lot of us are passionate about things that aren't going to pay the bills. And if we did monetize those passions, after a little while they wouldn't be passions anymore. They'd be work.
That doesn't mean you can't create a job you enjoy. I enjoy what I do most of the time. Sometimes it's really fun. Other times it's not. That's life.
Obviously, I was passionate about this topic when I wrote this post. 🙂
I'm just sayin' don't feel bad if you're having trouble with this "follow your passion" advice. You don't have to make money off of a passion to be happy. And you don't have to be deeply passionate about something to make money off of it.
If you're like me your passion changes every six months and boy would that be exhausting to try and keep up with.
I will end this post here since I've now officially used the word passion about five thousand times.
The end.