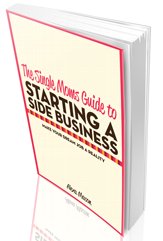 Hi there!
Over the past year I have been documenting my progress as a single mother trying to make it big. I have tested out (and failed) at many online businesses. I've also found some success.
In October of 2013 I was able to quit my day job to pursue my online businesses full time.
So what exactly do I do?
I write for other blogs. 

I make big goals for this blog and use public accountability to push me closer to my goals.

I recently invested in another personal finance website and am hoping to flip it (sell it for profit) within the next several months.

I occasionally build niche sites and share my progress here.
In a nutshell freelance writing and this blog is where I get my income. (I also share how much money I've earned online once a month.) But, I love trying new things and seeing what I can make out of them.
If you want to stay up to date would you please sign up for my newsletter? You won't get spammed I promise. Normally I send out one or two emails a month with exclusive tips. At the very most you'll get one email per week.
Sound good?
Oh yeah, you'll also get a copy of my eBook, The Single Moms Guide to Starting a Side Business, if you sign up for email updates.
Not ready to sign up?
That's cool, too. Feel free to browse and click around as much as you'd like!
Here are a few posts you might enjoy: