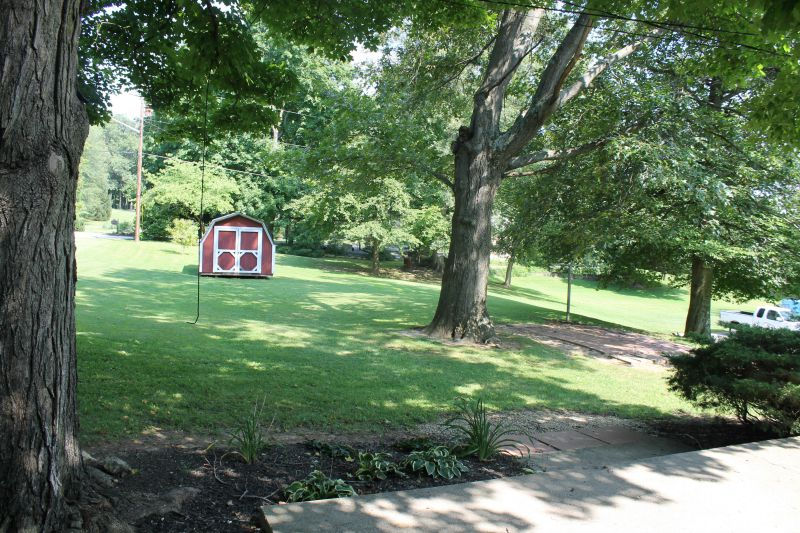 I wish I could begin this post by telling you that my over-confidence when getting the house ready for sale was spot on.
But, I just can't do it.
In fact, I now have to do the opposite. I've got to tell you the truth.
I was a naïve, overly-optimistic girl.
What I thought would be a walk in the park turned out to be far from it. And now I sit here not calculating how much money we made or how we broke even, but calculating how much we lost.
#IHateBeingWrong
3 Months, 20 Showings, Tons of Competition, One Offer
I'm not going to lie. I thought we would sell Jamie's old house without a problem.
It's a nice house, in a super established neighborhood and it's on a large corner lot. It has good bones, a good roof, good heating and cooling. Other than the super ugly half bathroom and the outdated kitchen cabinets and appliances, it's a solid home.
There had been a few other homes on our street go up for sale.
One right next door, which was listed at $140,000. (It was only listed for a few days when the owner changed her mind about selling.) There was also a house catty-corner from us listed at $160,000. Our house listed at $99,900 seemed like one hell of a deal.
Only the thing was, the houses that were priced that high………..they never sold. They just sit there with a for sale sign in their yards month after month.
And then a month or so into our house being listed another home, two houses up from us, went on the market for $93,000. Darn it!
Not only that, but there were SEVERAL more houses for sale on the next two streets over.
Why, oh why did everyone have to list their house for sale at the same time?
(I live in a small town. That is A LOT of houses for sale near each other.)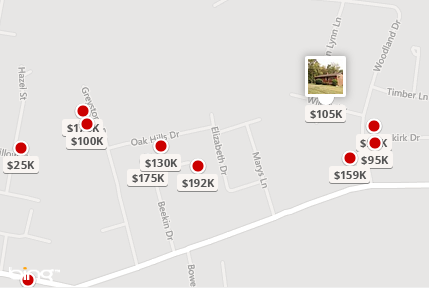 Buyers had their pickings.
In the three months that the house was listed we had around 20 showings. In this three months we also paid $1,500 in carrying costs, spent $1,000 replacing the carpet in the kitchen and half bath with vinyl after many complaints, and dropped the selling price by $5,000 to $94,900.
We also swallowed our pride and accepted our one and only offer for far less than we wanted, even after some back and forth negotiation.
Before we get to the actual numbers can I please talk about one of my biggest mistakes?
I Refused to Acknowledge Carrying Costs
Ignorance is not always bliss. (I wish it was.)
When we first put the house up for sale carrying costs weren't even in my mind. My mind told me that we can afford to pay this extra house payment every month so we'll wait out for the offer we wanted.
We wanted $90,000. That was the goal.
But do you know what happened each month? We lost $500 that we will NEVER see again.
That $500 per month went to mostly property tax, insurance, utilities, and mortgage interest. A very insignificant amount went to principal.
That $500 a month was money we'd never see again. Therefore every two months we lost $1,000 of potential profit. We had also spent $1,000 on new kitchen and bathroom floors which we'd never see again either.
Of course, this would've been a completely different story had we been living in the house – but we're not. Paying $500 a month while living there isn't so bad. It's cheaper than rent and by living there it probably would've made sense to wait for a better offer. However, paying $500 per month while living in the new house doesn't quite work out that way.
Here's How it Worked Out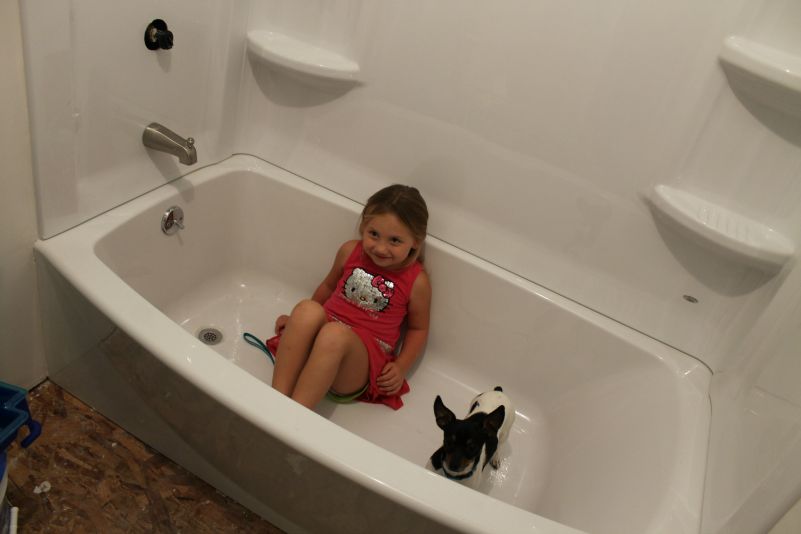 So, after 20 showings and no offers there came a day when we finally got one fairly low offer.
At this point the house was listed at $94,900 and had been listed for three months. The buyers offer was $80,000 cash, closing the following week, no contingencies.
We finally got them up to $84,000 cash, no contingencies, closing the following week.
We closed two Fridays ago.
We sold for $6,000 less than what we thought was a "good deal" and lost a bunch of money in the process. Quite frankly though, holding the house for longer seemed like a bit of a gamble.
For instance, had we held out for a year to get $90k we'd have spent at least $6,000 in carrying costs (probably more due to heating) and would be even farther in the hole.
Such is life.
The best-of-my-knowledge numbers:
House Purchase Price (2006) – $86,500
Carrying Costs (Approx.) – $1,500
New Kitchen/Bathroom Floors – $1,000
New Heat Pump – $4,000 (ish)
Painter – $1,465
Other Prep Costs – $179
Completely Remodeled Bathroom – $4,500
Realtor's Fees/Closing Costs – $6,251
Total Costs/Home Improvements – $105,395
Buyer Purchase Price – $84,000
Amount of Money Lost – $21,395
There were other small cosmetic upgrades that I'm sure totaled a few thousand dollars. But those were for our/his enjoyment.
One could also argue that the bathroom remodel was for my enjoyment as well. While that bathroom absolutely needed gutted (it was bad…bad, bad) we could've done it for far less. The problem was, we didn't plan on moving at that point and I picked out everything to my preferences. There were definitely some splurges. Had I been remodeling to sell there's no way I would have spent that much money redoing a bathroom.
One more thing I left out was the closing costs when Jamie purchased the house. Honestly, I didn't feel like digging those up. (Really, I just don't know where those papers are.) With those you could conservatively add another couple grand to the amount we lost. After all, closing costs are a very real expense of buying a house.
Why Am I Sharing This?
Jamie wondered why in the world I'd want to share that we lost over $20,000 on a house? Isn't that embarrassing?
Here's why: the average person would look at two numbers. The purchase price and the sales price. They'd say we lost $2,500. But that is very creative accounting and doesn't tell the whole story.
I'm willing to bet you are not average when it comes to money. You're a personal finance nerd like me and you already know there's a much bigger picture than the purchase price and the sales price.
(Plus I don't like it when bloggers only share the good stuff. Nobody does well 100% of the time. It sucks, but it's true.)
Another reason is that this house was not purchased with the intention of it being an investment property. It was purchased to live in. You know as well as I do that when you're buying a home to live in you are not looking at it with the same eyes as you would to buy a house as investment. Nope, not at all.
Of course, that doesn't mean you can't make money selling a primary residence. It depends on the housing market in your area. In my area it's obviously a buyer's market.
I still very much love the idea of investing in real estate. However, there's a HUGE difference between investing in a house and buying a house to live in.
I'm grateful that we are in a position where taking a loss on this house isn't going to kill us. I mean, it sure doesn't feel good but I am very grateful to no longer have to worry about this home. And as with everything in life I'm taking all kinds of valuable lessons with me.