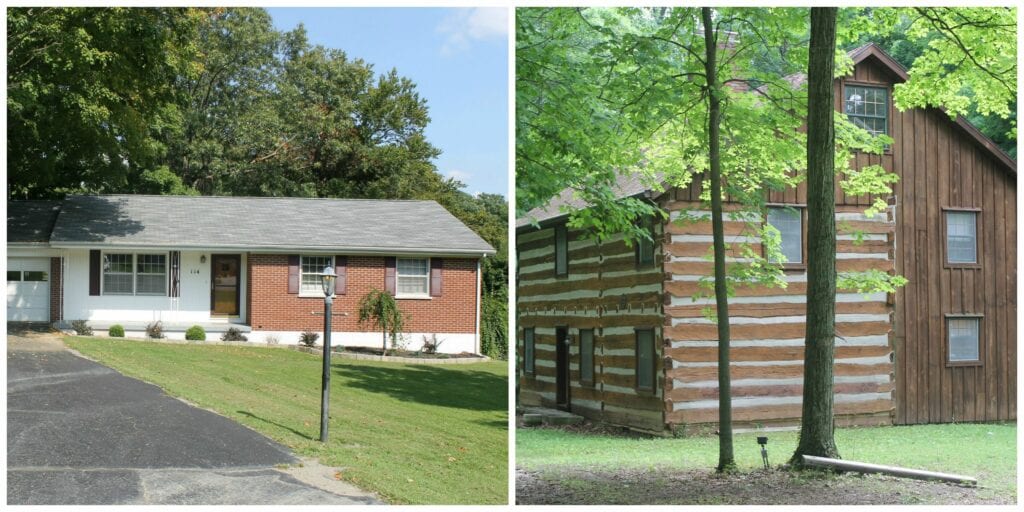 In the past three years I've lived in a spare bedroom at my Dad's house, a 900 sq. ft. trailer I bought, with Jamie in a little brick ranch, and around three months ago we bought our "forever" house nestled in the woods.
The house is way bigger than anything I've ever lived in.
We definitely did not purchase the house because it was big. Not at all. We bought for the land.
Why We Bought the House
The house sits on 19 acres. Six of those are yard/field and the other thirteen are wooded. We got an awesome deal on this property for a few reasons.
First off, the seller was desperate to get rid of it. Secondly, this property or house hasn't been properly taken care of in years. And third, we were the first people to get to look at it before it went to a real estate agent.
We both instantly fell in the love with property. It was exactly what we wanted – In the country on a backroad, the house sits far off the road, plenty of space for animals, woods with tons of creeks running through them, and this sense of peace when you walk out your back door and land smack dab in the woods.
I love it.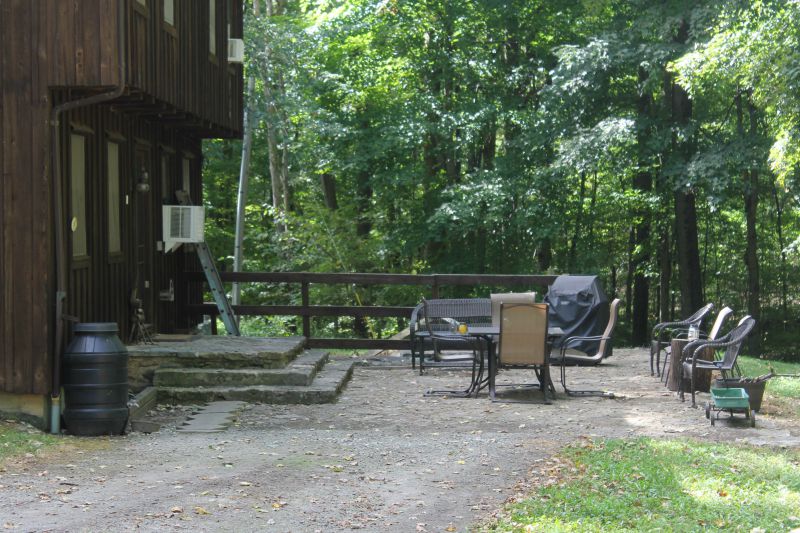 I also really liked the house. It's not my usual style but it is one of a kind. Almost every single thing used to build this house is recycled.
For instance, the back patio and rock walls in the basement are from rocks of a local church that was torn down in the seventies. The logs on the front of the home as well as all of the beams in the ceilings (living room, kitchen, master bedroom, & basement) are from an 1800's log cabin. The poplar back half of the house was built to represent how log cabins used to be expanded upon for kitchens in the olden days. The fireplace mantel is from an 1800's log cabin as well.
I'm used to living in 900-1200 sq. ft. homes for the last ten years of my life. That felt like plenty of space to me. This house, in comparison, feels gigantic.
We could fit our old house in the first floor, no problem.
Now that I've been in the house for a few months I have a real sense of the pros and cons that come with living in a bigger home.
The Cons
The grass isn't always greener on the other side. Here's what I'm not loving.
Bedtime
Kailyn has always been scared to sleep in her own room. It's not something she's grown out of yet. In the old house we were all so close together that this wasn't that big of an issue.
Now when I put the girls to bed and then come back downstairs Kailyn tries to sneak back down and won't fall asleep until I go to bed.
Painting/DIY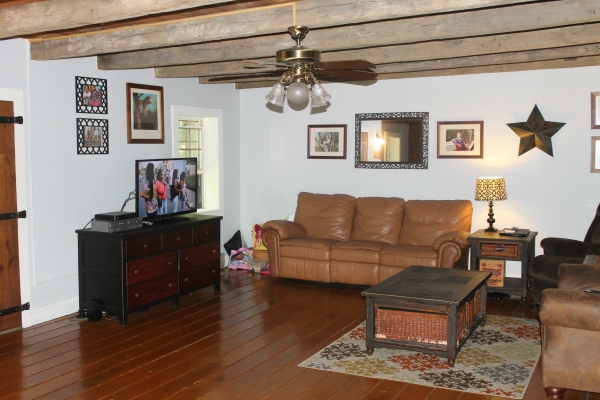 Compared to what I'm used to living in these rooms are huge. Painting them is a chore. And the thing is I normally don't even mind painting!
After spending around 20 hours painting the living room walls and trim (and then not liking the results) I haven't painted another room.
I've bought paint for the other rooms.  I just haven't painted them.
You know what else is going to suck? Then ten tons of wallpaper that needs removed. Oh, and the fact that the trim needs painted in every room. It goes from mauve, dark green, light green, pink, brown, and blue.
So. Much. Painting.
The Lack of Coziness
I like cozy spaces. They make me feel warm, comfortable, and safe. I have not yet learned how to make a large room feel cozy.
My living room furniture only takes up half of the room. And I hate how my old area rugs, which were big enough to fill a room at one of the old houses, now look miniature.
I'm really struggling with the décor in the entire house. My normal paint colors – and even paint finishes- just don't vibe in here.
For instance, the floors are a very warm orange-ish looking color. I prefer cool colors. My white trim choice in the living room looks pretty bad next to the log cabin-style front doors, the wooded wall, and the hunter green fireplace.
While I absolutely do love the uniqueness and character of this home I am having a hard time putting "my own" spin on it.
I'm sure with time it will get easier but right now picking out wall and trim colors is a REAL challenge. (Especially since it takes so long to paint. I don't want to have to do a room twice!)
The Pros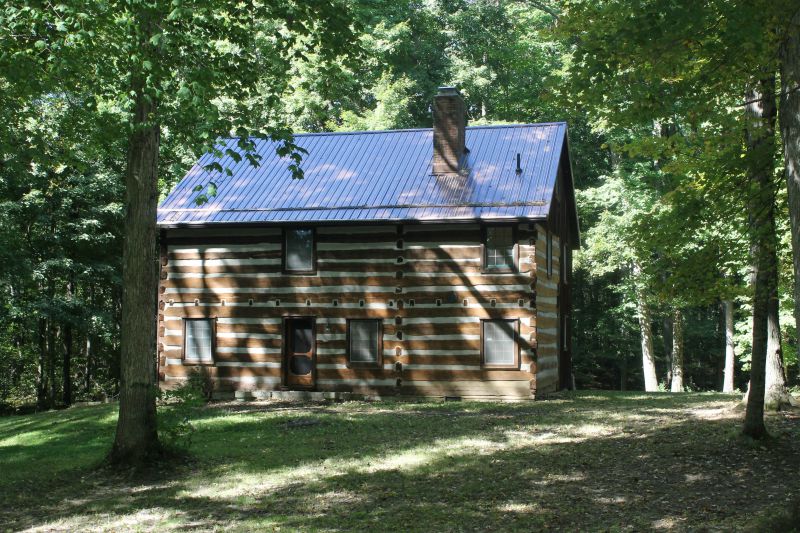 It's not all bad though. Here's what I love about a bigger space.
Less Cleaning
I know this sounds counterintuitive but it is so very true.
In the old houses I felt like I constantly had to pick up. Three toys on the floor looked like a big mess in such a small space. (All of my past living rooms have been very small.) Now with a much larger space a few toys left out doesn't drive me up the wall. Rooms no longer look instantly cluttered.
Does it take longer to sweep and mop? Well, kind of but kind of not. With a bigger space the floors don't seem to get dirty as fast. We're not all walking over the same exact spots constantly. While it does take longer to clean the house from top to bottom I don't have to do it as often.
Plus, a little preventative measures (like doing dishes, laundry, and picking up toys) everyday goes a very long way.
More Room to Spread Out
There's more room to spread out.
Rooms now have a defined purpose. Bedrooms are meant for sleeping. The dining room is meant for eating. The living room is meant for relaxing……….or working, if you're me.
We also have a lot of unused space. I can see the basement and attic (both fully finished but right now unused) coming in handy as the girls get older.
It's nice not to make every room multifunctional and to not feel on top of each other during the times you don't want to be.
Electric Bills Have Been the Same!
Okay, this isn't really a pro for everyone I just wanted to point out that my electric bills have not increased like I thought they would! They are the same as the old house so far. (And much, much lower than they were in the trailer.)
That's because since we're surrounded by trees the house stays cool. We've kept the bedroom air conditioner running but have very rarely ran AC in any other room.
We plan on using the fireplaces this winter so I'm hoping that, too, will keep the heating costs in check.
Lesson Learned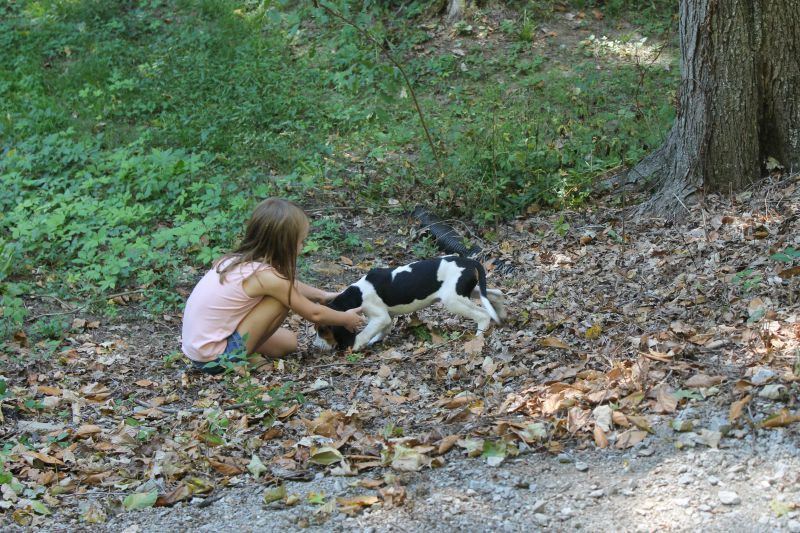 For me the lesson learned is that the grass definitely isn't always greener on the other side. I am not trying to sound complain-y here, just objectively looking at the pros and cons.
I am very happy with house, absolutely love where I'm at, and I plan on being here forever. With that said, I think we hold these ideas of perfection in our head that if only our house was bigger, or better, or maybe even smaller, that things would be perfect.
I don't think there's anything such thing as perfect. Pros and cons come with everything.
Do you prefer bigger or smaller homes?