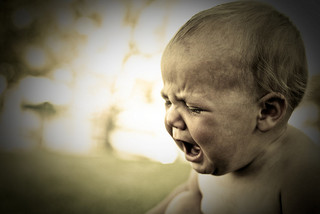 There are certain things that don't really cross your mind when contemplating whether or not to leave an unhappy/unhealthy relationship. (Or at least they didn't cross my mind.) For me, it took two years of unhapiness, constant bickering, and loss of emotion mixed with some marriage counseling.
When the marriage counseling failed I thought there wasn't any hope. He was him, always would be, I was me, always will be and neither of us were going to change.
The decision to get divorced was not an easy one. The thought had crossed my mind for the last two years of our relationship but I always told myself things would get better. And sometimes they did, just not for very long.
Divorce wasn't about just me and him, it was about our two beautiful daughters. Should they live their lives witnessing an unhealthy relationship and then grow up and imulate an unhealthy relationship? Or should we just call it quits now while they are still young?
I never thought I would get divored. (But really, who does?) There are things I miss. I wish my girls had both parents together under one household, but I still stand by my decision that it is better for them to see us happy apart rather than unhappy together.
What I Miss the Most
Every now and then I catch myself thinking what if we tried longer, tried harder, what it would be like? But when I start thinking like this I am remembering all of the good we had and not factoring in the bad.
What I miss the most, isn't necessarily him, it's stability. Knowing that I could come home to my house everyday. Follow my routine of playing with the girls, cooking supper, and putting them to bed. Knowing I had someone to sleep with every night. (I hate sleeping alone.)
Moving the girls into my dads house and then into our trailer hasn't been easy to say the least. Change is hard for me and it's really hard for a two and four year old. The eight o'clock or earlier bed times have now turned into nine to ten o'clock bed times. Routines won't stick yet.
Comfort and stability are ripped away when you get divorced, especially if you are the one who has to plant new roots.
An Emptiness
Another factor I didn't weigh quite enough is how hard it is to divide kid time between the two of us. I knew it would be hard but I didn't know just how hard it really was until I experienced it.
 The girls have an excellent father and are lucky to have him. When they are with him I know they are well cared for, but that doesn't stop me from feeling empty. My heart breaks that I don't get to see them everyday.
It will be a year in July since we have split and I can't adjust. Don't know that I ever will. 
Divorce is essentially starting your life all over. Everything you once knew is gone. It's not all bad, I am just telling you what has been the hardest for me. There have been positive things as well.
I'll keep on keepin on and regain my stability at some point. It takes time to heal.
If you have been divorced or ended a long term relationship, how long did it take you to get that feeling of comfort and stability back?