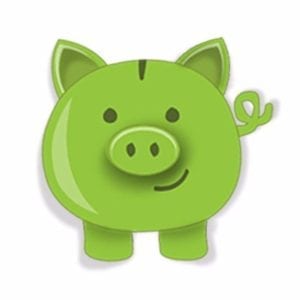 I've long used reward sites as a way to help pay for Christmas shopping. (My favorites being Swagbucks and Inbox Dollars.) To me, earning with these sites is super simple and doesn't take much time. I always feel like I have "free" shopping money when the time comes around to cash out.
One site I started experimenting with a few months ago is Qmee. Here's what I think about it so far.
Qmee Review: How Qmee Works
Qmee is a rewards site that requires users to install a browser extension.
As a Qmee user when you search on Google, Amazon, or other shopping sites a sidebar will pop up on the left hand side of your computer screen with relevant results from Qmee.
For instance, if you're shopping for HP Ink on Amazon the Qmee extension might pop up with other places to buy the ink and how much it costs at those places. You will also see a number (in cents) listed by the item in the top right hand corner. This is how much you will earn for simply clicking the link.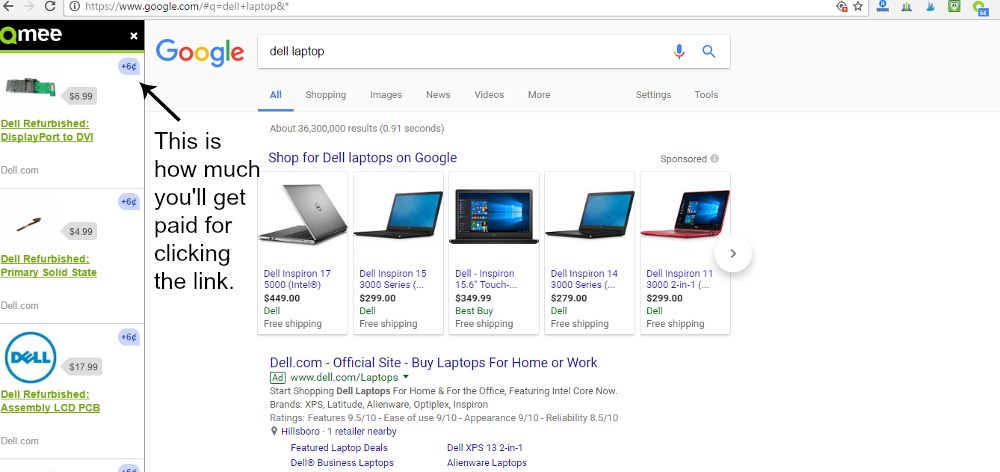 With Qmee the main way you earn is by clicking on the relevant advertisements Qmee shows you. You can also earn through taking surveys and referring friends.
The Cons of Using Qmee
Like anything else Qmee is not all rainbows and sunshine. (Or at least I don't think it is.) Let's start with the cons of installing Qmee.
It takes a while for your earnings to add up. If you're expecting to earn a significant amount of money – don't! Qmee is a super easy way to earn but it will take quite a while for your earnings to add up. This is one of the sites where I like to let earnings accumulate over a year and then cash them out for Christmas shopping money.
It's slightly annoying. I'm not going to lie, there are a few times where I thought Qmee was pretty annoying. I'd say 70% of the time it doesn't bother me. But then there's that other 30% of the time where I'm trying to find something specific on Amazon and Qmee pops up with irrelevant items every time I do a search.
You have to use Qmee for a while to be invited to the refer-a-friend program.  If you're interested in joining the refer-a-friend program you'll need to use Qmee for a while before you're invited.
The Pros of Using Qmee
I started with the cons so that you know upfront what you're getting into with Qmee. But for me the pros do outweigh the cons.
Here's what I like:
It's easy. You don't even have to remember to use it. When you do a search on Google, Amazon, or other shopping sites Qmee will automatically pop up. You can then decide if you want to click on it or "X" it off.
No minimum cash outs and super-fast payment. Almost every other rewards site I'm active on takes a while to cash out. (For instance it normally takes me two weeks or more to receive a check from Inbox Dollars and several days to receive my gifts cards from Swagbucks.) Qmee is lightning fast on payments and there are no minimums.

I wanted to test them out so I cashed out $0.38 and received that money in my PayPal account almost instantaneously.
Multiple ways to get paid. You can get paid via PayPal, cash out for gift cards, or donate your earnings to a charity.
There are a few ways to earn. Like most other reward sites Qmee offers a few ways to earn. The first method is simply searching like you normally do after you install the browser extension. You can also take surveys and refer friends for extra cash.
Is Signing Up with This Site Worth It?
If you're wondering if signing up with this site is worth it that really depends on what you're hoping to get out of it. If you're wanting to earn $50+ per month I highly doubt that will happen. If you're happy earning a few bucks per month to go toward Christmas shopping or some other yearly goal then yes, it could be worth it.
If interested you can give Qmee a try here.