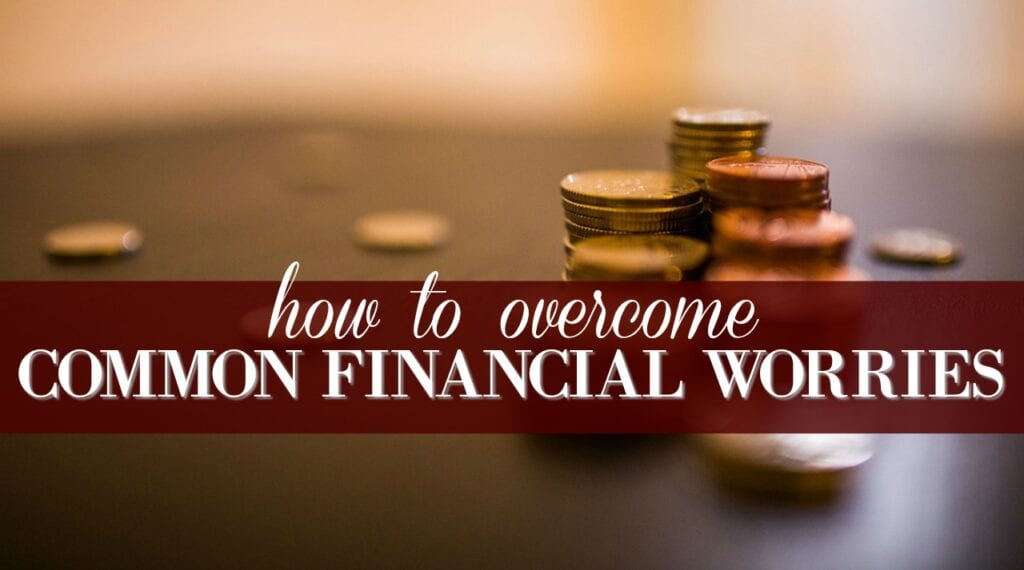 Everyone faces financial struggles. But for single moms, it seems as if they hold a bigger financial burden and are more likely to undergo financial hardships – because in all honesty, they do.
According to figures from the U.S. Census Bureau, single moms earn a medium income of $26,000 while married couples earn a medium income of $84,000. That's a big gap!
When you're the sole income provider in your household and have other people depending on you to survive, it's only natural that you may worry a little bit about your finances. When I was a new single mom, I remember being worried about money constantly and always wondering how I was going to provide for myself and my son.
Now I'm in a much better place, but being a natural worry wart, I still worry about little things from time to time. It can take some time to overcome most common financial worries that single moms have but here are a few ways to change your mindset and habits so you can rest assured knowing that you're able to make ends meet and manage your finances properly.
Not Being Able to Meet Basic Living Expenses
When you have a fixed income and a lot of responsibilities, it's safe to say you're not interested in splurging on non-necessities and more concerned about meeting your basic needs. To combat this worry, you can increase your income or attempt to simplify your life even more.
I know it doesn't always sound fun, but sometimes it's best to focus on being content with less during a temporary situation. Draw out a brand new budget that minimizes your variable expenses and consider ways that you can alter or lower fixed expenses.
Get a one bedroom apartment instead of a two bedroom for the time being
Move from a large expensive city to the suburbs where the cost of living is cheaper
Avoid financing anything even if it's a necessity like a car
Find the lowest paying prepaid cell phone service and try it out
Monitor the energy consumption in your home to lower your utility bills
Try purchasing your family's favorite foods in bulk, shop during sales and freeze extra food to save on groceries
Another important thing you can do is start boosting your savings rate. Having money saved up will come in handy if your expenses ever increase one month or you have to deal with an emergency. If you feel like there is nothing left to save at the end of the month after you pay all your bills and expenses, you're probably wrong. Back when I earned only $500 per month, looking back I know that I could have sacrificed and set aside at least $15 from that to save for emergency expenses but I chose to spend the money on something else.
If you feel like you might not be able to save much, try asking around to see if anyone needs extra help and is willing to pay for it. You might be able to babysit, run errands, fix something, or assist with a weekend gig for extra money to put into a savings account.
Paying for Child Care
It's not secret that child care prices are extremely high. But for a single mom, not being able to afford child care can be detrimental to her income if there aren't many other options for child care. Working is often mandatory and due to that, so is child care.
Instead of worrying about how you will pay for this expense or considering working less, explore some of these options:
You may qualify for child-care assistance: State child-care assistance programs help eligible families pay for care while working or attending school.If you are approved, the program will pay for a portion of your child care costs each month based on your income and family size while you will be required to pay a small copay each month. Each state has its own guidelines and requirements though so it's important to see if you qualify and utilize the assistance too.
Try a home daycare of hire a nanny: If you find an accredited and legitimate home daycare, it may be cheaper than taking your child to child care facility. You can even check Care.com for a trusted babysitter or nanny. This service is free for parents to use and allows them to compare providers and their rates in order to find someone who matches their requirements and budget.
Find a friend or family member who can babysit: Depending on your work schedule and where you live, this may or may not be a reasonable option. Back in college when I was liivng away from my family, I made an effort to connect with other moms in my area to make friends and develop a support system. Turns out there was a whole group for college moms and I met many other single moms who needed help just as much as I did. We carpooled and swapped babysitting services when we could to help each other and networking with others to build positive relationships is a great way to avoid costly child care prices.
If you live near family, they may be willing to help for free or cheap. I know that living near my mom and siblings helps a lot and they don't charge me a penny. My son's other grandmother on the other hand, used to charge me to watch him. Back when I worked as a brand ambassador on weekends I made about $66 per day and she would charge me $20 to watch him for 6 hours. I understood that she didn't have a job and I was low on options since daycare wasn't open on weekends anyway and her rate was much cheaper. Even though I wasn't earning much, I remained positive knowing that my child was being properly cared for and I was still making money and working toward getting ahead.
Things eventually got better and things will get better for you too. Your kids won't be babies or toddlers forever so you just need to get through the initial daycare years.
Obtaining the Proper Insurance
Becoming properly insured is important for everyone but it should be an absolute priority for single moms. Some people use the classic excuse that they can't afford insurance when in reality you can't afford not to be insured if anything bad every happened. If you're driving, make sure you have at least liability insurance and feel free to compare quotes and offers from competing providers to find the lowest option.
Medical insurance is also a must. See if you employer offers a plan or apply through the marketplace and Healthcare.gov. You may even qualify for a premium reduction depending on your income. If not and healthcare seems too expensive, at minimum you should enroll your child and you can choose an alternative option for yourself like a health sharing ministry for the time being.
For renters and life insurance, these are very cheap and there's no reason why you shouldn't have them. Make time to explore your options and bundle insurance if you have to to save money. Combined, both of these insurances don't cost me more than $25 per month and they offer thousands of dollars worth of protection. It's worth it.
Whatever you Do, Don't Ease your Financial Worries By:
Taking out a payday loan – These loans have extremely high interest rates and it's just not worth it especially if you can barely pay bills. Choose to do without certain things or rely on your emergency savings instead.
Financing items – I've said it before, but don't finance anything that has a high interest rate and that you can't pay off quickly. You will lose money this way.
Using credit cards – If you aren't using credit cards strategically to earn points and rewards and paying the bill off in full each month, avoid using them because they could get you into debt.
Giving Up – It's important for your mental health not to be worried and stressed out all the time but at the same time don't give up. If you don't qualify for financial assistance you have other options. Overcome these worries and improve how you manage your finances and things will get better.Can you think of any common financial worries single moms may have?