Happy Friday Everyone! Kyle McMahon contacted me recently. He is going to be a guest on Oprah's Lifeclass: Fatherless Sons this Sunday (
which looks to be a very powerful show.) Kyle wanted to share a little bit about himself and give away a download to his song A Letter 2 My Younger Self, which will be available for free on Sunday . Enjoy!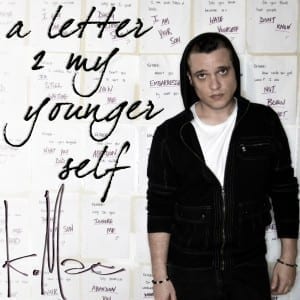 My name is Kyle Mcmahon & I am a fatherless son. Luckily, I was blessed with an amazingly strong mother & eventually her husband, my dad, to help get me through, but they could only shield me so much from the consequences of his choice to deny me. The pain that the choices of my biological father caused me are numerous and some, irreparable. 
 And then Oprah entered my life. Just when I needed it, at the exact moment that I could handle it & not a moment before, I got a call from Harpo. Soon after, I flew out to Chicago to be a guest on Oprah's Lifeclass. The show, Oprah, Iyanla Vanzant & all of the hard working, dedicated staff at Harpo, literally helped change my life. It was life changing for me, and life changing for every single person in that room. This isn't television, this is a revolution. 
It is also the reason that I am giving away my song, A Letter 2 My Younger Self (Fatherless Sons) as a free download.  I wrote it around high school as an outlet for the pain I was feeling. It is what I would say to any boy or man whose biological father abandoned him. It WILL be ok. You CAN make it through. Know that it isn't about you at all. It literally has nothing to do with you. 
I implore you to check out the show this Sunday at 9p eastern on OWN & join us in the conversation starting with Oprah's Lifeclass presents: Fatherless Sons. Oprah, Iyanla, myself and thousands of others will be live tweeting during the show using #FatherlessSons & #Lifeclass. Lets start the revolution & break the cycle. 
More About Kyle
111 Records / Warner artist K.Mac (also known as Kyle Mac) is currently recording his debut pop EDM album, SchizoSONIC, with producer

 ICE Coday

. In addition, they work together in music collective
The Mixx
writing and producing for other artists and projects. 
K. Mac has an active and growing social media presence with over 30,000 fans spread across Twitter, MySpace, Facebook and other various social media platforms. Look for K.Mac's debut, SchizoSONIC, this fall.