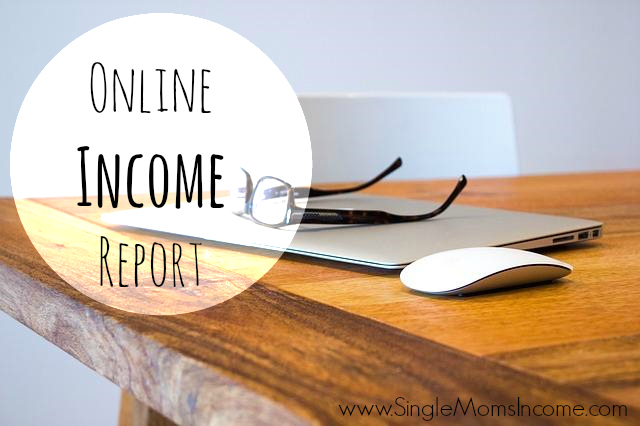 Last month I talked about how incredibly slow and drawn out February was. March was the exact opposite. Yay for decent weather!
March Happenings
March was a pretty good month. I felt like time went by fast and was amazed at the difference good weather made in my attitude and motivation.
It's crazy how that works!
I still had no babysitter in March which made work incredibly challenging. I managed to get done everything that needed done. March was just a super busy work month, which should show in April. It was also a good family month. And I finally got to get outside!
I went fishing once, got to go to the shooting range, and was even able to go on walks through the woods! I'm so happy to get to be back outside. We also made Easter cookies and eggs and my brother and his child doggy came over to help.
Since I work from home my outdoor time pretty much equates for all my social interaction which is why February was so depressing.
(I seriously very rarely leave the house unless I'm doing something with one of my brothers which is generally always an outdoor activity!)
March Online Income
I expected March to be around the $4,000 mark but I actually did much better. I credit this to just having some really good freelancing clients, which I'm grateful for.
March ended up being my best income month and I'm still kind of in shock with what I did. April is on track to be a very similar month as well.
I know when I set my income goal at $60,000 this year that seemed like a huge number for me. I only earned around $30,000 a year working two day jobs! But now I'm honestly feeling like I can beat that $60,000 a year mark. On the other hand I don't want to get too confident with this as you never know what can happen.
I'm just going to keep being incredibly grateful for the progress I make each month.
Okay, enough jibber jabber. In March I made $4,965.27 (This is for payments I actually received in March.)
It broke down to:
Freelancing $3,000 (yes, exactly $3,000 even)
Blogging $1,965.27
BUT I think it's super helpful for me (and for anyone who is ever thinking of becoming self-employed) to realize that even though I earned $4,965.27 I do not get to pocket all that money. My expenses were low but I also have to pay a lot in taxes.
Here's a screenshot showing my spreadsheet where I keep track of all of this. You'll see that after expenses and taxes I only get to keep $3,558.20 That means if I want to net $60,00 per year (which the initial goal was to just gross that) I'd actually have to bring in $6,700 per month or more.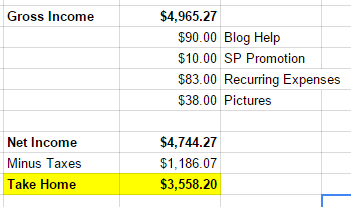 That's not to say I'm disappointed with what I did I'm actually in a little bit of disbelief and at the same time, motivated to try and do better each and every month!
March was also my highest traffic month which will be reflected in my April income report. I'm going to do a more in depth post of my six month progress with EBA showing some of my six month comparison screen shots to traffic and income here soon. It's pretty amazing, if I do say so myself. (Plus for anyone wondering I want to show you how diversified my traffic is. I promise it's not all from Pinterest. In fact, Pinterest isn't even my main traffic source! However, I believe that social media is what caused an incredible jump in my main traffic source.
In the meantime Ruth is offering a completely free EBA mini course starting April 7th. You can sign up here. EBA enrollment opens up April 14th and it won't open back up until 2016 after that. If you've thought about signing up this will be your only chance in 2015 🙁
P.S. If you're interested in starting a blog too, check out How to Start a Blog for Only $12 per Year. This post walks you through setting up your own WordPress blog through GoDaddy, my favorite hosting company.
Other Random Life Stuff
I need to do some life update posts soon because I have so much to tell you. One thing being that I'm having some problems with my littlest one.
Kindergarten registration is next Thursday and I'm incredibly nervous to take Ava. We've been having some major attachment issues. I found a babysitter who started Monday but by Wednesday Ava refused to go. There was jut nothing I could do to get her to go. (Babysitter has been picking her up.) And she's freaking out about starting Kindergarten.
At this point I'm almost wondering if it would be better to hold her back another year but then I think the attachment issues might get worse if I did that. Kailyn couldn't wait to start school. Ava is having major anxiety over it. It's breaking my heart and I know that I will cry my eyes out when I have to drop her off for her first day of Kindergarten.
Deep breaths.
Okay, I better end this post before I start writing a book on my life. I'll give you some more updates over the next few weeks!
How was your March?