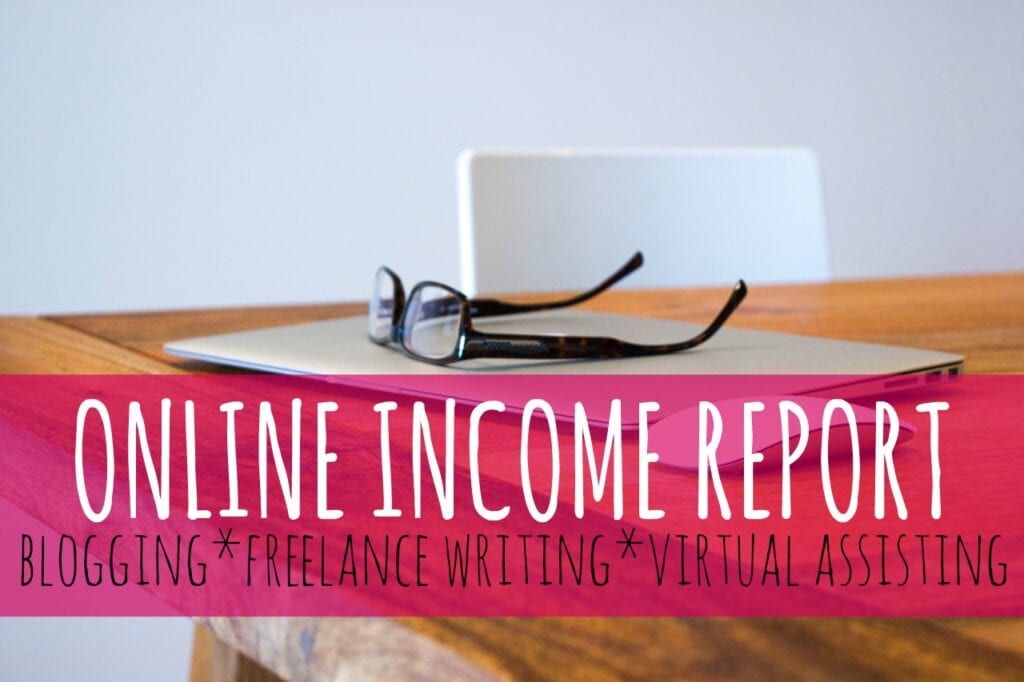 If you're new here I've posted income reports ever since I started this blog, three years ago. I initially had goals of making a few hundred dollars per month and then slowly growing that amount. Luckily, that's what I've been able to do.
In 2012 I decided that earning money online was going to be the only way I could create the life I wanted living in a small town with no good job options. I dove in head first and started trying things out. I've failed at sooo many different things and have had great successes with others.
As of now I earn an income through being a freelance writer, virtual assistant, and blogger. (And yes, I know how crazy that sounds to most people!)
March 2016 Online Income
I've been waiting for March's income report since January because I knew this one would be a bit better than the past several.
Because it takes anywhere from 30-90 days to receive payments for most of what I do, I always report the actual money I receive for the month which never really reflects the actual work done in a particular month. (Confusing, right?)
Here's how much money I made (received) in March: $7,112.69

Also, ironically this was the lowest expense month I've had so far this year at $302.26
The income breakdown went like this:
Freelance (Virtual Assistant and Freelance Writing Work) $1,400
Ad Networks $2,156.98
Other Advertising $600
Affiliate Commissions $2,937.71
SEO Guide $18
Overall it was a great month and I'm glad to see that there was some progress made. Next month should go back down to the $5,000 range (give or take a bit) and then the month after that should go back up based on payments I foresee coming in.
It's looking like the year may be a bit of a rollercoaster income-wise but I'm perfectly fine with that. Fortunately, I live in a very low cost area and don't require a lot of money to get by. However, it is nice to have extra money to save or go toward the mortgage pay-off on these bigger months.
Also worth mentioning is that about 26% of my net income goes toward taxes so all of this money isn't mine to do as I please and is something you need to plan for if you will be earning money outside of a traditional employer.
If you currently have a blog but are having trouble building traffic or making money you can get Ruth Soukup's free e-book 7 Ways to Boost Your Blog Income Overnight for free here.. Ruth is the creator of Elite Blog Academy which is the course that helped me 10x my traffic and income.
(Elite Blog Academy is not currently open but you can still download the free e-book and get on the waiting list for the next enrollment.)
Recommended Blogging Tools
If you're wondering what tools I recommend for blogging, here's a list:
Domains and Web Hosting –Bluehost. If you're interested in blogging but haven't yet started you can get hosting from Bluehost for as little as $2.95 per month PLUS a free domain name when you go through this link which is just for my readers. If you need help getting set up you can find a step by step tutorial here.
Social Media Scheduling – For Pinterest I use Tailwind. I started using this about a year ago with great results. Tailwind is affordable and super easy to use.  You can get a free month of Tailwind with this link.
I'm also subscribed to Hootsuite as I used to use this for scheduling my virtual assistant clients Twitter accounts. I still use it for mine. Although, truth be told I don't really love it and could probably do without.
For Facebook I just use the built in Facebook scheduler.
Bookkeeping – GoDaddy Bookkeeping. I absolutely love this bookkeeping software. You can read my full review here.
Photos – I find a good majority of my photos on Pexels. This site is free with copyright free images. If I can't find one there I'll buy an image off of 123rf.com or look for one on Haute Chocolate which I also have a subscription to.
I use PicMonkey to edit all of my photos.
Lessons Learned From the Month
One thing that I keep seeing again and again is that most bloggers have a handful of blog posts that bring in the most traffic and subsequently earn them the most money.
This is definitely true for me.
Out of over 500 blog posts only about twenty get substantial traffic. If you're a blogger one tip to earn more money is to keep those blog posts updated with relevant information (if applicable) and to add affiliate links or other forms of monetization when it makes sense.
I've spent a little bit of time this month going back through old blog posts to make sure my sources in them are still relevant but I still have a ton of room for improvement.
(If you're looking for more blogging tips my friend Angie just share a great post I recommend reading: 7 Advanced Affiliate Marketing Strategies to Increase Your Revenue.)
Another important lesson I keep teaching myself (and then not following…) is that the more organized you are the easier it is to meet your goals and not feel stressed out. I've once again made myself an editorial calendar and my goal is to follow that for the month and see how things go.
No matter what type of entrepreneurial endeavor you're working on organization makes things so much easier.
What Should You Do If You Want to Earn Money Online?
I get tons of emails asking what I think someone should do to earn money online. The truth is, there's no one answer! There are an incredibly large number of things you can do and what works me might not work for you and vice versa.
With that said here are some of the guides I've created about work from home positions I actually know about!
If you have any specific questions let me know in the comments!