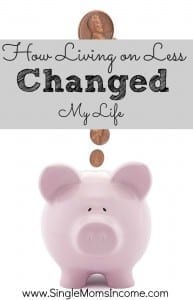 You often hear stories about people who lived on ramen noodle budgets for a year and paid off massive amounts of student loan or credit card debt. What you don't hear about is how living on less can transform your entire life.
It really can. In fact my entire mindset has changed since the first year when I had no other choice than to make sacrifice after sacrifice.
But first, let me rewind a little bit.
One Hot Summer Day…………….
It was the summer of 2012. I had just gotten divorced and moved out of my comfy home in the country to an extra bedroom at my Dads. That extra bedroom with the blowup mattress was shared by me and my two and three year old daughters.
I was at an all-time low. Emotionally I was a wreck. Trying to parent my children under such tight headquarters just wasn't working. These were definitely some of my worst days as a parent and the guilt was starting to consume me.
Something had to be done but I only made about $20,000 a year. My Dad suggested I buy a trailer and put it on the extra lot he had. I wasn't sure at first. Inside my head I was secretly wondering what everyone would think. I mean me? Live in a trailer? Honestly, I resisted the idea for a little while all due to the unfair stigma associated with living in a trailer.
I finally had reached my breaking point. I wasn't going to let stereotypes prevent me from making good decisions for my family. So I took out a $10,000 loan bought a beat up trailer that needed a ton of work for $1,500 and used the remaining $8,500 for transporting and fixing it up.
I knew I could afford the $226 loan payment and would be able to scrape by.
Finding that trailer was a Godsend. I quickly whipped it into shape and made it feel like home. My daughters and I now had our own living quarters where we weren't on top of each other all the time.
(Getting them to sleep in their own beds after three months of sleeping with Mommy was a whole other battle!)
This was my family's year of major sacrifice. I paid the bills and every single spare penny went to building up an emergency fund. Our grocery budget stayed under $250 a month and we ate a lot of sandwiches and ramen noodles.
While I didn't feel like life was being kind to me at the time I made the decision to stick to my guns and do what I felt was right.
I started to experiment with side businesses while working two day jobs and soon had enough extra income to grow my savings.
2012 was the year of hard work. I hustled my butt off. I made tons of sacrifices and even though I went through bouts of depression I tried to remain positive.
So What's the Point?
It sounds like everything I did was for financial reasons –and it was. I didn't want to go into debt. I didn't want that added stress. I wanted to provide my children stability.
So even though all of those choices had to do with money something inside me changed. I grew more compassionate. I wasn't quick to judge people who receive food stamps or any other type of assistance because I truly understand that they can be the difference between feeding your family and going hungry.
My entire mindset changed from that first year of major sacrifice. This is what I learned.
I am Thankful for Everything I Have
I used to have the mindset of "more." No matter what I had I wanted more.
I wanted to make more money. I wanted a nicer kitchen, a nicer house, a nicer car. That's all changed. I feel so incredibly lucky to be living the life that I'm living.
I've got two amazing happy, healthy, and pretty darn smart kids. I have family who will always back me up. I've got Jamie who has shown me what healthy relationships look like. I've got an awesome job and a roof over my head.
I have a lot to be thankful for. And every time I get in the mindset of wanting more I start counting my blessings.
People are My Priority
If you wonder why sometimes I post sporadically the answer always comes down to kids. Not just my own but also my niece and nephew.
My brother is going through some hard times right now so I'm doing everything I can to help him out because I know he'd do the same for me. So the week before last I kept my six year old nephew for a week. And yesterday I got pleasure of watching a six month old baby who wouldn't let me put her down. Typing with one hand just didn't work. 😉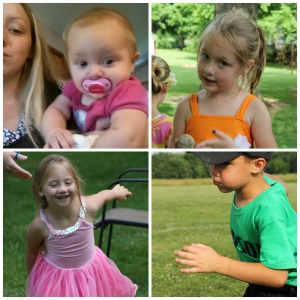 Even though I fail at times I am really trying to make people my top priority. At the end of my life it's not going to matter if I wrote ten thousand blog posts. What's going to matter is how my family remembered me.
I'm making it my goal to be that person to lean on when someone I love is having a hard time.
Yes, I still very much care about my work but I don't want to be "too busy" to be there for my family.
Money is Nothing But a Tool
Money is a tool. Money is not going to make you happy but the lack of it can make you downright miserable.
One of my biggest lessons in sacrifice is that if you can get your money situation in order (get rid of debt, save an emergency fund, invest in your future) that stress just melts away.
However, if you don't have these systems in place money will be all you think about. Do yourself a favor and get your money in order. Don't let it be the root of your problems.
Treat money like a tool and use it to build a life you love.
Status Symbols are Pathetic
I am kind of embarrassed to admit that I was hesitant to live in a trailer due to societal pressure – but it's true.
Then I realized that I'm no better than someone who lives in a mansion and they're no better than me. As human beings we all possess the same worth.
Now I just feel sorry for people who need to drive fancy cars or live in huge houses for the sole reason of impressing other people. They're not happy with their lives.
The truth is you don't need to be a millionaire to find true happiness. You're not going to find happiness in money, you'll only find it within yourself and other people.
Your Turn
Have you went through a period of time where you had to live like you were poor? If so, how did it change your life?
P.S. Thank you for taking the time to read my blog, leave me comments, and email me. I appreciate you, too 🙂