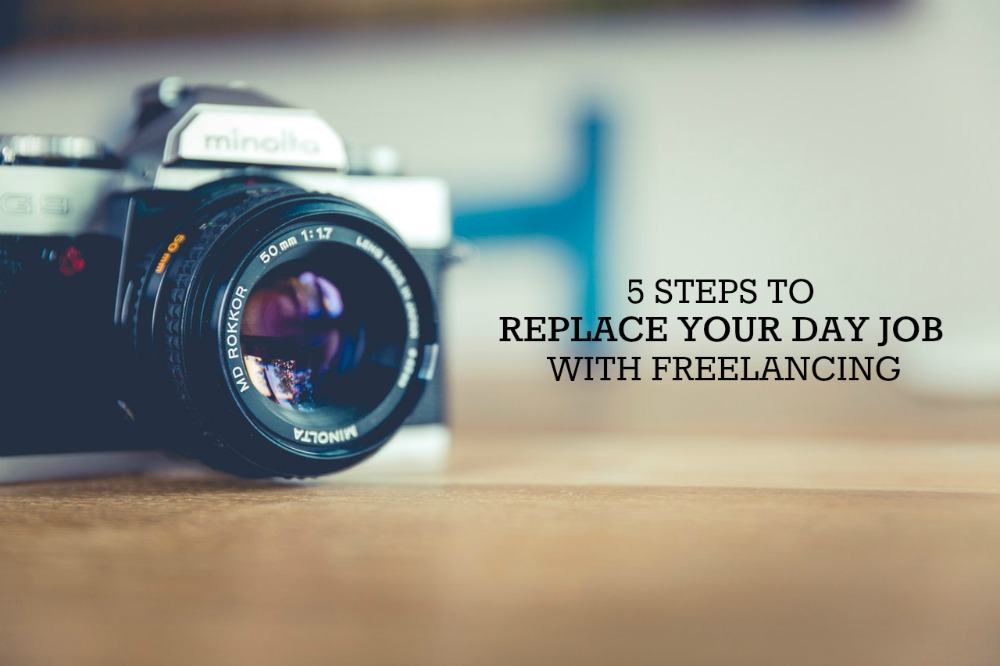 Freelancing is a pretty sweet gig. According to Upwork, freelancers are predicted to become the U.S. workforce majority within a decade with nearly 50% of millennial workers already freelancing.
What makes freelancing such a hot commodity is the fact that it's flexible. You can work whenever and from where ever you want. Freelancing also sets you up to become an entrepreneur and run your own business.
You'll learn how to manage clients and have more control in terms of growing your income on your own terms.
So how do you transition from working a 9-5 job to freelancing full time? Here are some key steps you can take.
Step 1: Determine How Much You Need to Earn
The first step is to calculate how much you'll need to earn from freelancing in order to quit your job. This may sound like an easy answer as most people would assume they'd need to match their freelance income with what they'remaking at their 9-5 job.
It's actually a little more complex than that. It's wise to want to do this but you may even need to consider bumping up your goal and earning more freelance income.
You'll need to do this in order to cover expenses like taxes along with workplace benefits you won't get any more. Realize that freelancers are responsible for their own medical, dental, vision, and retirement benefits. Plus, they set aside anywhere from 15% to 30%+ of their income in order to pay Uncle Sam.
You'll want to create a new potential budget so you can record how your expenses might change as a freelancer. For example, I realized that I would not be spending as much money on gas and commuting once I started working from home.
When I was considering taking the leap into full-time freelancing, I knew I was making around $3,000/month at my day job. However, I knew I couldn't walk away until I was earning $4,000 – $4,500/month minimum.
Here's how that would break down with me being in a 25% tax bracket:
$4,500 x 25% = $1,125 <— Amount to set aside for quarterly estimated taxes.
From there, I'd be left with about this much as after-tax income: $3,375 = $4,500 – $1,125 (gross income – taxes)
This is a little more than what I was making at my full-time job, but it also has to cover my living expenses, benefits, and business expenses. Knowing this, I actually increased my freelance income goal and set it to $5,000/month in order to quit my day job.
Step 2: Figure Out Your Hourly Rate
Whether you want to work on an hourly or per project rate, it's important to determine how much your time is worth per hour. This will allow you to know how many hours you'll need to work in order to meet your income goal.
When you're calculating your hourly rate, you want to look at the market rate for your freelance service. You can even ask other freelancers what they are charging for particular services if they'd be willing to tell you. Or, you can go to another freelancer's site and review their rates if they share them.
Instead of choosing a random number, you can actually calculate your hourly rate to ensure you'll earn a profit. To do this, take the annual salary you have in mind. Say it's $50,000. Then, determine what your expenses might be.
Freelancers tend to have expenses like tax payments, website hosting, marketing costs, and equipment whether it be a laptop or a special software program. Add up how much you think your expenses will be each month then multiply it by 12.
Let's say your expenses totaled up to $15,000. Add that to your goal salary to make it $65,000/year.
Next, divide your total salary by how many days you plan to work minus time off and vacations. The average employee works about 1,800 per year.
So let's do this: $65,000 / 1800 = $36/hr as an estimate.
This would be your baseline meaning you can't earn less than this per hour or you won't be able to meet your needs. To be safe, I would even bump this hourly rate up to $50 per hour since freelancers often have to do admin work (like emailing and sending invoices) that you aren't able to bill for.
Plus, you want something left to save or help you stay afloat if you have to cut your hours for a few months.
Step 3: Market to More Clients
After you know what you need to make and what minimum rate should be, you need to focus on obtaining more clients to help you reach your desired income.
If you're new to freelancing, just start by trying to obtain one client. After that, go for another. Ask your current clients if they have referrals or extra services you can provide.
I like to find clients by sending email pitches and on social media. Occasionally, I'll ask people in my network to connect me with someone who might need a freelancer.
By doing this type of outreach, I was able to land several clients in just a few weeks.
If you don't have much of a network and want to advance your skills, see if you can take an online course or get a mentor to help you. Some courses for freelancers come with bonus material to help you land new clients or even to connect you with clients in your industry.
This bonus alone makes the course extremely valuable.
Step 4: Manage Your Time Wisely
Once you start getting clients and making money, then you'll be faced with a new problem: time management. I'm not going to lie, it's difficult to juggle freelance work with a full-time job.
It's important to get on a schedule and eliminate distractions and poor use of downtime. When I was trying to build my freelanxce business, I got up at 5 am to work on it while my husband and son were sleeping.
Then I went to work and used my lunch break to check my emails, do light tasks, and pitch clients. After work, I'd spend a little time with my family then get back to freelancing for a few hours before bed.
I also focused on working smarter and scaling my business up. I actually hired a VA to help with a few tasks and that enabled me to make more money freelancing.
It was exhausting and I didn't do much outside of work but it was only for a few months while I was growing my business.
When I finally quit, I had the relief of knowing that I was already earning a full-time income by putting in part-time hours.
Step 5: Boost Your Savings
Before you quit your job to freelance, make sure you have a full emergency fund to fall back on. This isn't to say that freelancing will fall apart and won't work out for you, but it is quite unpredictable.
If you lose a client or need to take an extended break, you want to have some savings help supplement your income.
Lots of people say that freelancing is also feast or famine which means sometimes there's a ton of work and other times, gigs run dry.
To combat this, I focus on saving more money during the busy seasons, but I've also established a relationship with my clients where they provide me with stable work for the most part.
Yet and still, things happen. Earlier this year, I lost a huge client who paid about 1/3 of my total freelance income each month. It was a tough blow, but I knew I was one month ahead with my finances and had some savings to rely on.
Before I knew it, I had replaced the income with a new client but it was nice that I didn't have to freak out much when I initially lost the client.
If choose to be a full-time freelancer and don't have enough savings set aside, you're often going to be stressed and worried when hiccups happen.