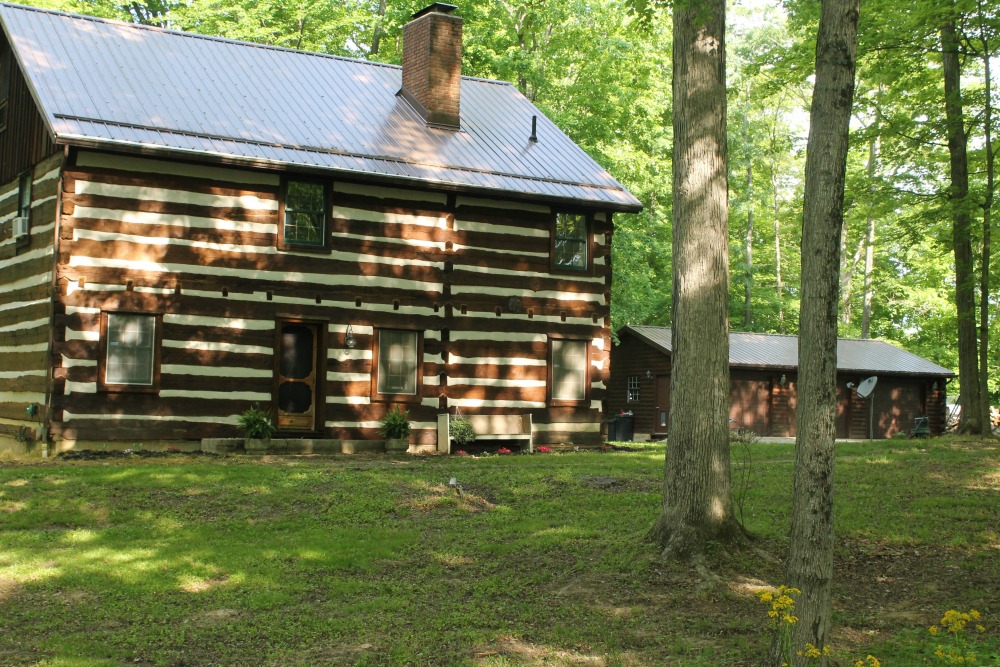 Two years ago we bought a log cabin on 19 acres. I imagine that when this property was in its prime it was absolutely beautiful – but that certainly wasn't the case when we bought it. Yes, the property was still beautiful but we also inherited leaky roofs, log rot, dilapidated garage doors, a fallen in basement entrance, falling down fences, 1980's wallpaper, and three disgusting bathrooms.
All that makes it sound a little worse than it was. The truth is that without the repairs needed there's no way that we would've been able to afford this house.
But the repairs have not been inexpensive or easy– at least not all of them. It's taken us some time and some cash to get this property restored back to being in great shape again. And we still have a lot of room for improvement down that road.
Now that we've just tackled the last major issue I thought I'd share how we've went about budgeting for large home repairs – because it's definitely not always fun!
We've Paid Cash for All Repairs
First and foremost we've paid cash for all of our repairs.
Because of this we've had to be very choosy about what we do and do not spend money on. Even though there are a bunch of things we'd like to have for the house we're not willing to go into debt over them.
Instead, we've funneled money into a savings account in order to make the necessary repairs. (This is after all other financial goals are met for the month and all bills are paid.) Also, if I receive "extra" payments beyond what I normally earn we sometimes will use those to get a large repair completed.
We also keep a decent emergency fund and NEVER touch that for home repairs.
(Just to be clear we would use our emergency fund if something was super urgent and we didn't have the cash for it – like a roof that needed fixed ASAP. After all, that is what an emergency fund is for. But since I like to keep cash reserves for my cash reserves we just haven't been in that type of  situation.)
We've Kept Priorities Clear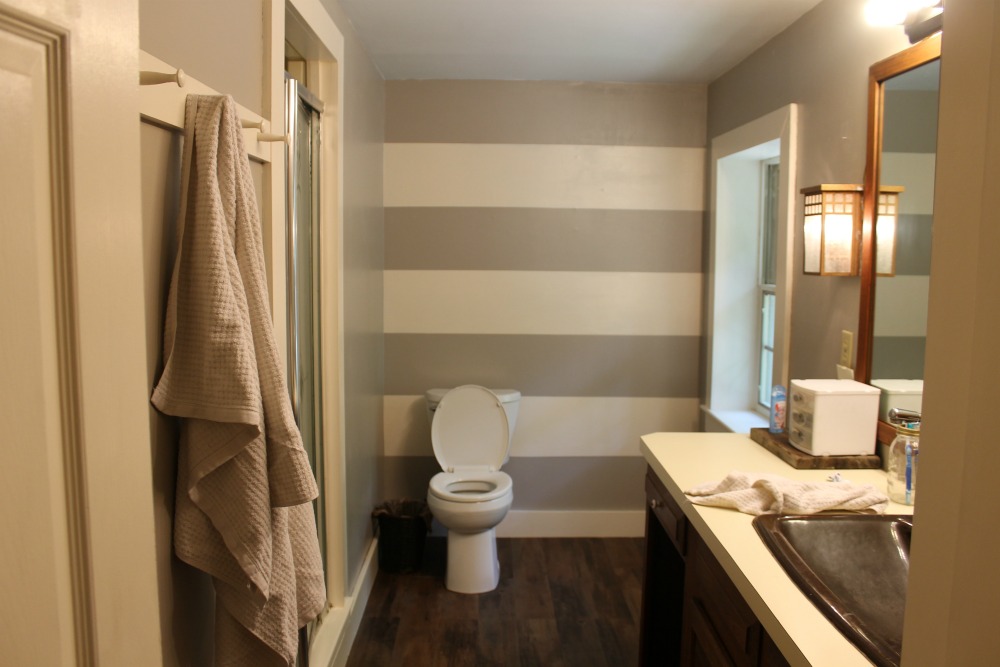 There's a lot of things that would be "nice" to do. It would be nice to buy all new appliances and get a countertop I really love but that is far from the game plan right now.
The priority has been to make the repairs to the most important areas first.
For us that meant starting with the roof of the house right after we moved in and then saving up for the repairs of the logs on the outside of the home. Keeping the structure of the house in good shape was the first and foremost priority and also the most expensive!
I have done other, less expensive (but very time consuming) projects in the meantime. For instance I took down all the wallpaper and have painted just about every single room in the house. Doing this wasn't expensive just time intensive. In the end the results made me feel much more like this is "home."
In short, I've kept priorities clear by saving for the big and much needed repairs while keeping myself happy with small, inexpensive projects.
We've Made Incremental Improvements
Even though I wish I could tackle big projects all at once it hasn't worked out that way. Let's look at our latest project as an example.
We have a three car garage with log siding that was badly damaged from wood boaring bees, in desperate need of staining and sealing, had a leaky roof and garage doors that are falling apart in multiple places.
Here's what it looked like when we first moved in: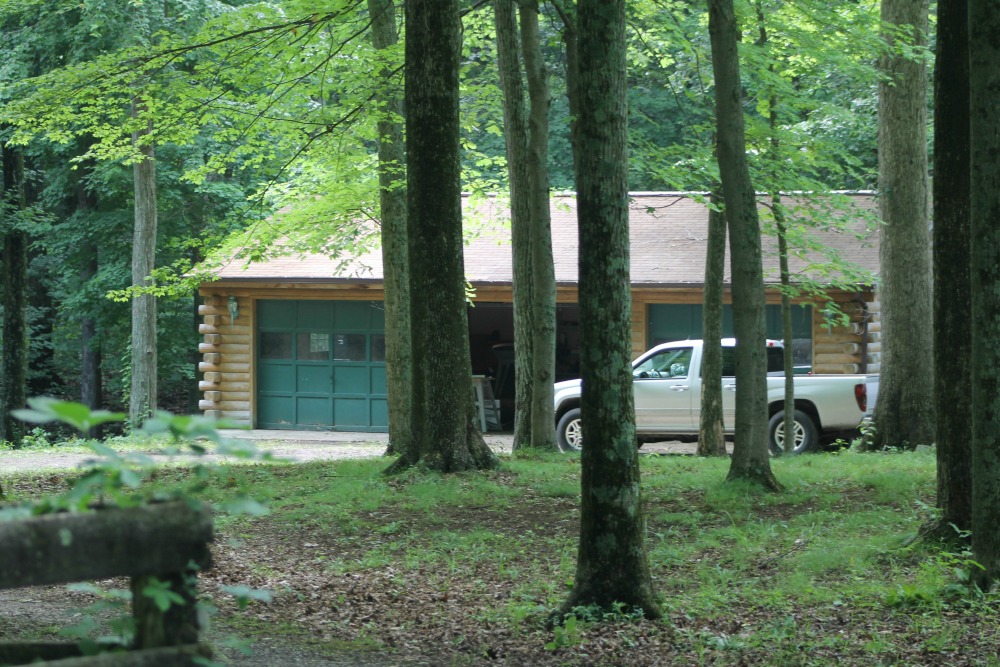 (Apparently I wasn't too proud of the garage when we moved in because this is the best picture I have of it!)
We knew the garage needed some major work but again, it wasn't a priority. Getting the house done first was the priority.
When we had the house stained and sealed we went ahead and did the garage as well.
Here's what step 1 of the garage repairs looked like: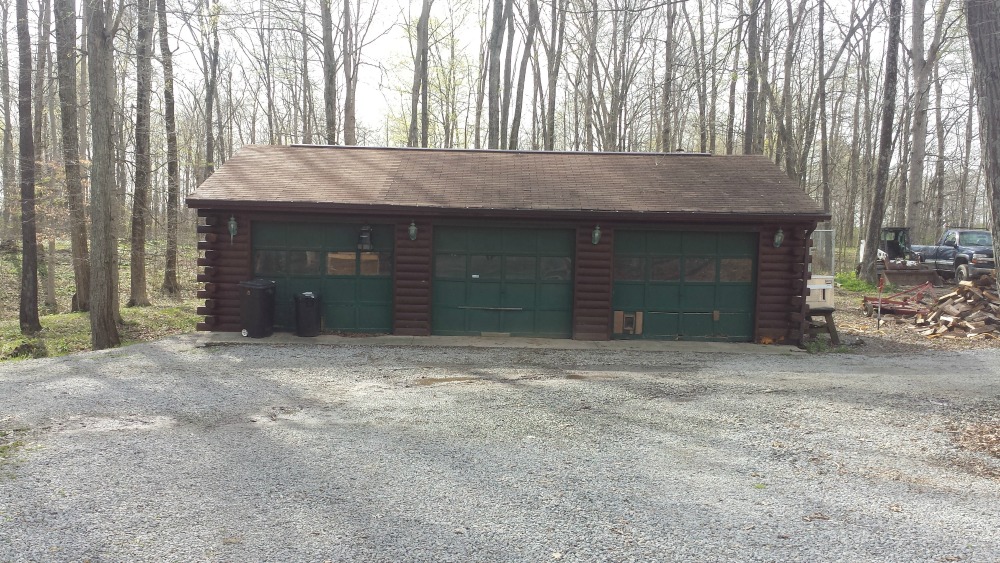 To me the garage looks even worse because it's now super obvious that the garage doors and roof are crappy!! But we had to hold off for several more months before making the next step.
Not too long ago we got to step 2 of the garage repairs, replacing the garage doors and painting the trim. Here's what it looked like: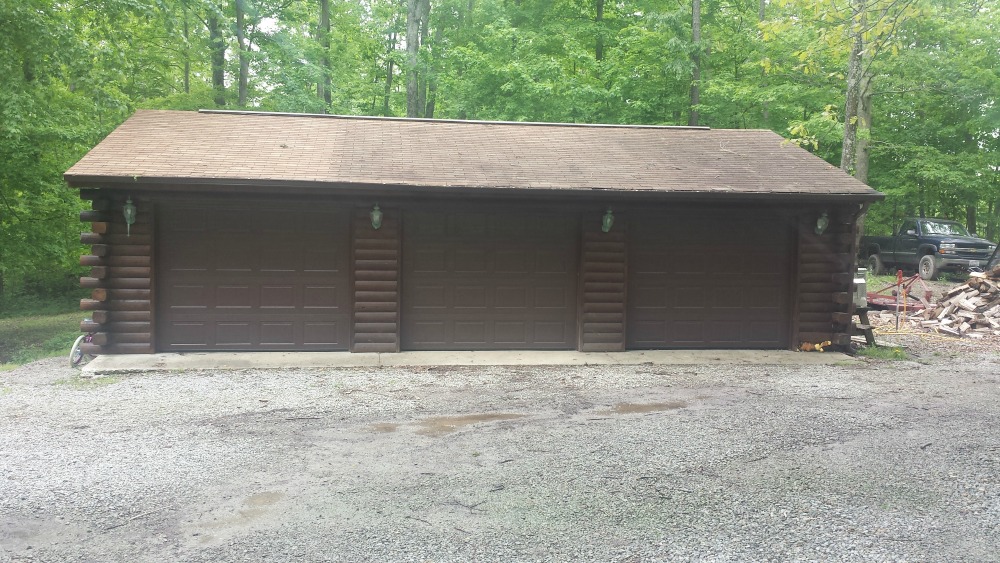 Better, but the roof is still super ugly and super leaky. (As a side note we actually did have the roofers patch this garage roof when they put a new roof on the house. The patching didn't go so well!)
And we FINALLY get to step 3 – a full two years after buying the house! The roof is finally replaced with a metal one to match the house and all of the exterior garage lights, which didn't work, are going to be replaced with working models.
Here's what she looks like: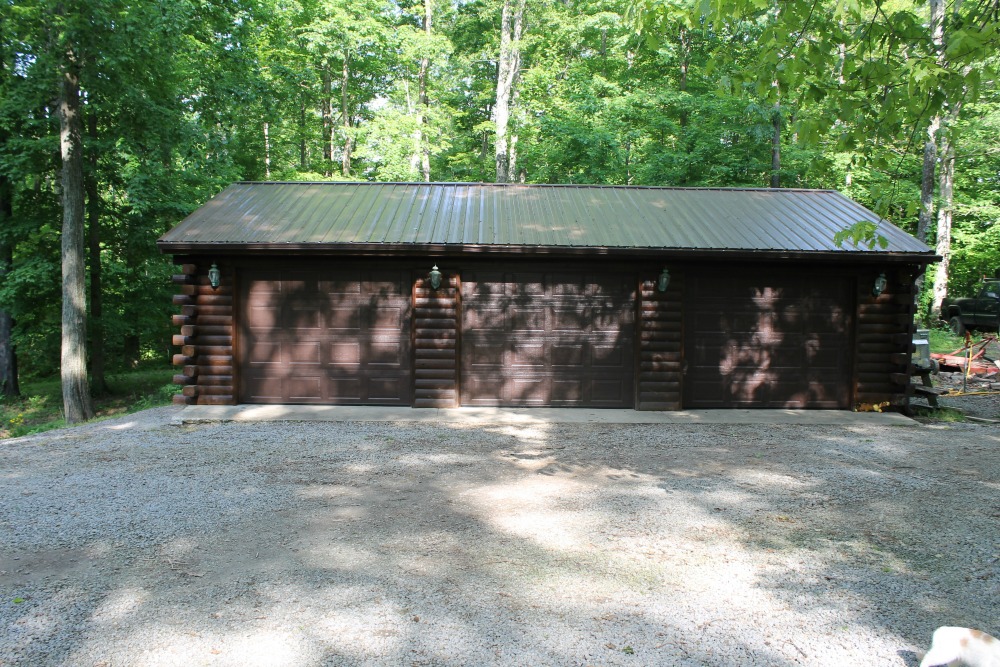 All in all it took us around $5,700 and two years to get the garage back to not-falling-apart. (It was around $1,800 for the staining/sealing/wood treatment, $2,200 for garage doors, $1,300 for the roof and another $400 in miscellaneous that still needs installed (paint, lights, new entrance door, etc.)
It would not have been possible for us to repair the garage all at once without either taking on credit or waiting until we had enough money saved. Instead, we did things as they made sense.
DIY When Possible and Leave it to the Experts When Not
I used to think that DIYing everything was the way to go – but I don't think that anymore. With this house there were projects that I definitely wanted professionals to do. For instance, the roof on the house is pretty darn steep and even though I have family who are capable of roofing they are not professionals and I did NOT want them up on the house roof. (The garage roof is another story.)
And then comes the fixing of the log rot on the house and garage. I want an expert to do that for sure! The staining and sealing afterward is supposed to last 20+ years. If something is supposed to last that long I want it done by a professional and with a guarantee. (Which we got.)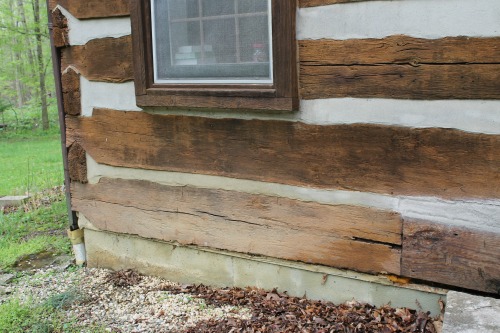 I'm all for DIYing smaller projects that aren't going to cost me an arm and a leg if messed up. And of course, I'm definitely going to DIY projects where my skillset (or someone I know) matches up.
It Takes Patience
If you're planning on buying a fixer upper or are in one now my advice is practice patience! Save up cash for all the home repairs that you possibly can.
It might take a few years to get your house where you want it but you'll be able to enjoy it so much more when you don't have to take on extra debt.