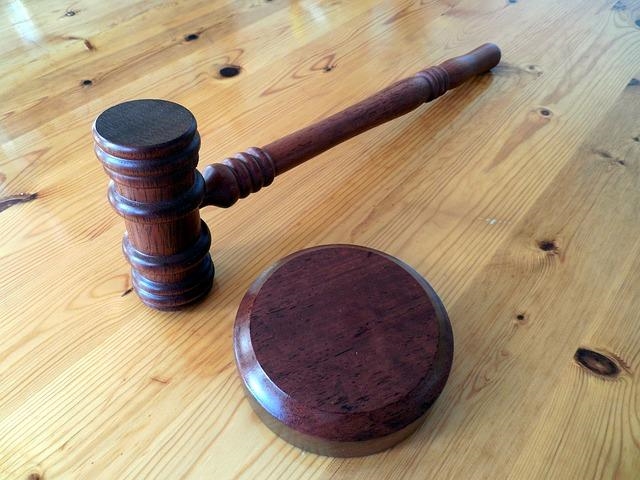 This post is from Megan.
When my husband told me he wanted a divorce, I had only been working part time for about 1 month. My net pay was only around $900! For the 2 years before, I had stayed home with our little girl from the day she was born. After trying to save the marriage, and coping with the grief, I had to start focusing on my finances. I had to take care of myself, and my daughter all by myself.
Here's how I got by as a former stay at home mom facing divorce.
Cutting Expenses
The first thing I had to do was start cutting my bills down as much as possible. Anything that wasn't a necessity had to go.
My budget looked like this:
Rent: $634 (I got the cheapest apartment where I still felt like I wasn't going to get shot)
Electric/Gas: $120 (It was winter in Georgia at the time)
Water: $30
Student Loan: $50
Cell Phone: $60
Internet: $45 (I had blogs making me some money and had to be able to access them)
Food: $175 (I bargain shopped like crazy)
Daycare: $160 (We each paid half of the part time rate)
Gas: $40 (I moved to an apartment 5 miles from where I worked)
Car insurance: $80
Total: $1394
I didn't go out, I didn't have any adult fun. My focus was my daughter's wellbeing and my finances. It was rough but I knew it wasn't forever.
Making More Money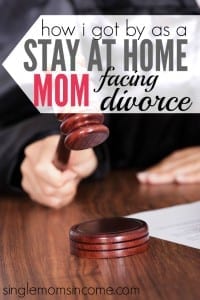 As you can tell, my bills were more than what the net pay from my part time waitressing job would cover. So, I had to start making more money. The first thing I did was explain to my ex exactly how much he was going to have to pay in child support because of how much he made versus what I made. He wasn't thrilled. But, I wasn't swindling him either.
I convinced him that he needed to help me get back on my feet since this was his choice and not mine. By, the end of that conversation, I ended up getting $800 per month out of him. We considered $600 to be child support and $200 to be a form of alimony.
So, I was now bringing in $1700 per month. Great! My bills were now paid. But, I knew it wasn't guaranteed and it probably wouldn't last. I wanted to have a safety cushion. I had no money in savings, working a part-time job, my health insurance would end when my marriage did, and my apartment was still in a little bit of a rough area.
I was doing what I had to do for the time being.
In the meantime, I used any spare time I had to work on the blog I had just started a month before the "divorce" talk. I created "Momma Loves Money" to make some extra cash. Now, I needed it more than ever. I started blogging about anything to do with finances, making more money, spending less, etc. This blog eventually got me to the point I'm at now. I got offered to write weekly for Single Moms Income by Alexa and gladly accepted. It feels amazing to see where I was and where I am now.
There is so much more to the story, but the general idea is that I had to spend less money and make more to get by. I did this by any means necessary. I even moved in with my parents for a short time (6 months). So, remember, when you think you have hit rock bottom, just start looking for that sunshine. You will get there eventually.