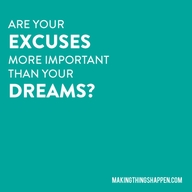 The girls are with their dad this weekend which means an empty, but quiet house for me. I don't have any plans as of now. My mom just bought a new house so I may go visit her. Other than I just want to send out as many emails as possible and look for jobs. I am bound and determined to make this work!
Good Posts from the Week
 Femme Frugality got a makeover this week and made the switch from Blogger to WordPress. Congrats to her, the site looks great. This is one of my favorite posts from Femme:I Can't! I Work with Kids.
Other Great Posts:
Other Places You Can Find Me:
Freelance Jobs
I have had a terrible week at work. This is motivating me to work extra hard on finding more freelance gigs. Luckily, I have locked down one new weekly job and I am working on another one. The second one looks promising and I am hoping it will pull through as well!
This entire month I am going to be looking for jobs hardcore.
I started checking on and applying to the writing agencies. As I started applying I noticed there was one thing you need to have prepared beforehand. I'll be talking about that in my email update. The first one will go out Monday and we'll talk about what you need for the writing agencies and I'll give you an example you can work off of to get yours prepared.
I have also made more money this week than I normally do. That will be included in my email update as well!
Freelance Writing 
Lifestyle Blogger @ProBlogger Pay $20-50 per post
Syle Copy Editor @Demand Studios
Entertainment Blogger @Blogging Pro
Wedding Fashion Blogger @Craigslist
Life Hack Writer

@ProBlogger

Copywriter @Craigslist $25 per article
Ghost Blogger for Health Website 

@ProBlogger

Pay: $15-$25

Sales Cover Letter @Craigslist
Addiction Blogger

@Craigslist
Also one of my favorite bloggers, Tom Ewer, from Leaving Work Behind has started his own writing agency. You can check him out and learn how to apply here.
Freelance Editing
Wikipedia Editor

@Craigslist
Misc.
Social Media  @Craigslist Pay:$10-$12 per hour
English to German Translator @Craigslist
Video Blogger

@Craigslist
Have a great weekend!!