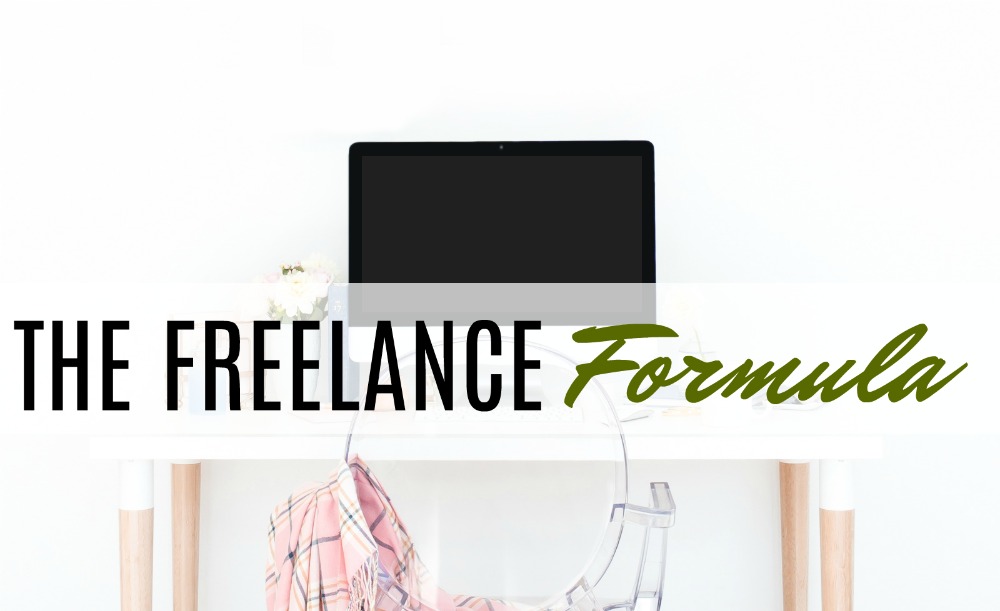 Freelancing is the quickest way to build income on the side. In my mind there's no other comparable option.
Not only does freelancing allow you to quickly build decent income (much higher than most work from home jobs) it affords you a whole lot of extra benefits including job security, schedule freedom, and more money. (Read about the pros and cons of freelancing here.)
The problem can be knowing exactly what to offer. Luckily, I have a formula that makes all that pretty easy to figure out.
The Freelance Formula (How to Know What to Offer)
What You're Good At + What You Know = Your Freelance Service
Yes, it's really that easy.
If you're decent at something and then there's also something you know a lot about you can pair those and have a great service to offer.
When I first started freelancing I decided I wanted to write. I wasn't the best writer but I knew I was good enough. The problem was that there a lot of writers that were also 'good enough' and so competition was high.
In those early days I would try to get writing jobs on any topic I could find. It didn't work. When I finally decided to match writing up to something I knew a lot about (which was insurance at the time) everything fell into place and finding clients became easy.
The same thing happened when I became a virtual assistant. Instead of just a virtual assistant I was a virtual assistant to personal finance bloggers which again, made getting clients very easy.
I suspect that for some people coming up with a freelance service will be a breeze. For others, not so much. If you're having a hard time use this formula and take a couple days to come up with some options.
Specific Examples of Freelance Services Offered Online
When you're first thinking of your ideas start with what you're good at or what you enjoy. Here are some common general services to spark some ideas:
Running Facebook pages
Managing Pinterest profiles
Managing Twitter accounts
Proofreading
Creating graphics
Once you have a general idea of what you want to do you can then match it to what you know a lot about to come up with a more specific niche. Here are some more examples:
Writing sales pages for self-help eBooks
Managing Pinterest profiles for cooking blogs
Creating Facebook ads for local businesses
Writing blog posts for personal finance blogs
Managing emails and scheduling appointments for real estate agents
Proofreading blog posts
Proofreading fiction eBooks
Creating Pinterest graphics
Managing Facebook pages for businesses
Offering bookkeeping services to online business owners
Providing search engine optimization services for bloggers
Setting up WordPress websites
If you want a broader range of ideas I recommend downloading the guide from Work at Home School which has 73 different types of services you can offer. You can sign up for that guide for free here.
How Specific Should You Be?
Honestly, it just depends.
What I've found to be true is that when you're just getting started being specific in who you're offering services to can greatly help you to get your foot in the door. Once you've built up some credibility it becomes pretty easy to branch out.
For now, try to be as specific as you can. It's easy to broaden up your services if you need to but being specific will help you quickly find clients. (We'll get into finding clients next week!)
It May Take a Few Tries Before You Really Get it Nailed Down – This is Okay!
Don't beat yourself up if you haven't found that winning combo yet. Pick your service and as you try to find clients you'll notice a pattern in who responds and can tighten up or change your targeting from there.