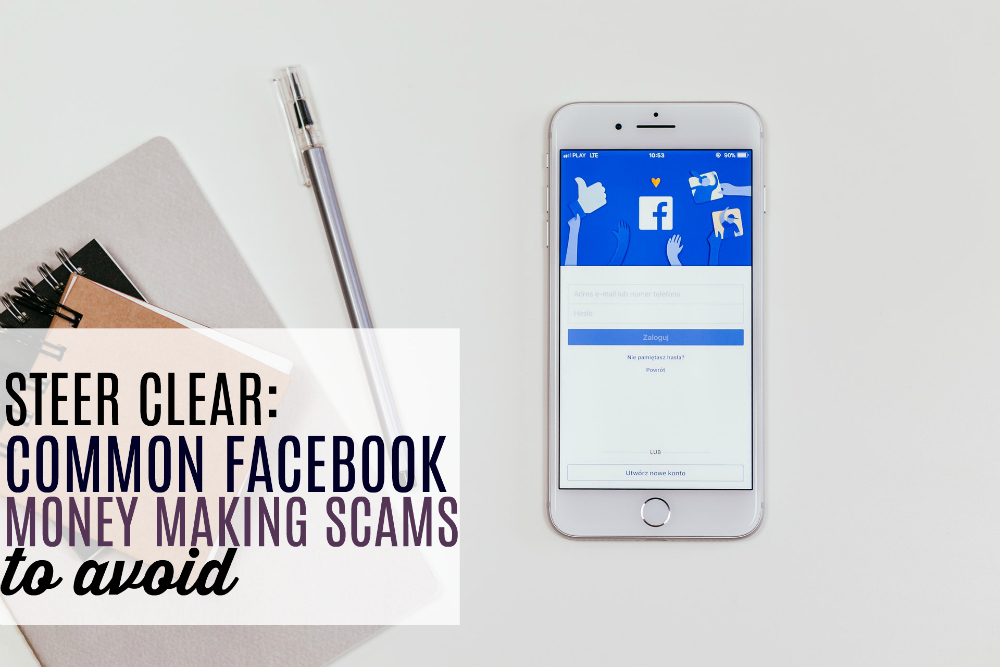 I wasn't sure what to title this post. Common Facebook money making scams/schemes? Random money making "opportunities" from Facebook? Stuff not to do?
The truth is there are a TON of scammy money making posts on Facebook. I see them all the time – especially on yard sale and rummage sale groups. There are also an equal number of posts for multi-level marketing companies which aren't exactly scams. (We'll cover that a bit more at the bottom of the post.)
For now let's focus on the stuff that you should absolutely, positively stay away from.
Posting Ads on Facebook for Money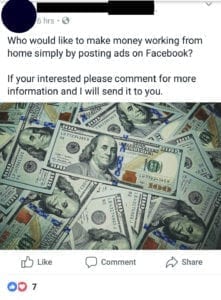 Wouldn't it be a dream come true if we could all spend 20 minutes per day posting ads on Facebook and earn $397 for doing so? Sign me up.
Only that's NOT how this works.
I've covered posting ads online before because it's a huge money making scam, not just on Facebook, but all over the internet. Here's how it works:
You pay anywhere from $27-$400 (depending on who you sign up with)
You're given a special link, code, or access to a website.
You then plaster posts all over Facebook telling other people how they can make money posting ads on Facebook.
Once you sucker someone in you have them use your referral link or code and get a portion of the sign-up fee they paid.
Now, if they want to make money they repeat these same steps. If you want to make money you see how many more people you can sucker into signing up.
There's no product. There's no actual ad you're posting.
If you sign up for this you'll have to spam Facebook telling people they can make money posting ads or you're just out of your sign up money. (The latter of the two scenarios seems to be the most common!)
Getting Paid to "Process" Emails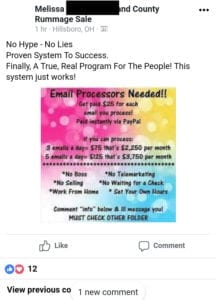 This is exactly the same thing as above only worded differently. Processing emails entails you telling people to email you to find out how to make money processing emails.
Repeat all steps from posting ad scheme.
Investment Scams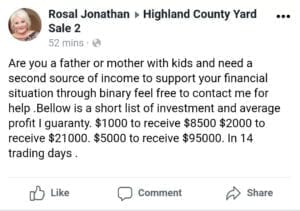 I actually saw this one for the first time the other day. Here's how it works: you give a complete stranger $1,000, they'll do some binary options trading, and within 14 days you'll have ("a guaranteed") $8,500. Magic.
Also, never give a complete stranger ANY amount of money. Ever. (Unless you're donating, of course.)
Selling of an Opportunity Rather than a Product/Service
Another common scenario you need to be wary of is when people are promoting a money making opportunity rather than an actual product.
(For the record I am NOT against multilevel marketing or direct sales, at all. If there's a product you love and believe in and want to sell, go for it. I believe the big mistake people make in this area is signing up for something they don't use or believe in just to make money. That's almost always a recipe for failure as it's really hard to convince someone to buy a product from you if you don't use it/have visible results or benefits from it.)
Let's look at an example of what I'm taking about: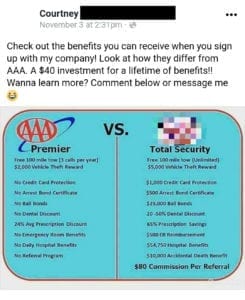 This woman is selling an actual product. It's a roadside service company like AAA only with a few more benefits and an $80 referral fee. (So you earn $80 for each person you sign up.) It's totally legit.
The problem is almost everything else she posts about it comes off super scammy and she doesn't even mention the actual product again.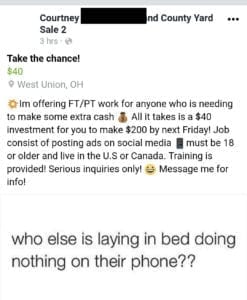 And another: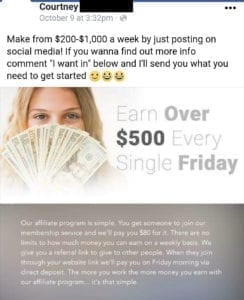 This is something I would avoid like the plague. If you think the product you're promoting is not worth mentioning then it's not a good fit.
When It Sounds too Good to be True, It's too Good to be True
That's the golden rule when it comes to earning money from home. There are a TON of legit ways to earn a full time living from home but that means doing actual work. (You know, just like a regular job.) Here are more than 50 ways to work from home with actual, real companies you can put applications in with.
If you're looking to work from home you can do it, just know that it's not likely to consist of posting ads on Facebook.