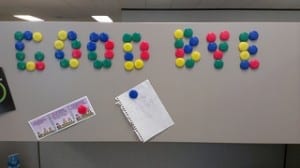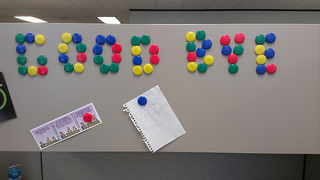 I don't think I've mentioned it lately but I am feeling kind of down about my job.
I feel undervalued, underpaid, and quite frankly too smart to be stuck in a job that has no room for growth. It's starting to make me miserable.
I haven't disclosed exactly what I make at this job but it's not much more than minimum wage. To spend so many hours a week doing work I dislike to bring home such a pitiful paycheck is making me crazy. I hate being negative but I find myself complaining about something job related every day.
Complaining is not going to get me anywhere in life so I am going to stop complaining about it but I want to make a vow today……
I want to have built up enough income sources by February to be able to completely quit my job and venture out on my own. That gives me six more months.
This means serious budgeting and some *serious* hours of hard work. I am so ready.
Let's do this.
Exploring Opportunities
I know what it's like to live paycheck to paycheck. I also know that a lot of you are in worse positions than I am and increasing your income is a must.
For me my main area of focus is writing. There is nothing that will bring me income quicker.
My other income avenue is blogging but truth be told I don't make too much from this yet and I haven't gotten many advertiser deals in the past couple of months.
I don't want to be dependent on only one income source so here are a couple of ideas I want to try out.
Writing Agencies & My Experiment
One thing that I haven't tried my hand at is writing agencies. Writing agencies find and deal with clients and then assign writers' work. From what I've read most of the writing agencies starting pay is around $20 per post. This is about four times the pay from content mills.
There is a list of 21 different writing agencies on Freelance Writing which you can view here.
Over the course of the next month I am going to fill out applications for every single one of these. I will post updates in my weekly newsletter (so sign up if you want those) and then after about 6 weeks I will put together a blog post detailing which agencies are worth your while and which ones just flat out suck.
If anyone else wants to do this with me email me and I'll include your updates in the newsletter as well. This way anyone who is serious about putting in some hard work to increase their income by writing will have an idea of where to start.
Doing Virtual Assistant Work
Anyone can do virtual assistant work and since I already know the ins and outs of blogging and WordPress, this is a pretty good option for me.
The main service that I will offer is blog commenting at $1.00 per comment. If anyone is interested please let me know! I am also going to check Elance and People Per Hour to see if I can find any of these types of jobs. Ultimately I am just hoping to be able to find them through this blog.
Time to Get Serious
I am ready to have my own business that I can be proud of. I also want to show other single mothers that they can follow their dreams, ditch low paying jobs, and create a business that they love that also pays the bills.
I am going to spend the majority of my time concentrating on writing clients but I am open to virtual assistant work on the side if anyone is in need of my services.
I will post all the updates including how much money I have made for the week in my weekly email updates. If you want in on those updates be sure to sign up!
I wanna know what you do to diversify your income? Suggestions? Is there anything that I am overlooking?