This is a sponsored post written by me on behalf of Dollar General for IZEA. All opinions are 100% mine.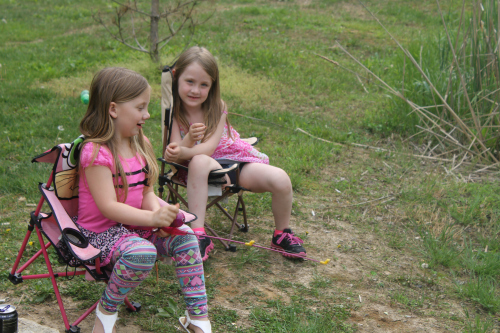 This past week was a very special week for me. My baby Ava turned five. And I just cannot believe it! She'll be starting Kindergarten in the fall and my oldest will be heading to first grade. I'm not going to lie – I kinda want to cry about it.
I remember when they were babies, I couldn't even have imagined them being this old – time seemed to stand still in those never-get-any-sleep years and now they're growing up way too fast!
Since we celebrate birthdays separately, with both my Mom and my Dad, we don't throw big parties. We have simple yet fun little birthday dinners. And since we have two of these I try to keep things on the very inexpensive side.
This year I was lucky enough to have Dollar General help me out with some party supplies. I was given $25 by Dollar General and allowed Ava to pick a theme for our dinner party. And her choice ended up being……………fish!
( I blame this on the fact that we've went fishing at my Dad's pond every single warm evening we've had. The girls think it's totally cool that we get to do all this "fun" stuff on weekdays.)
My $23 Fish Party
I headed out to Dollar General with my $25 in search of anything I could use to have a cute fish party. Here's what I got: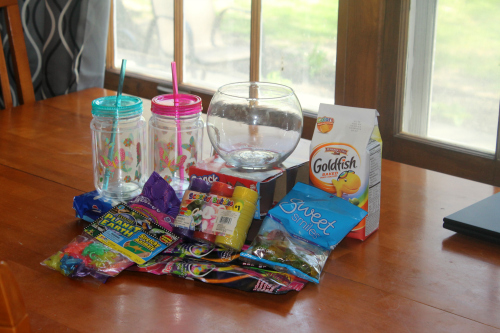 This included:
Gummy Worms
Two Pkgs. Pudding
Two Mason Jar Style Cups
A Fish Bowl
3 Pk Bubbles
2 Glow Stick Necklace Kits
Pixie Sticks
Gold Fish
Pkg. of Oreos
Pkg. of Toy Frogs
And my grand total came to $22.94 I had a couple ideas up my sleeves for some of these but the girls helped me come up with the rest!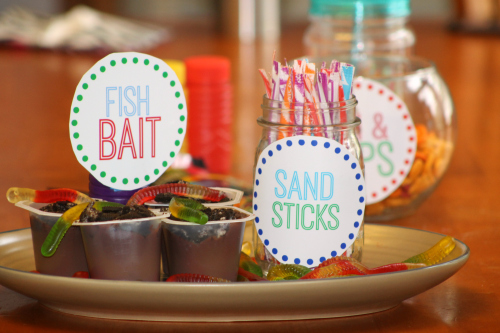 We had mud puddings (with oreos and gummy worms) that were "fish bait" and pixie sticks that Kailyn so cleverly declared to be "sand sticks."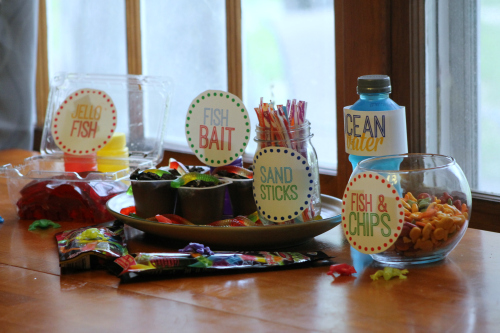 The rest of our snack table included "Jello Fish" which were simply Jello Jigglers that I put into an old strawberry container. Ocean Water, which was Powerade. Fish and Chips which were our Gold Fish in a fish bowl.
The girls absolutely loved it! Especially, the sand sticks. Those ended up making their way down to the pond later that evening. 😉 After we all ate our fish themed snacks we headed down to Dad's pond for a little fishing.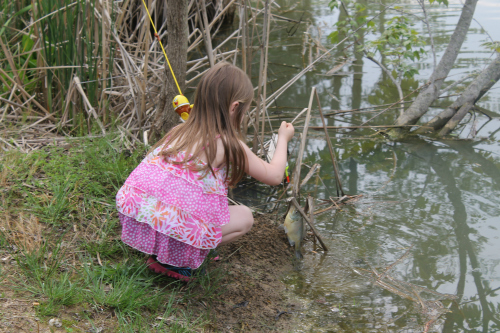 Kailyn has become quite the fisher-woman. She can do almost everything herself now. And Ava? She was just worried about putting together that glow stick necklace.
Isn't it amazing how kids enjoy $1 toys over $50 toys? Or at least, my kids do……….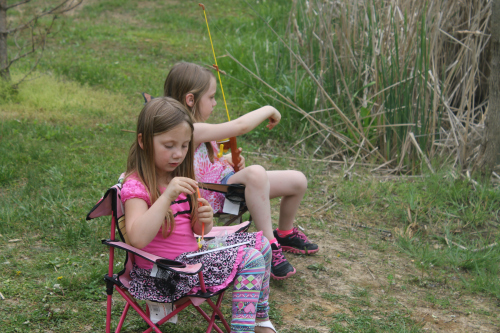 It was a really fun for day for the girls. It was extremely inexpensive on my part and now we get to look forward to having another fun but inexpensive party with Grandma.
Save on summer essentials with Dollar General! You can also follow Dollar General on Facebook, Instagram, or Pinterest for more fun summer ideas!