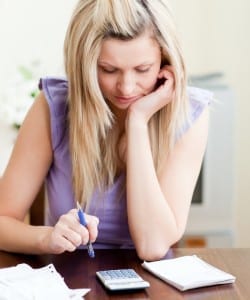 One of my very good friends encouraged me to do an "Ask Alexa" section where you can ask me any type of question you want and I'll answer in a short blog post.
(I will not publish your name or anything that reveals your identity, so no worries.)
And since I get about an email per week from a single mom I'm going to go back over the questions I get asked the most. I figure if one person asks then plenty other are thinking it.
I've gotten my first question and it goes like this……
"When you're talking money with your ex should the live in boyfriend/girlfriend's salary be considered? What's the proper etiquette here?"
First, if you've been divorced or have had a child with someone and then parted ways you know that being a single parent isn't easy. But on top of that you know what makes a bad relationship. You now have an idea of what's best for your family, and I'm certainly hoping that you aren't going to make the same mistake twice.
When it comes to dating and relationships my past has taught me what not to do and I can now make smarter decisions when it comes to my love life.
If you have a live in boyfriend or girlfriend your new partner should 1) accept and love you and your kid(s) and 2) if you're living together you should be helping each other out financially as well.
(Or at least I certainly hope that if you have a new live in boyfriend he's not taking advantage of you. Job loss is understandable but you SHOULD NOT be supporting a grown man because he doesn't want to work. He needs to do his part too. And you already have enough to worry about. Stay away from deadbeats!!!! Please.)
So, yes. I think that if you have a live in boyfriend or girlfriend that you have made a big commitment to each other and that person should definitely play a role in your financial life. That doesn't mean that you have to tell your ex exactly how much your new partner brings home but if you're asking the ex for money to help pay a bill outside of what he legally owes you, I do think he has every right to ask why your new partner isn't helping you – especially if said bill is non child related.
I don't think there is a right or wrong answer to this question, we're all going to have our own opinions.
Help us out. What's your opinion?
*** I'm not saying that just because you've got someone new living with you that you aren't entitled to child support. If you're the one taking care of your children then you are DEFINITELY entitled to child support. (Not that it's always a dependable source of income though. Because it isn't.) I'm taking this question as money talked about outside of child support.
If you want me to answer a question feel free to email me or just leave a question in the comments. If you wish to remain anonymous just type "anonymous" in the name field and make sure you don't link to your website if you have one.