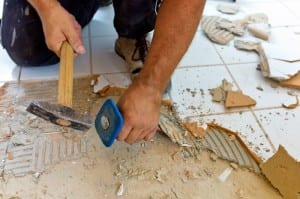 Many people feel that home improvement projects are difficult. The truth is that home improvement isn't that hard at all.
Below are six home improvement ideas that will quickly improve the value of your home.
1. Painting
One of the cheapest and easiest home improvement ideas is painting your home. Walk through every room in your house, and take a good look at your ceilings and walls. Imagine how nice they would look with fresh white paint to brighten up the rooms. You can leave the walls the same color as they are now, or change it up with a new color. In the kitchen area, think about painting one wall a different color for an accent. Painting is one of the easiest and best improvements you can make to your home.
2. Installing a Home Security System
 A homeowner without a home security system in their home stands a high risk of being burglarized. Having a home security system installed will protect your home and keep you and your family safe and secure. Additionally, most insurance companies give discounts on a homeowners' insurance policy when you have a home security system. Having a home security system in your home will increase the value of your property if you should ever decide to sell.
3. Improving Landscaping
Go outside and take a look at your landscaping. Trim your bushes so that they aren't blocking windows and doors. Remove bushes that are bare or overgrown. If you have bare patches in the yard, plant some grass. No one wants to see a dirt yard. Make your yard one of the most attractive in the neighborhood with your landscaping. 
4. Adding Color Outside
This home improvement tip goes along with outdoor landscaping. Add features outside of your home for more color. If your trees have flowers that you can't see because the branches are hiding them, trim the lower branches. Add some flowerbeds, and put some flower planters on your front steps. Put up some colored window shutters, garden flags and paint your front door. The goal is to give your home better curb appeal. 
5. Flooring Upgrades
 Next, go back inside and take a good look at your floors. For under $1,000 you can pull up your carpet and add nice hardwood floors, or you can replace your old carpet with a new, high quality carpet. Some carpet warehouses charge by the square foot making it a lot cheaper to buy versus a home improvement store. New flooring will upgrade and modernize your home in ways you never imagined. 
6. Tile Work
 Another great way to improve your home is by adding some tile work. Tile work is easier than most people think. Adding tile to bathroom floors in the place of linoleum makes the bathrooms appear cleaner and more modern. Additionally, tile improves the value of your home. Think about adding a back splash to your kitchen area. Both are simple weekend home improvement projects that you can do for a very reasonable price.
 Most of these home improvement projects are things you can do on your own and are inexpensive. Try taking on one or two projects a month until you finish them all. In no time at all, you will have a modernized and upgraded home that is more enjoyable. Friends and neighbors will certainly notice the changes, and it just might inspire them to make some improvements to their home as well.