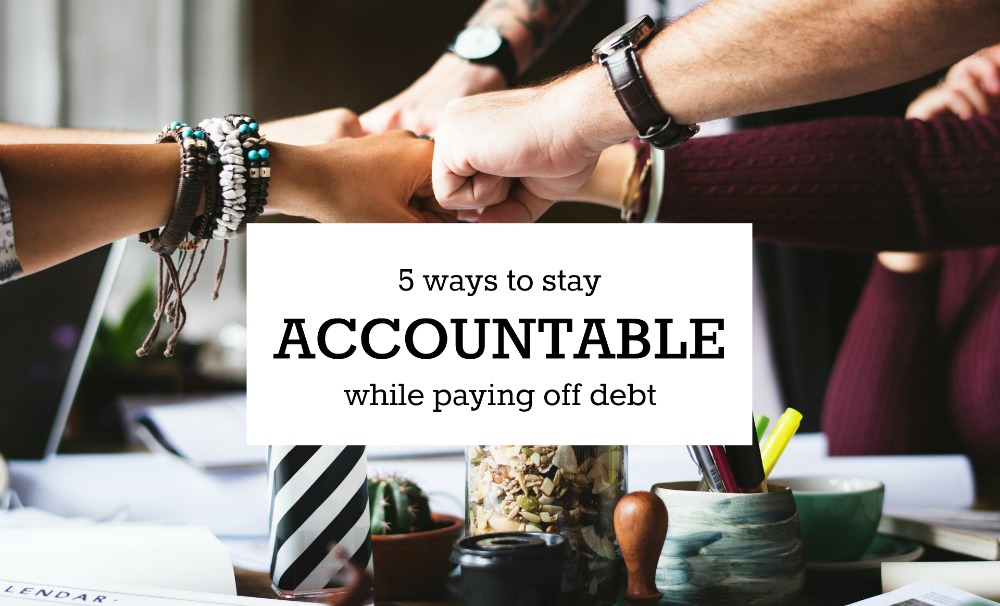 Trying to pay off debt is not an easy task. Most people want to become debt free, but often realize it's easier said than one. 
Paying off debt is often like starting a new diet in the beginning stages. You have to crack down on your bad money habits and commit to developing new, better habits.
Life throws curve balls that can quickly derail your journey to becoming debt free. You have to create a clear budget and stay the course. 
The hardest part of paying off debt is the journey. It's difficult to keep up with your goals and stay on track each month. The best solution is to have some type of accountability while on your journey.
Here are a few ways to help you stay accountable while paying off debt.
Know Your Why
Having a specific reason as to why you decided to pay off your debt now will help you in the long run. It gives you that little extra push you need if you find yourself falling off track.
Maybe you want to pay off credit cards so you can buy a house or be able to save for retirement. No matter what the reason is, come up with some reason to help motivate you. Know they why will also help you set up goals.
Set Goals
An easy way to hold yourself accountable is by setting financial goals throughout your debt journey. Make sure to set up both short-term and long-term goals. The short ones help keep you on track towards meeting your long-term goals.
Make sure to write down your goals and be specific. Setting a date and what you want to achieve (whether it be to save $100 or pay of a chunk of your credit card) will help keep you focused.
It's okay to change your goals and your debt-free may change over time as circumstances change and that's okay.
Create a Budget
Budgeting comes in handy when you are trying to pay off debt. Your budget is basically a spending plan that takes your income and expenses into account. 
When you first get on a budget, you'll naturally start spending less. It will show you how much income you bring in each month and where it is all going. The excess income you're able to free up can start going toward your debt. 
Creating a well thought out budget is a powerful tool to keep you on track with your set goals and taking control of your finances. If you're trying to pay off debt with your spouse, it's important to budget together 
After using your budget for the first few months, you will be able to notice patterns in your spending. Seriously sit down and look at your budgets and see where you need to make adjustments to save more money.
Track Your Progress
Tracking your progress is one of the best ways to stay accountable when paying off debt. It also shows that you're serious about becoming debt free.
Once you set your goal and start taking action, you need to see how much progress you're making which can help you stay motivated.
It will also help you stay accountable because if you'll know if you need to work harder to reach your goals.
You can track your progress by creating a debt repayment spreadsheet or by reporting to others close to you each month. As a blogger, I used my platform to help hold myself accountable by posting monthly budget reviews and debt updates. That helped me during the tough times
Get Help From Others
When in doubt, if you are struggling to pay off debt or stay accountable on your own, ask for some help. By going to a professional, they will be able to give you a clear picture of your financial situation. Then you can come up with different options that are suitable for what your needs are.
You may want to talk to a debt or credit counselor to come up with solutions and start implementing a plan.
You can also get help from a friend or family member to hold you accountable to your goal of paying off your debt. See if there are groups within your community or online with people going through a similar journey.
There may be local meetups, forums, or Facebook groups filled with people who can be a reliable accountability partner for you.
Justifying expenses to yourself is easy. But trying to explain it to someone else, it might be just what you need to say no to purchases and save the money instead.
If you've been on a debt repayment journey for some time now and it's been a major hassle, accountability may be the missing piece in your formula.
Use these tips to help keep yourself accountable and on track to becoming debt free. Understanding why you are doing this, setting goals, budgeting and getting help are all ways that will keep you on your path to become debt freedom.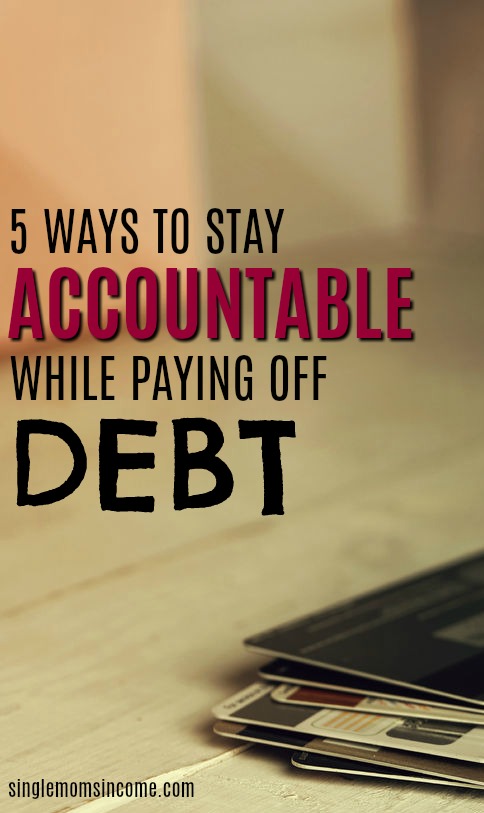 Photo Credit: yeko / 123RF Stock Photo