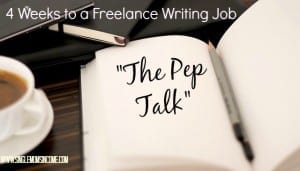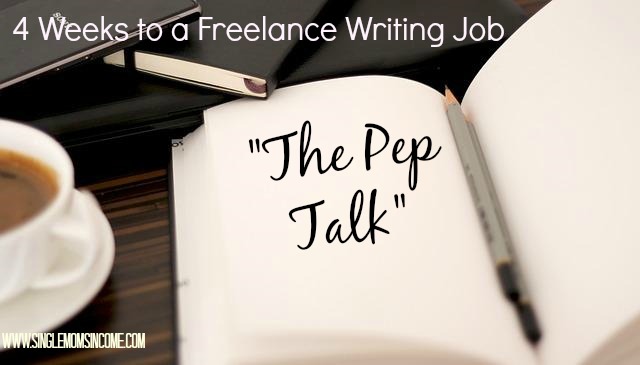 At least once a week I receive an email from a reader asking how she can get started freelance writing.
My number one piece of advice is to just take that first step – face your fears, put yourself out there, and get started.
But I've also discovered other useful tips along the way. That's why I've decided that I would do a four week series showing you the exact steps I took to get freelance jobs.
But since confidence seems to be one of the major issues holding people back from pursuing their work from home dreams, I wanted to start with a little pep talk!
Why You Need to Work on Your Confidence
The hardest part of getting started on anything new is taking that first step. There is always going to be someone who is better and more experienced than you. Often that fact alone is paralyzing.
The thing about those people you admire, and sometimes envy, is that they all started at the bottom. They started from nothing, paid their dues, and worked their way up to the top. You can too.
Don't let your lack of confidence hold you back. If you can stick with it long enough you absolutely WILL make it.
When you set out to find jobs you'll be rejected a lot at first. And that can be tough.
I was rejected a ton of times before I started to be okay with it. At first it stung a little. And then over time it was just part of the business that I came to expect.
Don't get me wrong, I still don't like rejection. I still get nervous when I have to call a hopeful client to sort out job duties. I still get nervous when I receive emails asking for interviews. I'm not sure that this will ever fully go away. But I do find the more opportunities I take the more my confidence grows.
If I Can Do It – So Can YOU
I have no college degree. The few semesters that I did attend college were spent taking accounting classes. I have no fancy education. No experience writing – other than what I have gained from this blog.
I simply saw an opportunity to rid myself of my low paying day job and took it. I've been working on this for going on two years now. And because of the time I've put in, I've recently had several opportunities open up to me.
In the past few months I've offered some new services to existing clients, taken on a new type of job – which I enjoy, been asked to apply for a job at a larger company, asked to do a live video discussion at the Huffington Post after they saw an article I wrote for another blog, and have been interviewed for an article in a major magazine (March 31st issue of Woman's World Magazine in stores now 😉 ).
In addition my income finally grew last month after I picked up my pace once again and will be even higher this month.
I'm not the only one who has had opportunities arise, though. Here are some other ladies who've started working on their own freelance writing career in the past couple of years and have turned hard work into success:
None of these women were instant success stories. They all put in hard work and are now reaping the benefits. This is proof that if you commit yourself and work hard you can be successful, too.
(Also, note that we all define success differently – so don't compare yourself to someone else. Use their stories as inspiration to keep going! The only comparison you should make is you to you. What does your progress look like?)
If you've been thinking about starting a freelance writing career but have been putting it off, I want to know – What's holding you back? Leave a comment or email me!