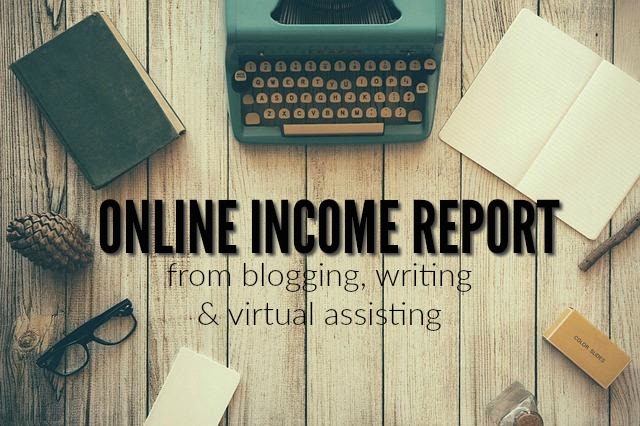 If you're new here I've posted income reports ever since I started this blog, four years ago. I initially had goals of making a few hundred dollars per month and then slowly growing that amount. Luckily, that's what I've been able to do.
In 2012 I decided that earning money online was going to be the only way I could create the life I wanted living in a small town with no good job options. I dove in head first and started trying things out. I've failed at sooo many different things and have had great successes with others.
As of now I earn an income through being a freelance writer, virtual assistant, and blogger. (And yes, I know how crazy that sounds to most people!)
November Income
In November I earned a total of $6,608.59.   It looks like income is down a bit, but last year November and December were two of my lowest months. I've come to expect the ebb and flow.
Since everyone is celebrating the holidays it's expected that people are spending their time with family, spending their money on gifts and so on. This is all just fine with me as I'll be doing the same! In fact, I took almost an entire week off when my kids were on Thanksgiving break. I'll be trying to work ahead on the "must-do" things for December so that I can enjoy my kids while they're home on Christmas break at the end of the month.

Wondering where the $6,608 came from? November income broke down like this:
Freelance (Writing and Virtual Assisting) $1,200
Ad Networks $2,200.69
Affiliate Commissions $2,657.90
Sponsored Posts $550
If you are confused about what any of this means you can see a better explanation here.
What About Expenses, Taxes, Insurance and Retirement?
One thing that's not talked about enough when it comes to self-employment is the "benefits" plan…..Or the fact that there is NO benefits plan.
When I decided to go on my own I could've cared less about benefits. I had NEVER had a job that had any benefits whatsoever. I had no health insurance, no retirement account, nothing.
If you're transitioning from a job that provides benefits into a self-employment role it's something you need to take into consideration. When you're paying for these things yourself, it can be a lot!
Here's a real breakdown of what I personally do when it comes to taxes, expenses, insurance, and retirement.
Taxes and Expenses: In November I had expenses of $757.26. Taxes were roughly $1,560. This makes my actual "take home pay" around $4,291.33 I normally try to save around half of my take home income (which doesn't always happen) while I'm building my savings back up after having to cover a major home repair.
Health Insurance: I got remarried last year. My two daughters and I are on my husband's insurance plan. Since he works for the state we get good insurance and only pay $280 per month for all of four of us. If I had to pay my own insurance I'm sure I'd be down another $1,000 per month.
Retirement: I started my retirement account with Betterment a couple years ago. I automatically have $150 per month deposited into that account. (Last year I did $220 most months.) Then I'll periodically deposit more into the account when I see fit.
I also use Betterment for my daughter's college savings accounts. I auto-deposit $50 per month into each of those. Again, I'll add more when/if I see fit throughout the year.
Getting Started
You need to calculate self-employment taxes, expenses and benefits into your income goals if you're trying to go solo full-time.
I always recommend that people get started on the side. If you currently have a job start experimenting with ideas and building up your savings before jumping straight into self-employment. This will give you plenty of time to figure out the type of work you like to do and build some financial stability.
(I tried 5 different ideas before I found one that worked for me.)
Here are some different ideas for you:
Have a great week!