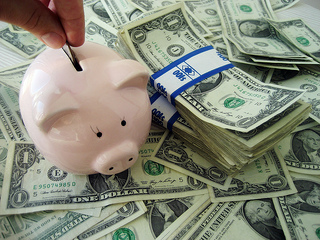 I have went from a fairly financially stable household with two steady incomes to now relying on my own income and I am beginning to have my struggles. However, I like to keep a positive attitude and since I have a bit of an emergency fund saved up I am not freaking out – quite yet.
One thing that really bothers me is not having enough money left over to save. Recently, I went from two jobs down to one. In my head the calculations were all right. I knew that I wouldn't be able to save anything while I went down to my "one job experiment" but I am now finding that not having any money left over to save is what puts me on edge.
Needless to say I have been exploring my savings options. Even though I am only saving a tiny amount of money, it still puts me at ease. When I had two jobs I was easily stashing away $500 a month. Now that I am down to one I am looking to save $50 a month.
Here's what I am doing:
Saving my change. I take out a little bit of cash each week for my "running money." I was using a credit card for these expenses but since my budget is tight I am no longer taking the chance of overspending. I will use my cash. When it's gone, it's gone. Saving my change should easily add up to $10/month.
Stashing Away $1 a Day. This is pretty easy. If I take away that dollar every day I don't feel like I am missing much. If I was to take $30 of my spending money all at once then I'd feel the effects of that, but I can handle taking such a small amount out of my spending money. This will add up to $31/month.
Using $10 Worth of Coupons at the Grocery Store. My grocery store sends me coupons based on what I normally buy. It's not uncommon for them to send me coupons for free products or $10 off of a $60 purchase coupon. Since grocery shopping is budgeted for anyway, this is away for me to save at least $10. I am not a big couponer but saving $10 a month really takes minimal effort.
What an easy way for me to save $51 this month. Now at the end of the month I can watch my savings account increase rather than sit on idle. These are three simple, no pain ways for me to put myself at financial ease. I know that I will soon be back in the position where I can save much more, but for now I am content with saving anything – even if it is a relatively small amount.